Djenane Saint Juste – Afoutayi Haitian Dance
ST. PAUL, MINN. – Sept 13, 2016 — The John S. and James L. Knight Foundation today named 41 finalists in the St. Paul Knight Arts Challenge, all of which are eligible for a share of $1.5 million. This is the third year for the community-wide initiative funding projects that engage and enrich St. Paul through the arts.
The finalists propose a range of ideas, from a cross-cultural celebration of immigrant artists to a snowblower ballet, and a theatrical extravaganza on the St. Paul Saints' field.
"Three years ago, we started to ask St. Paul residents, what's your best idea for the arts? The response, embodied in these 41 finalists, has only reconfirmed our belief in the creativity, diversity and depth of St. Paul's arts community," said Victoria Rogers, vice president for arts at Knight Foundation
A full list is below and at knightarts.org. Knight Foundation will announce winning ideas at a special celebration on Oct. 11.
The Knight Arts Challenge St. Paul is open to anyone and applicants must follow just three rules: 1) The idea must be about the arts; 2) The project must take place in or benefit St. Paul; 3) The grant recipient must find funds to match Knight's commitment within one year.
The challenge is part of Knight Foundation's two-pronged approach to investing in the arts in St. Paul. Support for large institutions helps those organizations open up and better engage the public, while the arts challenge is intended to fuel more grassroots projects.
For Knight Arts Challenge updates, follow #knightarts and @knightfdn on Twitter and Instagram, and Knight Foundation on Facebook.
About the John S. and James L. Knight Foundation
Knight Foundation supports transformational ideas that promote quality journalism, advance media innovation, engage communities and foster the arts. We believe that democracy thrives when people and communities are informed and engaged. For more, visit knightfoundation.org.
Knight Arts Challenge St. Paul Finalists 2016
Afoutayi Dance, Music and Arts Company
To celebrate and build understanding of Haitian culture through dance and drumming workshops, performances and community gatherings
To foster an appreciation for water with an outdoor audio installation featuring sounds from St. Paul water sources, which the public can use to create their own rhythms
To engage intergenerational groups in celebrating and sharing their cultural traditions through a Latino-based clay and ceramics artists' studio on the West Side of St. Paul
Asian Economic Development Association
To feature Asian-American artists at the Little Mekong Night Market with a gallery of original poster art reflecting Asian-American community life
Asian Economic Development Association
To brighten the Little Mekong Night Market by commissioning artists to create Asian-inspired lanterns and other portable lights to illuminate the event space
To bring world-class musicians to St. Paul for concerts in a new artistic pavilion designed by the Brazilian brothers Humberto and Fernando Campana
To build a sculptural gateway for Wilder Playground that welcomes visitors and serves as a public art learning site for nearby City Academy High School
To bring more art into people's lives with the Windows of St. Paul project, where artists display and sell their work through empty storefronts and skyways in downtown St. Paul
To highlight the work of immigrant artists with Blessing the Boats, a cross-cultural celebration of East Africans and others new to the United States that will offer participatory theater, photography, film and other genres
Comunidades Latinas Unidas en Servicio (CLUES)
To celebrate the diverse art and culture of Latinos in Minnesota through a festival of music, dance, murals, photography and folkloric traditions during Latino Heritage Month
To celebrate the growth of one of St. Paul's most diverse neighborhoods through Victorious Frogtown, a collaboratively created outdoor performance
To engage the public in the creation of art by inviting them to record their movements and gestures, which will be incorporated into a celebratory video and performance art piece
Funny Asian Women…K (FAWK)
To host monthly comedy cabarets to talk about difficult issues Asian-American women encounter every day in Minnesota
Frogtown Neighborhood Association
To shine a spotlight on Frogtown's diverse music scene and build community through a series of garage concerts that connect neighbors, artists and music lovers
India Association of Minnesota
To showcase the experience of India in one day through a festival of music, movement and mudras, ranging from classical traditions to today's foot-stomping Bollywood
Independent Filmmaker Project Minnesota
To illuminate the stories of East Africans by uniting youth from Skyline Tower and Gordon Parks High School to create short documentary films
To energize the cityscape along Fourth Street in downtown St. Paul by transforming building facades with cascading, colorful and provocative images created by large-scale video projections
To expand the St. Paul Art Crawl to the city's East Side by transforming houses and garages into art galleries
To celebrate the histories of both mass transit and jazz in St. Paul by recording and performing spoken word and musical performances on the topics in public spaces
To turn refuse into something new and surprising through hands-on metal arts classes and workshops on the grounds of the historic Schmidt Brewery
Minnesota Museum of American Art
To bring awareness to racial injustice through a series of billboards created by world-renowned photographer Ken Gonzales-Day in collaboration with Kitty Anderson Youth Science Center interns and Macalester College students
Minnesota Museum of American Art
To showcase how Hmong textile traditions have found resonance in contemporary forms and urban spaces through murals created by Australian artist Vanghoua Anthony Vue
Minnesota Prison Writing Workshop
To showcase the power of art to nurture personal growth by holding a public reading of the literary works of people in prison
To celebrate the coexistence of arts, sports, politics and commerce through a site-specific theatrical extravaganza produced at the St. Paul Saints' CHS Field
To counter anti-Muslim and anti-immigrant perceptions through independent Arab cinema, brought to five St. Paul college campuses and their surrounding neighborhoods
To highlight local and regional artists at Space 369, an alternative, artist-run gallery in the Creative Enterprise Zone
To bring beauty and pride to the Hamline-Midway neighborhood through a historical retrospective of outdoor murals on a blighted building undergoing renovation
To establish and build the individual practices of emerging curators from diverse backgrounds through a yearlong research, professional development and presentation fellowship
To engage Minnesotans in compassionate and challenging conversations about social justice, equity and the arts through discussion, live performance and innovative broadcasting led by Penumbra Theatre and Minnesota Public Radio (Featured image)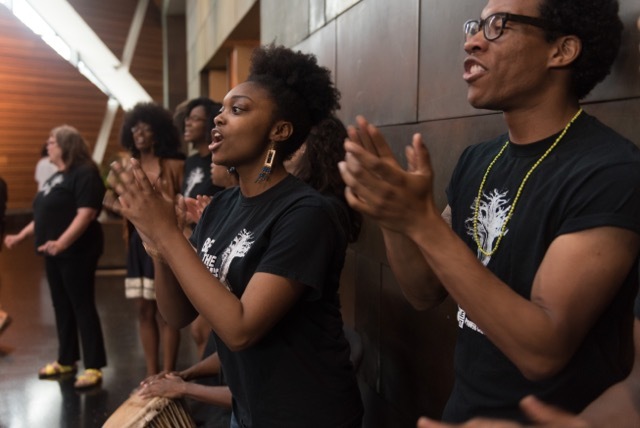 To transform the dreary toil of snow removal into joyful art with a ballet in which performers, equipped with snow blowers and shovels, stage a dance spectacle set to live music
To bring together the worlds of boxing and ballet with a performance that features professionals from both disciplines
To bring more art to the growing street-level crowds in Lowertown through mobile art platforms – think hot dog carts – that artists can borrow and operate
To explore sexuality and stereotypes in the Asian-American community with a new play
To expand the impact and accessibility of taiko drumming, an ancient Japanese tradition, with monthly pop-up events that offer a mix of local and world-class artists and food throughout St. Paul
To commemorate St. Paul's connection with the French architect Emmanuel Masqueray through world-class concerts presented in two of the churches he designed, which will be accompanied by visual exhibits
To celebrate the 150th anniversary of Central High School with an outdoor photography exhibit using museum-quality, large-scale prints of historic images juxtaposed with current photos by landscape photographer Chris Faust
To amplify the voices of young writers through a youth laureate program that publishes their work and invites them to participate in civic activities through the year
Twin Cities Media Alliance
To explore how marginalized communities redefine and negotiate space with a storytelling project where spoken word poets and visual artists adapt residents' essays and perform them in the spaces on which the stories are based
To showcase the work of emerging artists by engaging exceptional artists of color to curate work in the station's community street space
To illuminate St. Paul's historic role as a sanctuary for the oppressed by raising up immigrant voices, past and present, through songs of freedom
To engage audiences in the tale of a St. Paul Victorian mansion possessed by malevolent spirits through the talents of Zeitgeist composer/flutist Julie Johnson and writer Cheri Johnson
Anusha Alikhan, Knight Foundation communications director, 305-908-2677, [email protected]