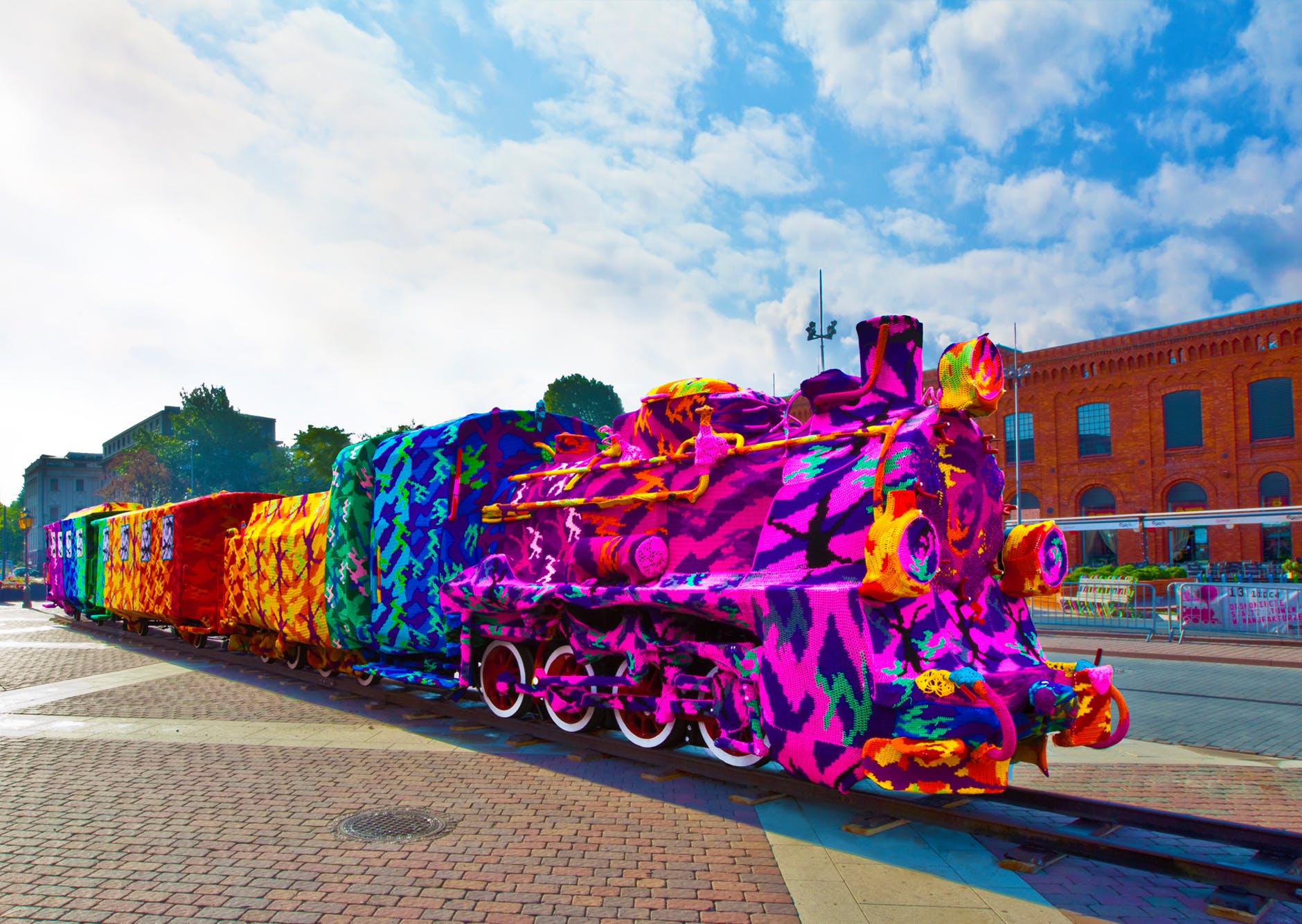 AKRON, Ohio – Aug. 14, 2017 – The John S. and James L. Knight Foundation today named 45 Akron Knight Arts Challenge finalists, who are all vying for a share of $1 million. This is the third year for the community-wide initiative funding projects that engage and enrich Akron through the arts.
The finalists propose a range of arts projects that focus on the human stories and history of Akron, ideas for using technology and modern mediums to energize places in the city, and sparking connections between cross-cultural communities.
"We asked artists, organizations and businesses for their best ideas to inspire and advance Akron," said Victoria Rogers, vice president for arts at Knight Foundation. "The quality of the responses, as reflected in these 45 finalists, showcases the incredible creativity in this community."
Knight Foundation funds the arts because of their ability to inspire communities and connect people to each other and to their city. The challenge is part of a two-pronged strategy that supports established arts institutions to help them better engage the public and funds grassroots initiatives of individual artists and organizations so that everyone has a chance to make their idea a reality.
A complete list of the 2017 finalists is below and at knightarts.org. Knight Foundation will announce winning ideas at a celebration this fall.
"Our team was impressed by the ingenuity and thoughtfulness of the applicants," said Kyle Kutuchief, Akron program director for Knight Foundation. "These 45 finalists prove that artistic excellence and innovation are alive and well in Akron."
The Akron Knight Arts Challenge is open to anyone and applicants follow just three rules: 1) The idea must be about the arts; 2) The project must take place in or benefit Akron; 3) The grant recipient must find funds to match Knight's commitment within one year. Applicants propose their idea in a user-friendly 150-word application.
For Knight Arts Challenge updates, follow #knightarts and @knightfdn on Twitter and Instagram, and Knight Foundation on Facebook.
2017 Akron Knight Arts Challenge Finalists

To share the stories of transformation of homeless women in life-size photographic portraits which will be showcased throughout the city
To better brand Akron as a vibrant place to live and work, and increase and diversify audiences by jointly marketing the city's publicly-owned arts and entertainment facilities
To raise awareness about renewable resources and highlight North Hill's international community with a hydro/solar kinetic sculpture for the neighborhood
To support individual artists in Akron with Akron Artist Concierge, a service that helps them improve their online communications and connects them with learning and exhibition opportunities
To highlight films made by female directors, producers and actors with Bechdel Fest, an event that features high-quality films that pass the "Bechdel Test," which brings attention to gender inequality in film and fiction
To ignite conversations on racial inequality and empathy through Nine Lives, a 12-minute interdisciplinary piece that immerses the audiences in the story of nine African-Americans killed in 2015 at an evening prayer service in Charleston, South Carolina
Cindy Michael/Harps and Thistles
To commemorate Sojourner Truth's Akron speech "Ain't I A Woman?" in a large-scale, public crochet installation as part of a national project by Polish-American artist Olek on how women have shaped history
To document the importance of dance in Northeast Ohio by working with the National Center for Choreography to photograph the creation and performance of new work in Akron and the restagings of Heinz Poll's classic ballets
To bring real-world experiences to high school arts students through an artist residency program at the center
To tell the story of Akron's rubber industry in the 1970 and 1980s, exploring themes of work, immigration, integration and loss through a photo collection taken by the former in-house tire company photographer
Department of Pan-African Studies, Kent State University
To promote cultural understanding and explore contemporary Muslim and African societies by creating discussion groups around modern artistic works
To fill an important need for art criticism by training Akronites in the craft during a workshop through which leading graduates will receive paid assignments for The Devil Strip
To tell the story of this artist's family migration from Alabama to Akron by creating storytelling workshops based on The Frappe Sipps, a family of funny scarecrows made in soft sculpture that sips tea and frappe punch
To bring a cutting-edge installation of public art to the Akron Art Museum's garden as part of the inaugural edition of the FRONT contemporary art exhibition in July 2018
Greater Akron Musical Association
To bring the music of the city's immigrant communities to more neighborhoods with joint performances organized by the Akron Symphony Orchestra at its summer parks series
To engage in conversations with diverse audiences about dance and creative expression through workshops at which community members experience and react to the dance company's creative process
To bring Akron's canal stories to a broader audience by turning the songs from a 2016 Challenge-winning project into a full symphony
To celebrate the music of Akron's immigrant communities through a public music festival in North Hill that will be professionally recorded
To further Akron as a center for dance by collaborating with noted choreographer Alison Chase on a new piece
To beautify a county building with stories of hope and change by creating a new mural based on the stories of a range of culturally diverse Akron residents
To welcome visitors to experience the Northside District with a totem-style metal sculpture that celebrates the area's galleries and entertainment venues and the nearby national park and Towpath Trail
To create a moving portrait of Akron in a half-hour video intended for gallery display that layers dance, landscapes, instruments and the human voice
To shatter negative stereotypes about street art and aging by inviting seniors to learn about and create a graffiti project in an Akron public space
To prepare high school students in Akron for careers in theatrical costuming with workshops and a creative space
To explore race and identity in Akron by touring a production of "Or Does it Explode?" which uses stories from the city to examine black manhood through dance, poetry and rap
To bring more art into neighborhoods with the Imaginarium, a converted vehicle with art-making supplies, gallery space and a performance stage that can be used at public pop-up events
Myers School of Art and the National Center for Choreography at the University of Akron
To promote cross-pollination between performing and visual arts by offering residencies to choreographers to explore alternative working spaces, including university gallery spaces, and create an original, collaborative commissioned work
National Center for Choreography
To explore the intersection of dance and technology with the Dancing Futures Project, a three-year research initiative focused on digitally-enabled dance that will culminate in a public symposium
To celebrate the toy industry through a large-scale abstract production that combines puppetry, dance theater and animation that can tour the country as an arts ambassador for Akron
New World Performance Laboratory
To gather young, gifted LGBTQ artists to create and share QuTheatr, an original performance series based on the region's queer history
New World Performance Laboratory
To share the perspectives of Akron's Latino culture by creating the Teatro Latino de Akron
To bring to the stage in Akron and internationally an ambitious theater project by turning the indie British film "44 Inch Chest" into a play
To tell the story of Akron and three other cities' histories in art, music and dance by simultaneously projecting 3D animations in city parks
Rubber City Shakespeare Company
To adapt two of Shakespeare's works into a modern musical and play with themes and characters that reflect Akron's LGBTQ+ community
To bring Akronites together through stories around their lives and their jewelry by creating bronze models of residents' pieces that will be displayed alongside the owner's personal stories
To celebrate the history of Akron in handicrafts through an exhibition of mixed-media sculpture that celebrates the heritage of the artist and the city in rubber, tires and polymers, blending handcrafts and contemporary technology
To showcase innovative visual artists in a new gallery inside the Akron Global Business Accelerator that focuses on the advancement of materials and ideas in the visual arts
To bring art into everyday lives with Kaleidoscope Akron, which will use downtown building facades as projection screens for imagery recorded through kaleidoscopes and based on issues facing the city
To inspire people to recycle by challenging residents to create works of art out of old tires and to display the pieces in parks around Akron
To provide a platform for local artists downtown by turning the facade of the Citi Center hotel, now undergoing redevelopment, into a 20-story canvas for multimedia art
To mark the organization's 130th anniversary by commissioning a new piece by South Africa-born and University of Akron lecturer and composer James Wilding
To provide educational opportunities for Akron's present and future animation artists by creating a studio for stop-motion and 3D VR animation
University of Akron Myers School of Art
To bring more art into Akronites' everyday lives by having the Art Bomb Brigade create the Stroll Series, which will include 20 8' x 4' "selfie station" murals where people can walk among them, enjoy art and take photos
To showcase Akron's hidden gems through a series of concerts that take place in the city's galleries, office and loft spaces, breweries, bakeries and more
To celebrate the youth arts organization's local impact and 30th anniversary with a production at Goodyear Theater and an exhibit
Communities / Press Release

Communities / Press Release

Communities / Press Release

Communities / Press Release

Communities / Press Release

Communities / Press Release