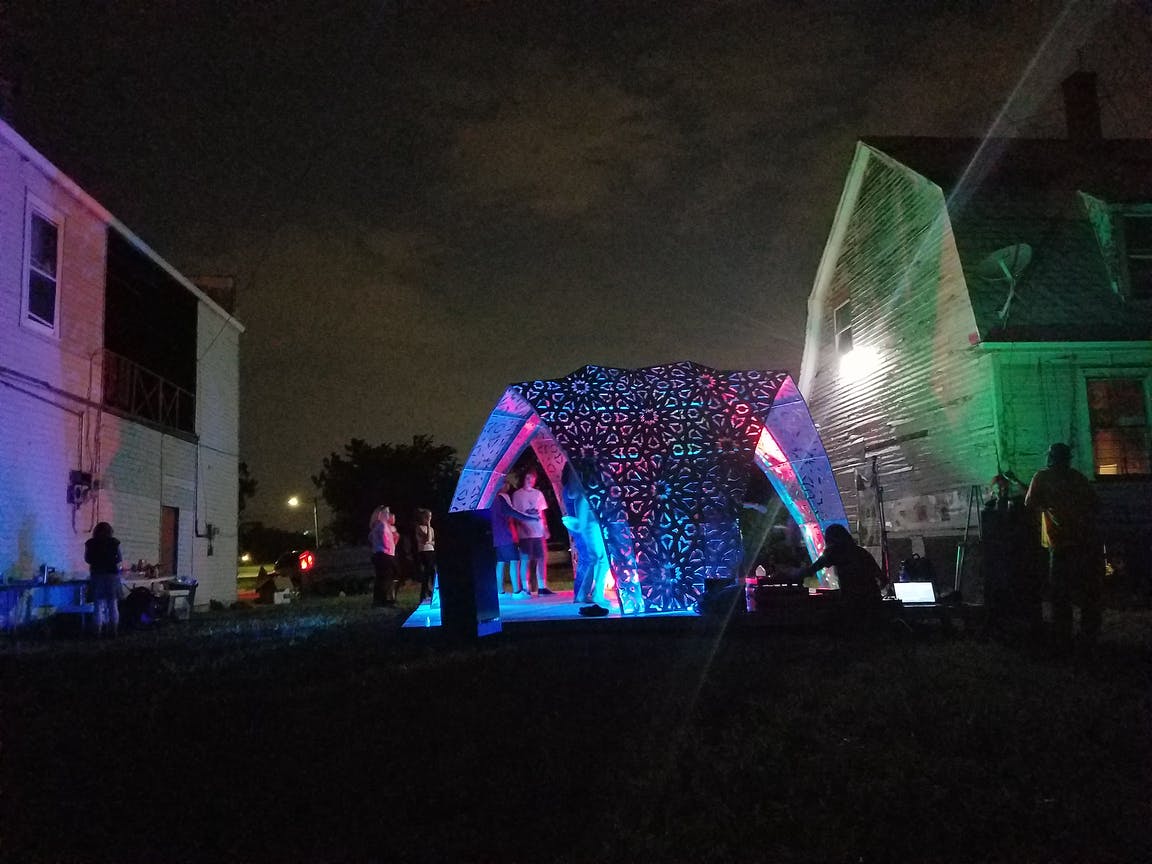 DETROIT – Aug. 14, 2017 – The John S. and James L. Knight Foundation today named 63 Detroit Knight Arts Challenge finalists, who are all vying for a share of $3 million. This is the fifth year for the community-wide initiative funding projects that engage and enrich Detroit through the arts.
The finalists propose a range of arts projects that focus on ideas for using technology and other modern mediums to energize places in the city, sparking connections between cross-cultural communities and building networks to help arts groups collaborate.
"We asked artists, organizations and businesses for their best ideas to inspire and advance Detroit," said Victoria Rogers, vice president for arts at Knight Foundation. "The quality of the responses, as reflected in these 63 finalists, showcases the incredible creativity in this community."
Knight Foundation funds the arts because of their ability to inspire communities and connect people to each other and to their city. The challenge is part of a two-pronged strategy that supports established arts institutions to help them better engage the public and funds grassroots initiatives of individual artists and organizations so that everyone has a chance to make their idea a reality.
A complete list of the 2017 finalists is below and at knightarts.org. Knight Foundation will announce winning ideas at a celebration on Oct. 25, 2017.
The roster represents a broad spectrum of disciplines and practices, including production of a new dance performance that combines the input and traditions of secular and liturgical dancers; a project to develop an educational video game based on the life of activist Grace Lee Boggs; the design and construction of a Moroccan-style riad in Detroit's North End; and several poetry, music and multimedia projects that engage communities and present perspectives that celebrate the city's cultural diversity.
In the fifth year of the challenge, submissions also reflected a trend of individuals and organizations expanding the scope of their capabilities and building upon successful projects made possible by previous Knight Arts grants. Additionally, several organizations not traditionally associated with the arts, such as the Coalition on Temporary Shelter (COTS) and the Hannan Foundation, have proposed ideas that incorporate innovative arts programming that aligns with their primary missions.
Also included among the 2017 finalists are ideas from arts organizations that seek to expand their reach beyond traditional audiences, in many cases transporting art programming from established gallery and performance venues to produce innovative arts experiences throughout a variety of neighborhoods in Detroit, bringing events to existing, mobile and pop-up locations.
Knight Foundation funds the arts because of their ability to inspire communities and connect people to each other and to their city. The challenge is part of a two-pronged strategy that supports established arts institutions to help them better engage the public and funds grassroots initiatives of individual artists and organizations so that everyone has a chance to make their idea a reality.
"Each year, we've seen Detroiters' response to the challenge grow and evolve alongside the phenomenal changes we're experiencing as a resurgent metropolitan community," said Katy Locker, Detroit program director for Knight Foundation. "The incredible ambition and diversity that is evident in this year's submissions clearly demonstrate the value people see in the arts as a powerful way to make change that moves our city forward."
The Knight Arts Challenge is open to anyone and applicants follow just three rules: 1) The idea must be about the arts; 2) The project must take place in or benefit Detroit; 3) The grant recipient must find funds to match Knight's commitment within one year. Applicants propose their idea in a user-friendly 150-word application.
For Knight Arts Challenge updates, follow #knightarts and @knightfdn on Twitter and Instagram, and Knight Foundation on Facebook.
2017 Knight Arts Challenge Detroit Finalists


To create an advertising agency that markets critical thinking and curiosity instead of consumerism by creating posters, billboards, social media and video that bring art into people's lives
To destigmatize and spark a dialogue about the future of riding public transit by commissioning the creators of "Riding with Aunt DDOT," a documentary photography and video series on commuting, to curate an exhibition at the Allied Media Conference
Arab American National Museum
To showcase films that present the depth of Arab and Arab-American culture by expanding the museum's annual film festival
To bring Detroit's jazz tradition to new generations with The Gathering, a jazz orchestra comprised of seasoned musicians playing with up-and-coming young adults
To push the bounds of online participation to create moments of joy through the world's first telepresence music festival, REMOTE, which provides real-time encounters between performers and fans across continents and time zones
To foster the African art of stilt dancing through a pilot summer program where children will learn the form's history, choreography and how to make their own costumes
To work with Detroit's music luminaries to create an Afrofuturist children's music album that promotes positive cultural identity and community values
Caribbean Mardi Gras Productions
To bring the community together through pop-up parades where participants learn to create Carnival costumes and masks
Carrie Morris Arts Production (CMAP)
To protect a formerly vacant lot as a community resource by creating a 210-foot structure that is a sculpture, children's playscape and fence system
To highlight the art, people and influence of the Cass Corridor, Detroit's first avant-garde movement, in a full-length documentary that interviews surviving artists
Charles H. Wright Museum of African American History
To explore how Detroiters might build a better future by presenting "Salt City," an Afrofuturistic dance theater production shaped by the city's cultural imagination and possibilities
To bring together cinephiles and the city's Mexican community with a film festival of award-winning contemporary Mexican cinema
Coalition On Temporary Shelter (COTS)
To use the power of art to transform lives through a workshop where low-income mothers create maps of their lives to move them toward self-sufficiency and to have a filmmaker tell the story of the process
To celebrate jazz in Detroit and the organization's 40th year of presenting avant-garde jazz concerts at the Detroit Institute of Arts by commissioning new works for a concert series
To explore the connection of politics and printing by publishing a book on the Detroit Print Co-op, which produced noteworthy and beautifully designed publications on leftist politics in the city
To help musicians grow their careers in Detroit by sharing professional development, career opportunities and knowledge through training
To connect the youth of Detroit and Kabul through art with a photo exchange in which each learn to take digital photos, then swap them virtually to provide appreciation of stories from the other side of the world
Detroit Symphony Orchestra
To give Detroiters the ability to enjoy beautiful music in their community with the Mobile Maxcast, a mobile billboard truck that broadcasts "Live from Orchestra Hall" in parks and community centers
Detroit-Windsor Dance Academy
To create a dialogue of music and movement by bringing together secular and liturgical dancers for a combined performance
To help young violinists work with cutting-edge music technology by having classically trained musicians learn to play the electric violin and perform in a recital with LED costumes and light art
To show Detroit through the eyes of poets by working with writers to create a piece about communities within the city, based on the Mikhail's autobiographical poem "Baghdad in Detroit"
To enliven the city of Highland Park through the arts by working with residents and artists to create murals in high-traffic areas
To repurpose billboards as cultural assets by having them promote community well-being and a more general cultural shift that values people over profit
Facing Change: Documenting Detroit
To tell the story of Detroit through photographs by expanding an emerging photographer fellowship that embeds local photographers in communities, providing them with training, mentorship, and public spaces to exhibit their work
To provide an artful space for neighbors to connect by beautifying a unique space next to Feedom Freedom Garden in Fox Creek
To provide teens with a platform for sharing opinions on community issues – the Communication Art Brigade – which will teach them about music composition and recording, news production, radio scripting and broadcasting
To bring Islamic art into people's lives by using intricately cut aluminum sculptures to form a Moroccan-style riad, or courtyard, for the public in Detroit's North End
To build community through the arts by using digital storytelling and photography to explore dynamics of race, national origin and equity in Detroit, then bringing immigrants and African-Americans together for dialogue and exchange
Great Lakes Chamber Music Festival
To celebrate Detroit artists past and present by commissioning a new chamber music piece inspired by a seminal painting in the Charles H. Wright Museum of African American History's collection and bringing together senior and emerging musicians to perform in 2018, the 100th anniversary of Wright's birth
To transform public spaces in Southwest Detroit into a representation of the community's identity and hopes with a 10-day mural-creating blitz and arts festival
To transform a senior center through the arts by offering an artist-in-residence program for older creatives who will offer workshops, in addition to creating a digital makerspace to stimulate new thinking
To explore historical, mythological and aspirational representations of the human body by bringing in choreographers to cocreate two new works with the community
To explore stories of personal transformation with Tetra, a four-show festival of theater, music, poetry and technology
To invite Detroiters to gather to enjoy a night of live, world-class jazz by having Micro-Concerts, free events built around Jazz at Lincoln Center's live webstreams, in low-income neighborhoods
To use photography to reimagine images of black love through a project that partners young photographers with professionals to create wheat paste murals for Detroit buildings
To foster creative thinking by hosting youth workshops on jewelry design and other mediums
To help opera broaden its range and tap the pulse of the people with "OperaSoul," a concert experience that blends classical vocals with gospel, blues, jazz and pop
To create interactive media that allows girls and students of color to see themselves reflected in history by developing a video game based on the life of Detroit activist Grace Lee Boggs, in addition to creating a multimedia database of women pioneers
Library Street Collective
To support the city's creative renaissance by restoring the 1970s-era public murals created to build community in the city after a period of civil unrest
To bring art into neighborhoods, particularly in Brightmoor and North End/Piety Hill, through a mobile gallery space created by an artist collective out of an 18-foot car hauler
Los Renacidos Dance Company
To build bridges in the city by expanding this company's mission beyond performing Mexican dance to include other Latin and multicultural genres and to offer participation free of cost
To flip the script on the male-dominated mariachi genre by creating a female ensemble for Detroit
To explore the intersection of sports and art with a production of "The Summer King," an opera based on the life of Negro League baseball star Josh Gibson, accompanied by community programs that combine baseball, music and local history while examining the city's history of equity and inclusion
Mosaic Youth Theatre of Detroit
To expand the presence of minorities in theater through a training program that teaches youth working backstage in carpentry, sound engineering, lighting and design
To bring the arts more deeply into city parks by organizing concerts there of some of the city's great musicians
Motor City Street Dance Academy
To engage youth in the arts through a dance studio and mentorship program focused on hip-hop and breakdancing
To showcase the Motown sound with Motown CARaoke, in which participants sing hits in a vintage vehicle that is the centerpiece of an expanded museum and travels to communities
MSU Community Music School – Detroit
To explore the ethnography of jazz music in Detroit and New Orleans by partnering with the National Parks Foundation and Louis Armstrong Park to present workshops and a free concert and lecture series
N'Namdi Center for Contemporary Art
To highlight African and French Diaspora arts, culture and cuisine with a festival that takes the form of artisan villages with handcrafted creations and food in the N'Namdi Center Midtown art campus
To solve two cultural challenges – providing studio space for artists and arts education for children – through a residency program at local libraries
To preserve conversations with Detroit musicians that have taken place over 23 years on the independently produced program "Acoustic Café" in an online audio archive
To document the city's punk scene and its place in music history with an interactive website featuring interviews, photos and videos in addition to special vinyl record reissues and unreleased compilations
Secret Society of Twisted Storytellers
To use the power of story to heal in a new podcast about challenges facing Detroit schools that weaves together the voices of students, teachers and parents in answering the question: What if our schools were humans in need of healing?
To elevate the work of nonprofits by pairing 12 organizations with Detroit artists who will transform the organizations' uplifting stories into art through custom letterpress posters
To create a refuge for those seeking a quiet alternative to mainstream nightlife with a sleepover event where participants relax in a "fort" installation immersed in live ambient music performances, video projections and soft lights
Street Cred Detroit Youth Crew
To spark conversations about empathy, race and police brutality by touring an interactive performance where students use virtual reality to put themselves in the shoes of a 16-year-old Detroit student who witnesses violence in her community
To provide a place for reflection and gathering on the grounds of the Charles H. Wright Museum of African American History with a site-specific sculpture called SPRING, named for the season in which Detroit comes alive
To build community through a pop-up TV talk show on Detroit street corners that interviews everyday people and explores where community engagement meets performance art
University of Michigan-Dearborn
To examine how Detroit's Muslim community is transforming spaces in the city – with mosques, marketplaces and more – in a new multimedia gallery installation, book and through community conversations
To empower the next generation to change their communities by having architects raised in the city's toughest neighborhoods return to those areas to teach kids design skills that will help them change their community
Walter Bailey Detroit Fantastic aRT Forest Project
To enhance neglected neighborhoods by creating aRT Forests, clusters of free-standing, two-sided dynamic murals in public spaces around the city
To tell the stories of Detroit communities – from Hamtramck's Bangladeshi dress shop owners to long-time Detroiters preserving the city's rich blues legacy – by creating an exhibit that highlights the best of the audiovisual installations from challenge-funded project "Framed by WDET"
To transform the organization's front porch into space for cultural exchange by inviting national and international artists for short-term residencies in which they perform, display work or conduct workshops on the porch of Young Nation's new plaza
Communities / Press Release

Communities / Press Release

Communities / Press Release

Communities / Press Release

Communities / Press Release

Communities / Press Release