New investments bolster artists and arts organizations using technology, 2022 Knight New Work winners, 2022 Knight Arts Champions and a new $40.7 million investment in Miami artists and arts organizations.
MIAMI — On November 28, the John S. and James L. Knight Foundation unveiled its fifth major wave of arts grants in a campaign to make art general in Miami. The recipients are:
2022 Knight New Work winners, a group of Miami artists and arts organizations using technology to create new works;

2022 Knight Arts Champions, South Florida leaders who play key roles in building our arts community;

and a total of $40.7 million in new multiyear investments in local arts organizations and initiatives that use technology in their practices to enhance the way art is produced, shared and experienced.
In all, these investments, part of a strategy to make art general in Miami, will bring Knight's overall commitments to the arts in Miami to $217 million since 2005.
Arts and culture are central to building stronger and more engaged communities, which are critical for an effective democracy. The foundation embarked on an intentional strategy to be the second- or third-largest funder of arts institutions in the city to help stabilize them and encourage others to become funders. Simultaneously, Knight also intentionally became a major founder of what could be called serendipitous art, largely through no-rules contests that reward Miami artists who produce art in and around Miami. This led to a significant increase in the credibility of arts organizations and attracted hundreds of millions of dollars more in grants from many other sources. It also led the public to demand and use more art offerings. With the onset of the COVID-19 pandemic, the use of digital technology as a tool in making and disseminating art and engaging audiences, which Knight had been encouraging for years, became commonplace.
Knight's 2022 arts investments in Miami are situated at the intersection of art and technology. By funding the application of technology to the creation, dissemination and experience of art, Knight seeks to support artists and institutions as they use new tools to attract, retain and grow audiences.
"Art and culture connect people to place and to each other," Knight Foundation president Alberto Ibargüen said. "We have supported local artists and institutions who have built a Miami where art thrives," he added.
The evening began with a performance by a New World Symphony quintet.
"When we invest in music and museums, in poetry and performances," Ibargüen continued, "we are investing in the fiber that strengthens our communities. Really good art inspires and explains, ennobles and challenges, and helps us understand and connect to a place, and to each other."
He then presented more than 50 grants, including to established institutions, artists doing new digital work and a range of citizen activists and artists who are asked to pay forward grants of $10,000.
"These Knight Arts Champions," he said, "often connect us with artists and art organizations that are good, even cutting-edge, but aren't on our radar or in our network." This year, for the first time, the group included four grants by young artists.
On the eve of Miami Art Week, the event concluded with an example from Miami's creative sector. More than 400 attendees listened to local poet Arsimmer McCoy read her poem "Miami's Atlas," accompanied by a drone show programmed to illustrate her words across the sky.
This round of grants will be invested in the following organizations:
Bakehouse Art Complex

The Bass Museum

CasaCuba, Florida International University

Fountainhead Residency

GableStage

Institute of Contemporary Art, Miami

Knight Digital Transformation Fund

Knight New Work, Miami

Locust Projects

Miami City Ballet

Miami New Drama

Museum of Contemporary Art, North Miami

New World School of the Arts

New World Symphony

Nu Deco Ensemble

O, Miami

Oolite Arts

Pérez Art Museum Miami

Rubell Museum

The Wolfsonian–Florida International University

YoungArts
________________________________________
2022 KNIGHT NEW WORK WINNERS
Knight New Work 2022 was launched as a call for proposals that will provide up to $500,000 to support South Florida-area artists of all genres who use technology in their practice to create, disseminate and enhance the way art is experienced. The 2022 Knight New Work winners are: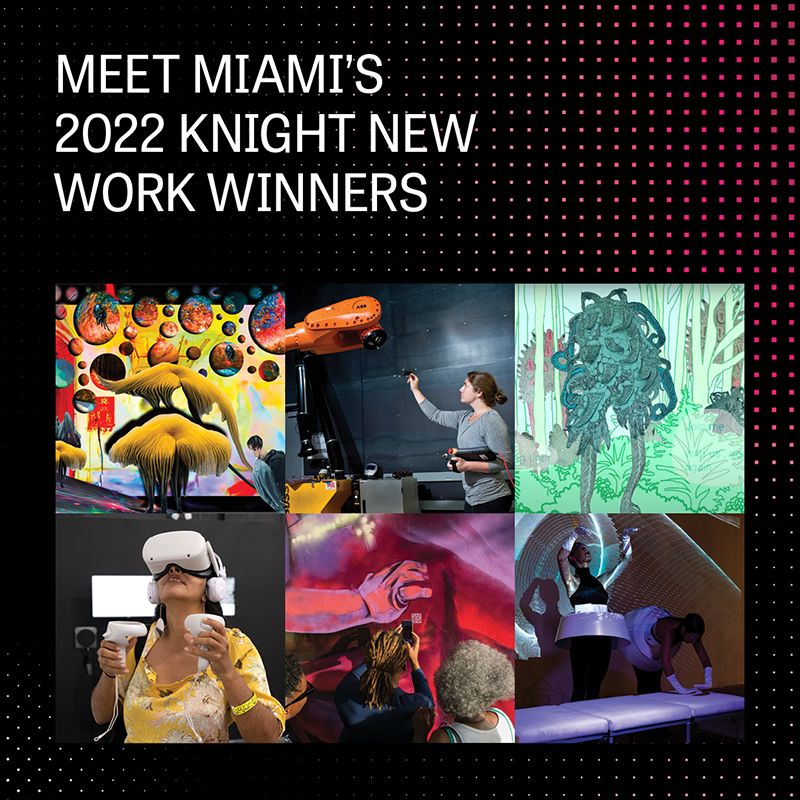 In My Center, a Cyborg Seed
Inspired by Donna Haraway's essay "A Cyborg Manifesto" and Shelley Jackson's hypertext story "Patchwork Girl," this interactive performance, written and directed by Roxana Barba, immerses audiences in a sci-fi myth around the rebirth of a cyborg, a hybrid between machine and organism. In My Center, a Cyborg Seed will be presented in co-production with FUNDarte at Miami-Dade County Auditorium On.Stage Blackbox.
Jennifer Clay creates elaborate sewn textile sculptures that invite us to consider serious themes playfully. Her new work, Eyes Of The Skin, is a video game that uses textiles and stop-motion animation to explore issues surrounding anxiety and depression and the concept of being "lost in the woods." The final form is an immersive installation at Locust Projects in which the textile sculptures will be shown in concert with the projected video game, which can also be downloaded to reach its target audience of vulnerable youth.
Cynthia Cruz asks one AI spiritual questions; from the responses, the second AI interprets these words into images. She explores whether artificial intelligence can help us answer the hard questions we cannot explain. The work will be developed as an immersive installation that can be experienced in person and online as part of a solo exhibition at [NAME] Publications.
Open Source Toolkit for Creative Robotics
Recipient: Madeline Gannon
Dr. Madeline Gannon will develop three interactive installations that explore the creative potential of robotics to be premiered as a solo exhibition at Florida International University Miami Beach Urban Studios (FIU MBUS) gallery.
Recipient: Miami Museum of Contemporary Art of the African Diaspora (Marilyn Holifield)
Miami Museum of Contemporary Art of the African Diaspora (MoCAAD) will commission new work by Marielle Plaisir, a French-Caribbean multimedia artist based in South Florida who examines social domination, colonialism, race and class in relation to African American and Caribbean experiences.
Media Under Dystopia 4.0 WASD
Recipient: MUD Foundation (Rodolfo Peraza)
MUD Foundation will explore our digital environment and culture with artworks created by visual artists using the internet and technology as a creative medium. MUD 4.0 will include the work of Alba Triana (Colombia); Yucef Mehri (Venezuela); Leo Castaneda (Colombia); Rodolfo Peraza (Cuba); Filio Galvez, Ernesto Oroza, Ariel Baron-Robbins (United States); and Vuk Ćosić (Slovenia). The exhibition will be displayed at the MUD Foundation in collaboration with Craig Robbins Collection.
________________________________________
2022 KNIGHT ARTS CHAMPIONS AND THEIR RECIPIENTS
Every year, as part of the Knight Arts awards and as another concrete step in the direction of making art general in Miami, the foundation facilitates the paying forward of $10,000 each to a range of Miami artists, activists, arts patrons and teachers. The foundation is eager to see who the champions select as the recipients they think worthy of recognition and to help the individuals and organizations that win their support. The 2022 Knight Arts Champions are: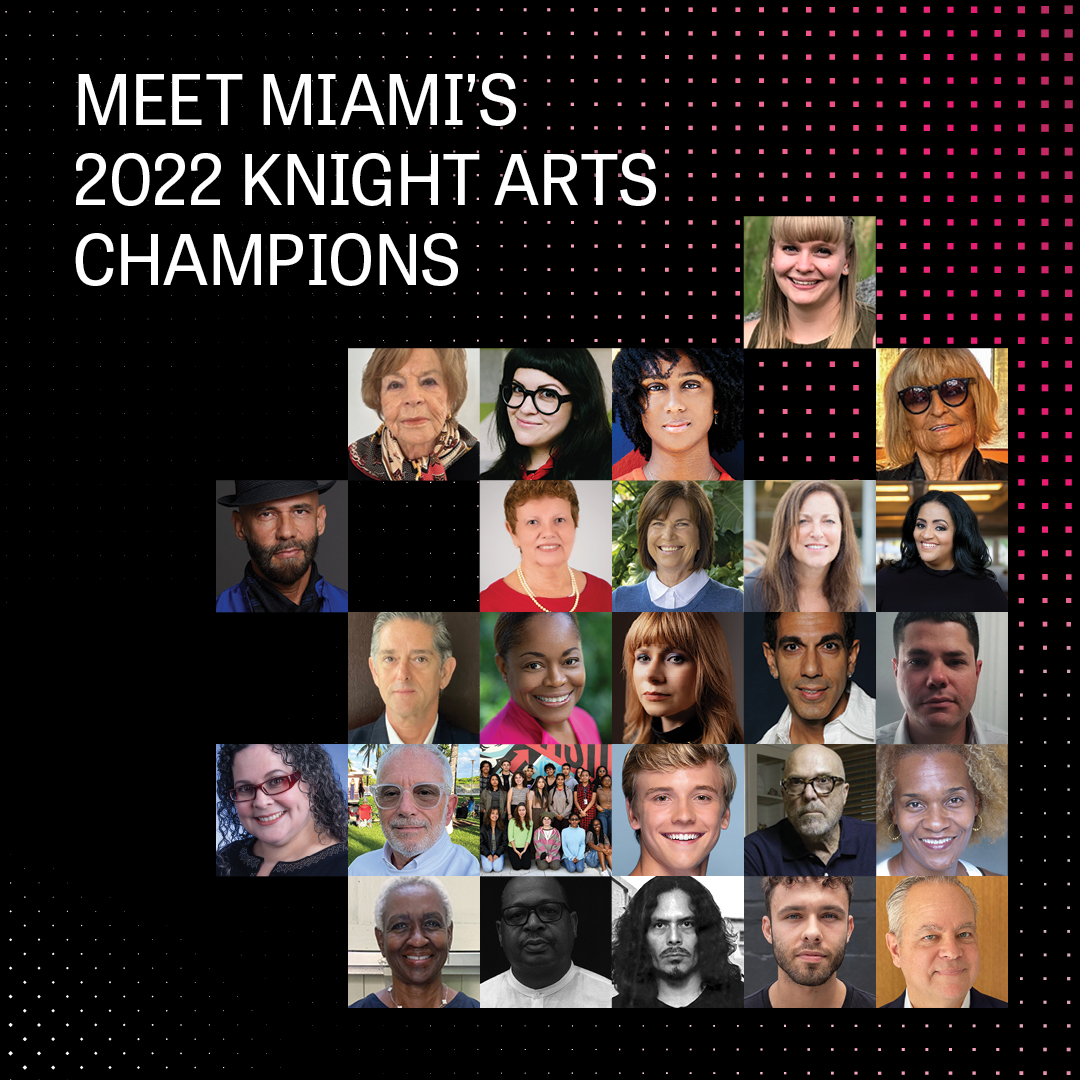 Ray Breslin, President, Collins Park Neighborhood Association
Recipient: Miami New Drama

william cordova, Artist
Recipient: Barnyard Children's Community Center

Nilo Cruz, playwright
Recipient: Brigid Baker, Brigid Baker Whole Project

Melody Santiago Cummings, Head of Cultural Programming, Apple
Recipient: O, Miami's The Sunroom

Carol Damian, art historian
Recipient: Coral Gables Museum

Melissa Hunter Davis, Founder, Sugarcane Magazine
Recipient: Museum of Contemporary Art, North Miami

Donette Francis, Co-Director, Center for Global Black Studies, University of Miami
Recipient: Kelly Robotham and Herman Payne

Barbara Hulanicki, Designer, BIBA
Recipient: Design Lab Give

Marialaura Leslie, Deputy Director, Miami Dade County Department of Cultural Affairs
Recipient: Florida Cultural Alliance, in honor of Michael Spring

Rafi Maldonado, Diretor, Sanctuary of the Arts
Recipient: Sanctuary of the Arts in honor of Mike Eidson

Peter Menéndez, Patron of the Arts
Recipient: Locust Projects

Michelle Grant Murray, Artistic Director, Olujimi Dance Theatre
Recipient: Florida Black Dance Artists Organization

Christopher Norwood, Founder, Hampton Art Lovers Gallery
Recipient: Hampton Art Lovers, Inc

Patricia Papper, Patron of the Arts
Recipient: Mark Fleuridor, artist

Rene Rodriguez, Manager, Cosford Cinema, University of Miami
Recipient: Cosford Cinema

Debra Scholl, Patron of the Arts
Recipient: Locust Projects and Pérez Art Museum Miami

Mikhaile Solomon, Founder, PRIZM Art Fair
Recipient: Sugarcane Magazine

Mindy Solomon, Founder, Mindy Solomon Gallery
Recipient: Dimensions Variable

John Stuart, Associate Dean for Cultural and Community Engagement, Florida International University
Recipient: Friday

Dorothy Terrell, Patron of the Arts
Recipient: New World Symphony – College Track Mentoring Program; Pérez Art Museum Miami, PAMM Fund for Black Art

Walid Wahab, Patron of the Arts
Recipient: Miami Symphony Orchestra (MISO), In honor of Maestro Eduardo Marturet and Athina K De Marturet

Melissa Wallen, Director, De La Cruz Collection
Recipient: Fountainhead Residency

Thea Humphries, Horn Fellow, New World Symphony
Recipient: New World Symphony's BLUE Program

Noah Cribb, Artist, NWSA Alumni
Recipient: Buen Provecho Club

Brooks Landegger, Corps de Ballet Dancer, Miami City Ballet
Recipient: Miami City Ballet

Design and Architecture Senior High School (DASH) students
Recipient: Kennedy's Kids Foundation
About the John S. and James L. Knight Foundation
As social investors, Knight Foundation supports democracy by funding free expression and journalism, arts and culture in community, research in areas of media and democracy, and in the success of American cities and towns where the Knight brothers once published newspapers.