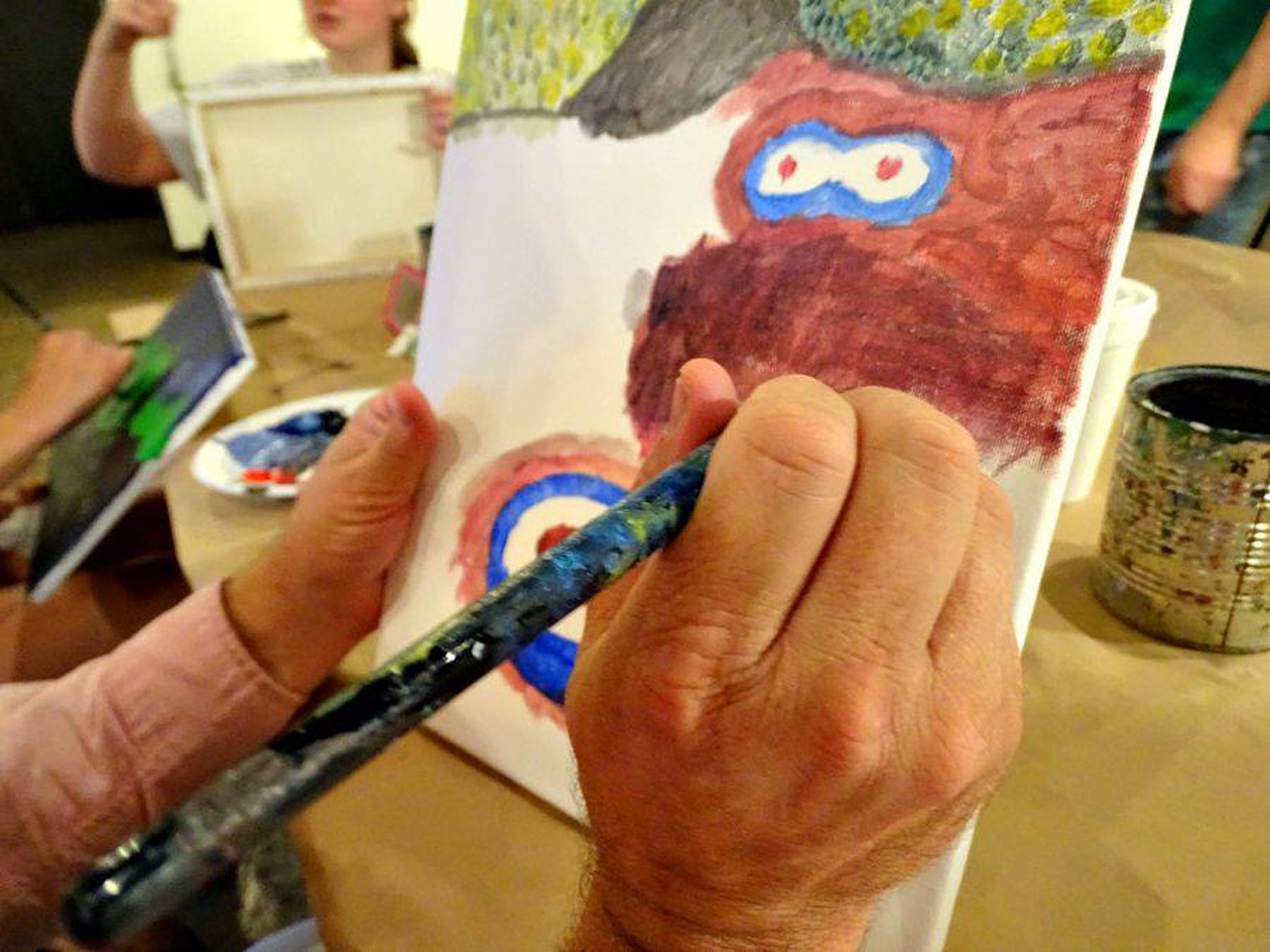 Arts
The 567 Center for Renewal uses visual arts to attract all ages to downtown Macon, Ga.
Along with many other structures on Cherry Street between Second and Third Streets in Macon, Ga., the building that houses the 567 Center for Renewal sat vacant for quite a while. The only thriving business that consistently kept the beat on Cherry was the Rookery, a bar and restaurant that opened almost 40 years ago. But eventually, revitalization efforts began to bear fruit, and other restaurants, art galleries and loft spaces started to open on that block. The 567 Center for Renewal, a Knight Arts grantee, was started in Pastor Keith Watson's old study at 567 Cherry St., around the corner from New City Church's former location inside the Cox Capitol Theatre.
Imagine a pastor's study designed as an art gallery with a "stage," seats and a coffee machine in a small kitchenette area. (The smallest spot was Watson's desk, which was surrounded by bookshelves.) The study was a haven for art exhibits, musical performances and even poetry open mic sessions produced by my organization, Poetic Peace Arts (also a Knight Arts grantee). Eventually, New City Church relocated to 533 Cherry St. and spun off The 567 Center for Renewal as a separate entity that, despite the new address, retained the original one in its name. The 567 was designed to help the community flourish in various ways beyond displaying art.
The 567 Center for Renewal transitioned into a stand-alone business incubator that offers affordable office space for small or new ventures; is home to an art gallery; and has a facility for community events and live performances. Recently, the 567 Center for Renewal has scheduled several programs that focus on visual arts and are participatory in nature. Both the Drink and Ink and the Corks and Canvas paint sessions have become popular and well-attended.
There are many painting parties like these scheduled in the months to come, starting with a Drink and Ink event on Nov. 5–a two-and-a-half-hour class instructed by artist Casie Trace during which each participant produces a 9"-by-12" themed artwork using ink and watercolors. Plus, attendees are allowed to bring their own beverage of choice to the gathering. Several Corks and Canvas events (during which participants paint on 11"-by-14" canvases) have also been lined up for three consecutive weeks: Nov. 7, 13 and 19, taught by Shannon Riddle or Alesia McKenzie.
There's also a twist on the event in store for kids: Kool-Aid and Canvas on Nov. 14 is geared toward children between the ages of 6 and 12. The 90-minute class will be taught by Jondrea Randall and focus on acrylic painting. Another twist of Corks and Canvas, just in time for the holiday season: Corks and Crafts, a card-making workshop facilitated by Rhonda Miller on Nov. 20.
Finally, it's no coincidence that folks will be given the opportunity to paint on a blank wall during the First Friday art opening of "Face to Face: Artwork by Ryan & Elena Neal," a showcase of celebrity faces created by Ryan Neal and Elena Neal. The show opens on Nov. 6 with a reception from 6-9 p.m. and runs through Nov. 28.
Downtown Macon is becoming a well-known spot for people to enjoy the arts and conduct business. The 567 Center for Renewal is a driving force of that energy. "At The 567 we have many different programs: art gallery, art classes, business incubator, music venue," said Melissa Macker, the center's executive director. "We're in the process of trying decide how we can best serve our community in the future in all those different roles."
Recent Content