A "TV Takeover" is underway over at Twin Cities Public Television
Arts / Article
And now Rewire (a Knight Arts grantee) is testing out its most ambitious programming yet, airing five consecutive weeks of "TV Takeover" programming on tpt2 through June. It's a hybrid venture for which Rewire has partnered with five different Twin Cities arts organizations to create a series live broadcast events combining in-studio parties, on-site art-making and performances, artist interviews and a selection of pre-recorded video content. The pilot season's partners are: Springboard for the Arts (May 30), Northern Lights.mn (June 6), MPLS.TV (June 13), Works Progress Studio (June 20), and Saint Paul Almanac (June 27).
Content selection for each hour of "TV Takeover" is steered by the partnering arts organization's activities and interests. The in-studio event for live audience members is a ticketed affair, and the hour-long broadcast is framed by that social event happening all around: there's food and drink; guests are seated on couches, scattered in conversation-friendly arrangements around the space; even during the broadcast, you'll see people chatting, turning to watch the projected video shorts, milling around to check out the on-site performances and various hands-on activities happening in the studio.
I was on hand at last Friday's "TV Takeover" debut, put together by (Knight Arts grantee) Springboard for the Arts. As you'd expect, given Springboard's ongoing efforts as an artists-first, service-minded resource, the episode highlighted projects funded through organization's various placemaking arms, pro tips for creative types and a smattering of charming video profiles of artists with day-jobs, all on the theme "Your Secret Art." (You can watch the episode in full in the YouTube clip embedded up top.)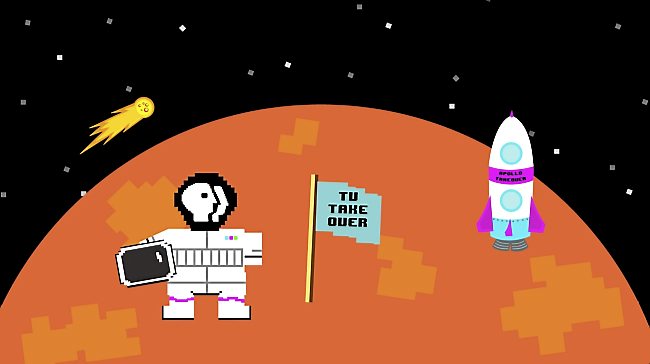 Airing Fridays through June on tpt2 from 9 p.m. to 10 p.m.
I'll be candid: the behind-the-scenes party is a bit awkward, but fun. If you're game, it's a cheap date, too. Tickets to attend the in-studio event for each "TV Takeover" episode are a mere $10 a piece, and include a food and drink ticket. If you'd prefer to watch from the comfort of your own living room, each program will be broadcast live on tpt2, every Friday in June from 9 p.m. to 10 p.m. (CST). Find more information on the website, www.tvtakeover.net.
Recent Content