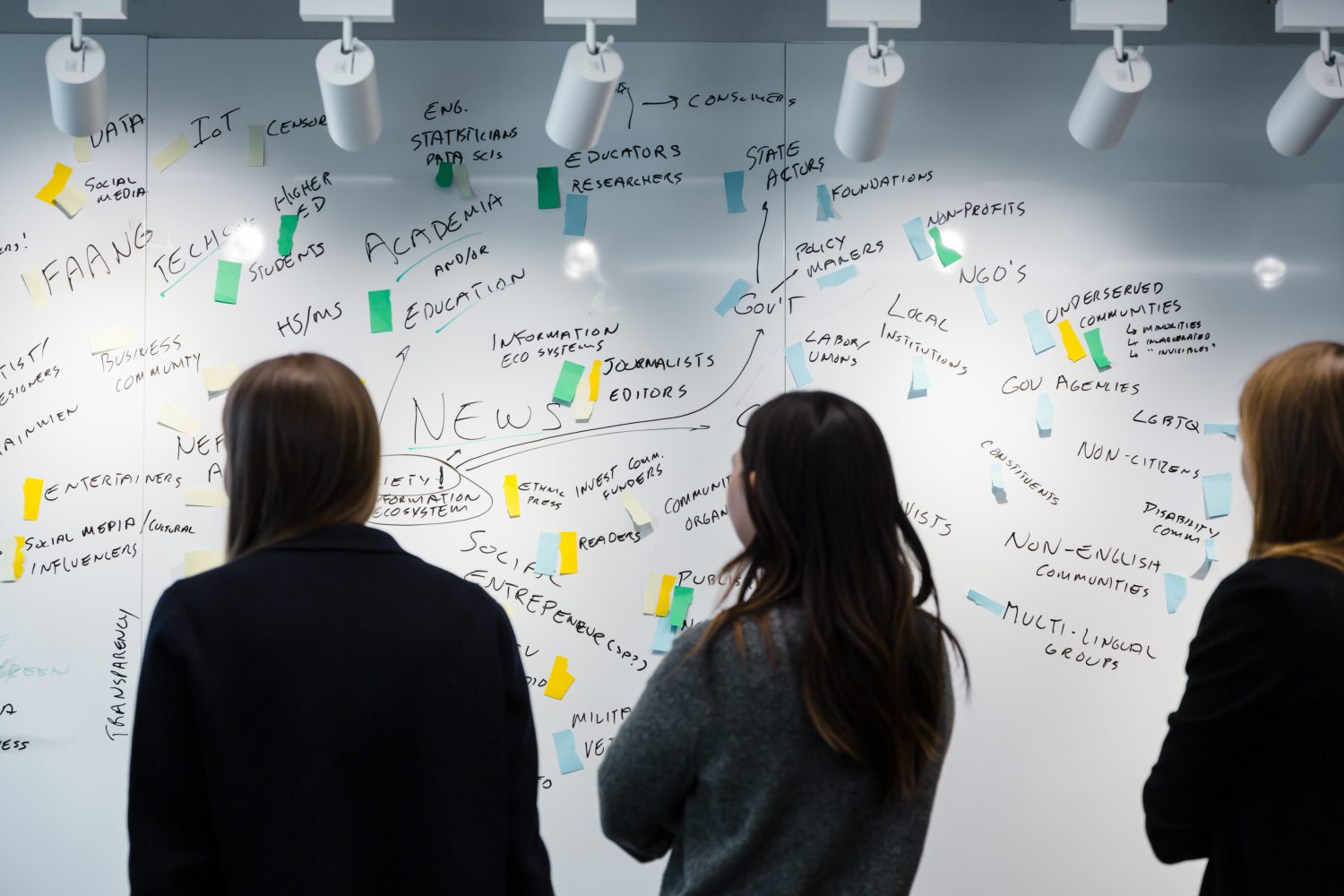 Journalism
AI for local news: advancing business sustainability in newsrooms
A new, $3 million Knight initiative will help local news organizations harness the power of artificial intelligence to drive success.
Artificial intelligence (AI) is a force we can't afford to ignore. In both good and bad ways, it's everywhere — and it's time to make sure that local news organizations are capitalizing on what's become a ubiquitous technology in the industry.
Knight Foundation has long supported the acceleration of digital transformations and the smart application of technology in the news industry. At many national news organizations, AI is beginning to drive success on the operations side and in the newsroom — from enabling the use of data to increase subscriptions and serve more relevant content, to automating certain kinds of news production to reduce costs.
However, local news organizations still haven't tapped the technology's full potential. Lacking the knowledge to approach the use of AI as part of a coherent plan and strategy, adoption of AI technologies at local news organizations remains nascent and experimental. This creates two missed opportunities: the short-term benefit of using existing AI tools to support their organization's business and reporting, and the long-term benefit that comes from building a staff and infrastructure capable of harnessing these tools.
Today, we're announcing a new, $3 million initiative to help local news organizations expand the application of artificial intelligence and harness it for their long-term sustainability. Over the next two years, we want to ensure local organizations can develop customized strategic plans to enhance their business sustainability through AI/machine learning; assess their internal AI readiness across various editorial and business lines; and collaborate with trusted AI experts and partners on product innovations.
Knight will initially fund four projects under this initiative to help address critical knowledge and skills gaps in the industry. The organizations receiving funding are:
Associated Press ($750,000): To develop an industry-wide benchmark for AI readiness across editorial and business lines. AP will also create a training and development program for at least 50 local news organizations, to raise awareness of AI and its potential for transformative impact across the spectrum of news production, distribution and business intelligence. This work will be done in collaboration with the Knight Lab at Northwestern University.


Brown Institute at Columbia ($500,000): To co-create, deploy and popularize new audience revenue strategies leveraging AI for local news organizations. The Institute will accelerate development and distribution of open-source software projects that automate time-intensive decisions on how to manage premium content and optimize recommendations for quality engagement that drives subscription.


NYC Media Lab ($600,000): To develop and manage a digital platform on AI in journalism that offers resources, information, and new knowledge in the field. The Lab will also launch an AI prototyping challenge to convene leaders and practitioners across disciplines to explore new approaches to applying AI for local news organizations.


Partnership on AI ($600,000): To research the major ethical challenges journalists and platforms identify for AI's use across the news lifecycle (from source to audience) and create an ecosystem map.
These four organizations will work closely together to leverage each other's expertise, scale knowledge and best practices, tackle potential ethical concerns, and cultivate a community of practitioners.
Together, they conducted an analysis of 130 AI experiments in various newsrooms over a three-year period. While not exhaustive, we believe their analysis provides important insights on how AI is driving success in four key areas, especially for large news organizations:

Enhancing news production (i.e automated stories, content curations, social media monitoring and transcription)

Mining customer data to engage and monetize the audience (i.e content personalization and subscriber management)

Improving business intelligence (i.e infrastructure cost reduction and operational efficiency)

Producing new methods to enhance data and investigative reporting (i.e sentiment analysis, pattern recognition and data analysis)
For example, Canada's Globe and Mail relies heavily on its home page to feature stories that are valuable enough to visitors to convert them from casual readers into subscribers. And now, the paper has developed an in-house algorithm to handle the task of choosing which stories go where, when, and in what order, all day, every day for the home page. As a result, the paper's click-through rates and acquisitions are up by more than 10%, and journalists have more time to focus on more meaningful audience engagement.
While our analysis has shown that local news outlets lag far behind national and international news organizations, we did see growing interest and solid examples of how some local news outlets are applying AI to optimize their business and news operations.
In another example, Los Angeles public radio station KPCC asked its listeners to submit their questions about COVID-19 at the start of the pandemic last March. They received thousands of questions — and had internally committed to answering every single one. To remedy this problem, KPCC partnered with Quartz's AI Studio to leverage machine-learning (ML) to answer nearly all of the questions. This effort not only solidified KPCC's role in assisting its community, but also fueled editorial decisions, increased its position as a community resource on coronavirus, and led to a jump in newsletter subscriptions. This methodology is replicable for any news outlet that wants to answer reader questions in high volume.
Over the next year, Knight will be exploring solutions that can increase and diversify the technical talent pool for journalism. Success for this initiative will come when local news organizations have the internal capacity and capability to leverage AI/ML to drive growth and increase audience engagement via enhanced experiences and new products.
Knight Paul Cheung is director for journalism and technology innovation at Knight Foundation.
---
Photo (top): participants in NYC Media Lab's NewsLab 2020 participate in a workshop session. Photo by Jodie Chiang.
Recent Content