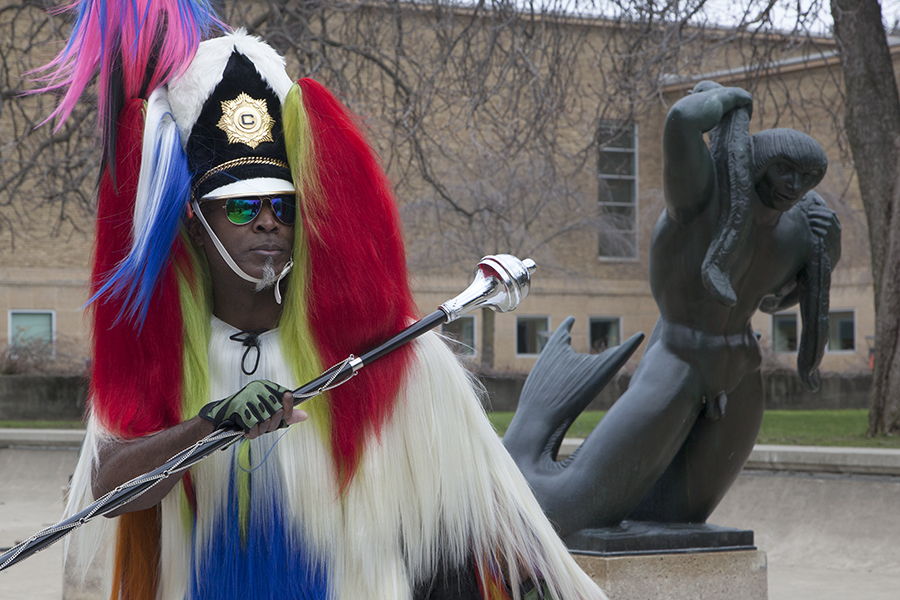 Arts
Artist Nick Cave invades Detroit for 'biggest, baddest' performance series
Now through the fall, Detroit will become the backdrop for artist Nick Cave's most ambitious project to date, including seven months of events and his first solo exhibition at Cranbrook Art Museum, all funded by the Knight Arts Challenge. Here Cranbrook Curator Laura Mott writes about Cave's first stop in the city, where he traveled around the city in his signature embellished costumes known as Soundsuits.
Everywhere he goes, artist Nick Cave brings with him explosions of energy, color and creative force. Last week, we got our first taste of what the project "Nick Cave: Here Hear" is bringing to Detroit this year. Cranbrook Art Museum and Nick Cave staged the first round of Soundsuit Invasion Photo Shoots in locations around Detroit.
The resulting photographs will create an extra-large postcard book titled "Nick Cave: Greetings From Detroit." The book will feature Nick Cave in Soundsuits at each location, with photography by Detroiter Corine Vermeulen and designed by Bob Faust.
These photo shoots are as much about capturing the incredible image as they are about what happens outside of the frame. Each of these sites has its own aesthetic, its own rich history, and its own group of people that make up its spirit. For instance, in Brightmoor, Alicia Marion George (owner of Motor City Java and The Artist Village) took us around the neighborhood and talked about her life there and the grassroots activism happening all around her. As we were setting up the shot of Nick in a silver-beaded Soundsuit in front of a mural, I talked with the neighbors about the origins of the mural, Nick's artwork, their gardens and the drainage system they were building by hand to combat flooding. At the African Bead Museum, praise and embraces were shared between Nick and local Detroit legends Olayami Dabls, Marsha Battle Cusic and David Philpot—all incredible artists and bead enthusiasts!
It was an extraordinary experience to be creating a project after a year of planning – to take the words off the page and put them into action. From the beginning, Nick's devotion to Detroit has been the driving force. It is the city where he spent two formative years of his young adult life as a student at Cranbrook Academy of Art, and now we are collaborating with him to create his most ambitious project to-date. We will finish up our photo shoots later this month, with stops at the Michigan Assembly Plant, the Fisher Building, and on May 2, a stop at Eastern Market – the largest historic market in the country – putting Nick in the center of a bustling Detroit institution and showing the region just some of the magic that awaits them this summer and fall.
The exhibition Nick Cave: Here Hear will open at Cranbrook Art Museum on June 20 and run through October 11. It will be accompanied by Nick Cave's largest performance series ever, set in locations around Detroit. To keep up with the project, visit our website at www.cranbrookart.edu/museum/nickcave and look for future blog updates!
Photo credit: Paul-David Rearick.
Recent Content