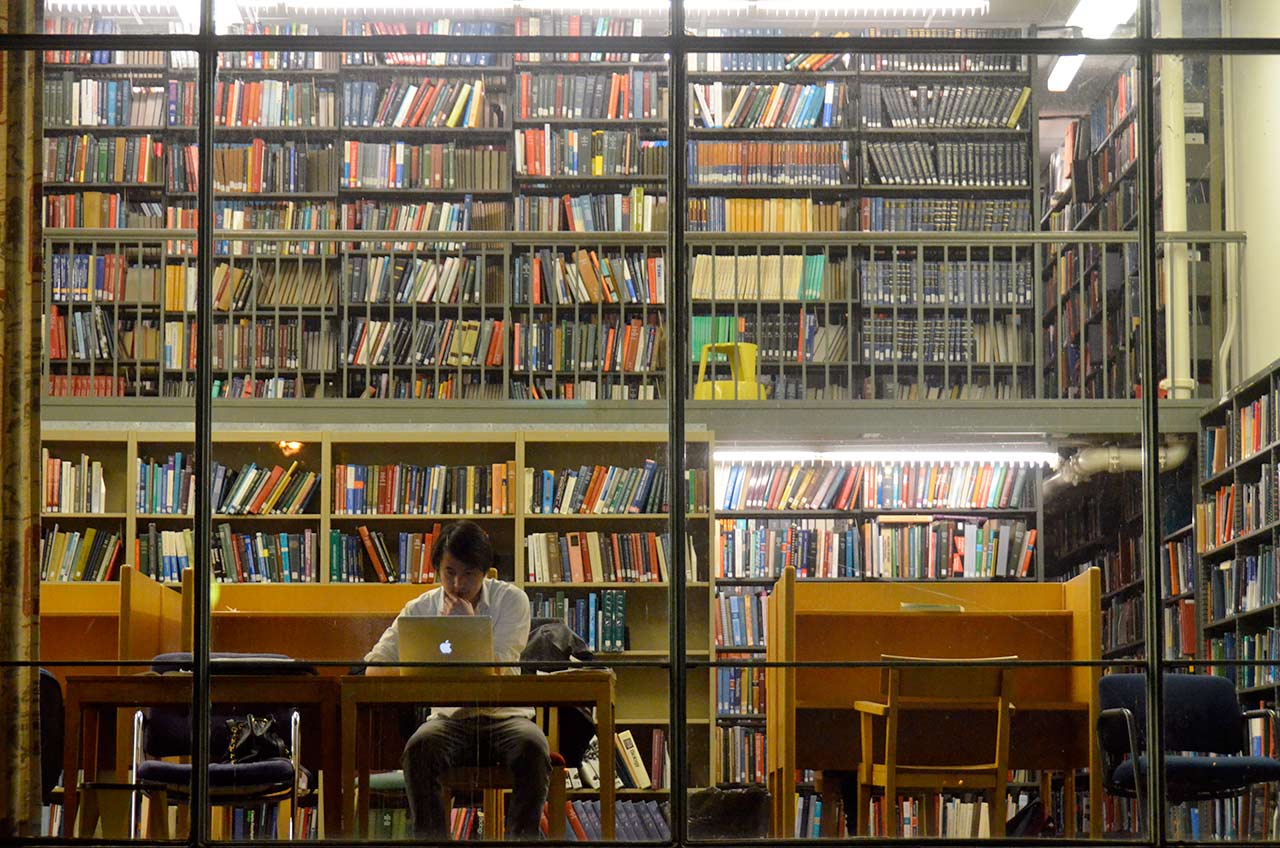 Technology
Bedrock of libraries has been shaken; what's next?
Video: Michelle Ha Tucker, Library Innovation by Design. Photo of man studying by Chris Devers on Flickr.
"We used to know how to know. We got our answers from books or experts. … In the Internet age, knowledge has moved onto networks. There's more knowledge than ever, but it's different. Topics have no boundaries, and nobody agrees on anything." – David Weinberger
"The real difficulty in changing any enterprise lies not in developing new ideas, but in escaping from old ones." – John Maynard Keynes
These two quotes must scare most librarians. Rightly so.
They were among the provocations offered as an introduction to a group of experts gathered at the Aspen Institute in Colorado this week to consider the future of libraries. Not only must librarians adapt to an information world that is rocking with seismic upheaval, but as institutions funded by taxpayer dollars, public libraries face the challenge of dealing with internal cultures and bureaucratic systems that make institutional innovation difficult – plus scrutiny from the public that can make library leaders cautious.
For the next couple days, roundtable participants have the task of identifying ways that libraries can restructure their work to benefit their communities while finding ways to innovate effectively and continuously. Libraries remain trusted community hubs and repositories of knowledge and information, but in an era where trusted knowledge is being replaced by amorphous information flows, innovation and change is required ahead.
Here are some notable suggestions for and criticisms of libraries from roundtable participants, aimed at sparking useful discussion during the remainder of the event. (I will write an overview and report on the group's recommendations later this week.)
Video: John Seely Brown – Re-imagining Libraries for the 21st Century
1) "Yesterday's cutting edge is today's dust bin." That was John Seely Brown of Deloitte's Center for the Edge, who shared the above quotes in a kickoff roundtable presentation, explaining that cutting-edge tech that a library might install today is ready to be discarded in only two years. Continual exponential advances in computing have changed the environment, he pointed out, such that five-or-more-year plans enjoyed by institutions in the past have been replaced by two-year "punctuated jumps" in transformational technology, which continue one after another. There can be no rest in library innovation.
2) One of the most striking criticisms of libraries from a roundtable participant was about the state of library websites. (Aspen Institute roundtable etiquette prevents me from directly quoting participants during freewheeling discussions.) Libraries missed the boat on the Internet and continue to do so, it was suggested. Major public libraries' websites rank nowhere near commercial book sites such as Goodreads.com, now owned by Amazon.com, in terms of reach. "Libraries should own Goodreads!" it was suggested. While libraries (rightly) work hard on providing Internet access to all members of the community, perhaps more important is developing a strong case for the role of libraries ON the Web (and mobile), where library sites and apps get used – a lot – and ignite interactions between library stakeholders.
3) Library staffs cannot and should not do everything, nor try to do everything themselves. Roundtable participants noted an increase in working with outside groups and organizations to produce library programs. One library director cited hiring experts for areas, such as financial literacy programs for library users, that classically trained librarians say they don't have the skills to do. "I have to hire a different cadre of people to support the traditional librarians." Collaborations and non-standard hires can address this issue.
4) Design thinking is a good fit for libraries. Michelle Ha Tucker of IDEO, a design and innovation consulting firm, presented the case to roundtable participants for a "DT" mindset applied to library innovation. Hallmarks of design thinking are collecting stories from a range of stakeholders, and conducting quick learning experiments to determine what innovations are wanted and needed. Failure in experiments is invited and a good thing in design thinking, because it leads the process to ultimately executing on big things with a solid underpinning of serving the public what it wants.
5) The "failure" issue is an important one for libraries as they embark on an era of continual experimentation. Unlike the culture of Silicon Valley, which embraces the benefits of failing and learning from flops, public libraries deal with scrutiny by taxpayers and government agencies that don't like to see tax dollars spent on "non-successes." Yet, experimentation is imperative for the future of libraries. One roundtable participant explained that he experiments and runs trials routinely, but he articulates it as "trying to learn something" before moving on; and he uses words such as "tinkering" and "experimentation" while avoiding the dreaded F word.
I will have more from the Roundtable on Library Innovation later in the week, so keep reading Knight Blog.
Steve Outing is a Colorado-based writer and digital media consultant.
Recent Content