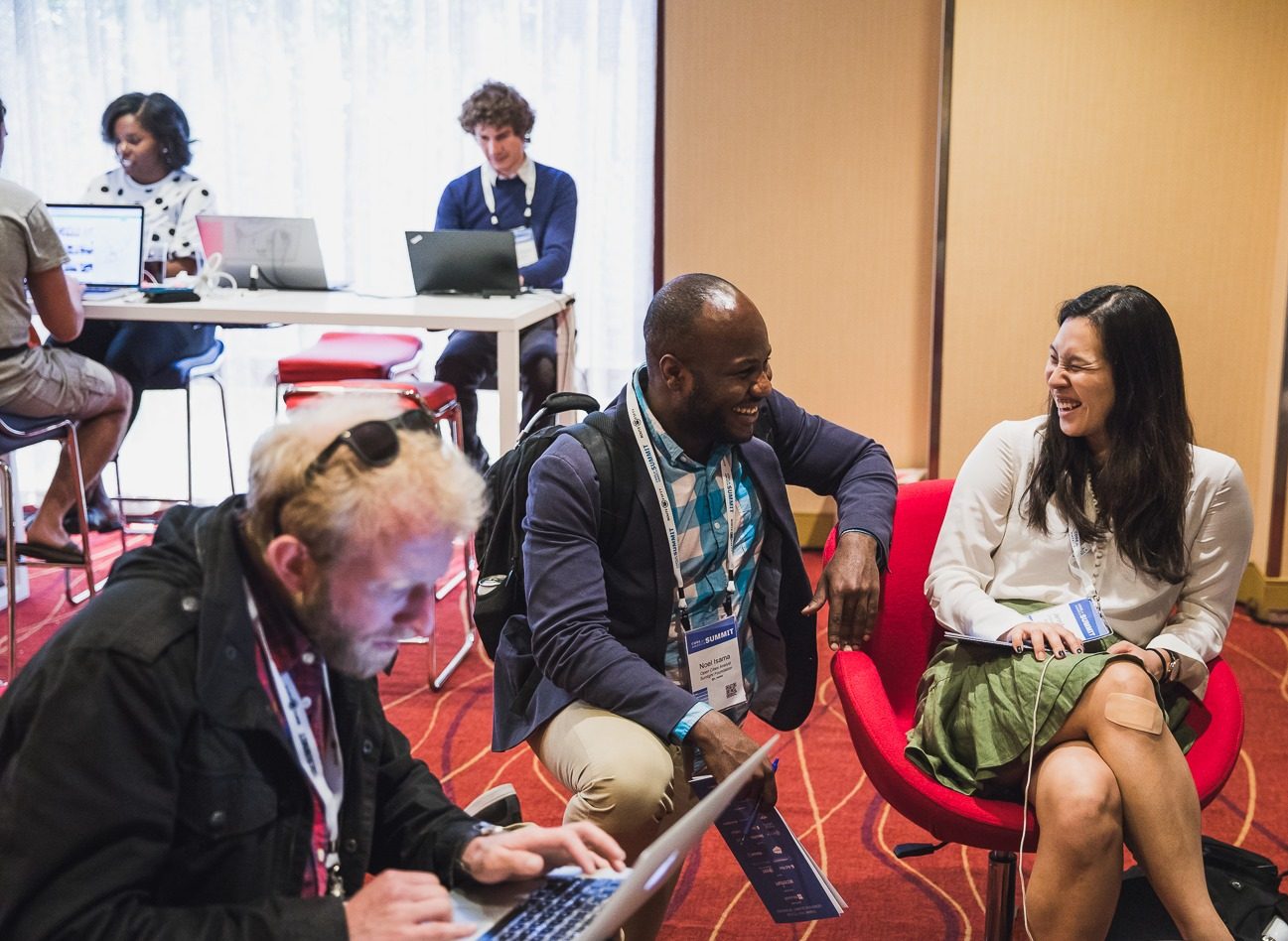 Communities
Building resilient communities in the digital age requires government to work for all
In 2009, Code for America sprung forward with a bold proposition — enlist the nation's most promising developers to use technology to solve civic problems in government, to encourage positive change through transparency, citizen participation and efficiency. Knight Foundation was and is a strategic investor in civic technology, which supports an ideal of a digital government that works for all people.
Today, we're announcing a new $1 million investment in Code for America, focused on expanding the Brigade Network's impact and reach. Knight was one of the first investors in Code for America, seeing potential in its mission of making government work for all in the digital age, which aligns with our mission of building resilient communities where citizens are informed and engaged. With today's announcement, we have invested nearly $10 million in this mission.
The Brigade Network is now 25,000 members strong. These volunteers are spread out across 85 chapters that cover 41 states (including Washington, D.C. and Puerto Rico) and meet monthly to bolster community innovation and collaboration between government, nonprofits and residents. Code for America, which has been the primary platform to connect tech talent to government, has advanced ideas — like open data — that are now a mainstay of government.
But its most significant impact is felt in communities where we see examples like Code for Philly, which launched CHIME, a COVID-19 impact model for hospitals, in partnership with Penn Medicine. This open-source tool helped hospital leaders, at the onset of the COVID-19 pandemic, see up-to-date resource projections, including patient hospitalization numbers, ICU beds and ventilators. Or efforts like those of Open Twin Cities, which created a collection of tools that tracked the availability of supplies and volunteer opportunities at more than 200 aid sites in the Twin Cities area, to meet the needs that emerged in the aftermath of the murder of George Floyd.
Building on the successes of the tech Brigades in communities where Knight operates in, our latest investment seeks to strengthen these local chapters by refining volunteer engagement and retention strategies and building capacity to fundraise and sustain local impact.
Our latest support for Code for America is one in a long series of Knight investments in civic technology. For more than a decade, we have invested more than $50 million through our Tech for Engagement, Technology Innovation and Smart Cities programs — all of which have sought in various ways to spur citizen engagement and improve the way government works to be reflective of their citizens' true interests. During this time, the field of civic technology has grown and matured exponentially, and the application of digital technology for citizen engagement and government innovation is now a defining standard.
But while the field has made tremendous strides, it's clear that much progress is still needed. In the wake of the pandemic and a swift transition to digital-first strategies in all sectors of society, the nation has grappled with issues of unequal access to the internet, growing economic inequality and racism laid bare by the inequities of a global health pandemic. COVID-19 forced all levels of government to apply digital technology to the way they engage the public and carry out public service. In many ways, the traditional avenues for citizens to engage government in these issues have multiplied — with more opportunities to email, Tweet or Zoom into local government discussions — but in other ways it has gotten more restricted as time, energy and trust wane on digital platforms that don't support diverse discussions or enable greater transparency.
Our investments and convenings in digital engagement have taught us that this digital transition will require more than just the adoption of new technology. As we advance toward more widespread application of digital technology, communities and funders should consider investments to foster more informed and engaged communities that include:
Digital civic engagement. Invest in solutions that increase understanding of community needs and interests and help build the close resident connections that create attachment to place and increase engagement in the everyday life of their community. We need to scale up these solutions to expand the social networks of residents to grow their connection with each other and allow them to easily exchange quality information to make more informed decisions. In Philadelphia, we're supporting the use of Zencity, a useful tool that leverages artificial intelligence and data analytics to help understand how residents are receiving and responding to communication efforts around programs, initiatives and messages.
Meeting communities where they are. Governments and organizations must better understand the digital platforms or mediums where communities go for access to trusted information. As communities work to vaccinate millions of Americans, getting more jabs in arms will require effective messaging from trusted messengers. The City of San José has engaged civic leaders in spreading the word and has learned to go one level deeper by working with local social media influencers who are trusted in the community, especially by people of color.
Digital experimentation. The development and use of immersive technologies provide public officials with new tools to engage with residents' concerns, needs and values. In Charlotte, the use of augmented reality in the city's comprehensive planning process enables residents not just to respond to a "plan", but to also visualize and plan the community they want to see in 2040.
For the past three years, Knight's Smart Cities program has worked to harness the application of digital technology to improve how communities respond, connect to and engage with residents. We believe any "Smart" city should be driven by — and serve — its residents. But we recognize that this vision requires doing more with data, and ensuring that data supports more seamless engagement with government. As a result, we've continued to lean into insights from those we fund and have focused on solutions that increase the capacity of communities to engage digitally by ensuring that they're building trust in the information that's shared, developing a better understanding of the community's point of view, and leveraging the power of immersive technology to engage citizens.
Our investment in Code for America's mission reaffirms that making technology inclusive and equitable to everyone in the digital age begins at the local level — where designing tech in partnership with residents and making government work for them will help build trust and increase their engagement. As we continue to invest in the digital transformation of our communities, we will always partner with them to define their digital futures.
Lilian Coral is Knight Foundation's director of national strategy and technology innovation.
---
Image (top) by Code for America.
Recent Content