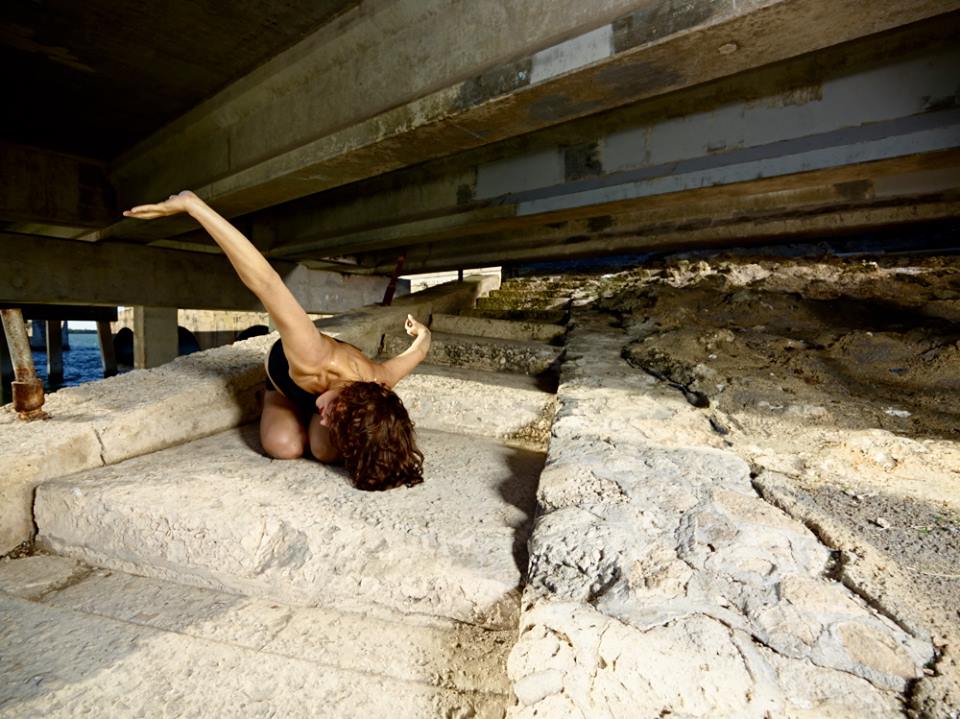 Arts
Choreographer Marissa Alma Nick explores life in South Florida post-climate change
Photo: Grass stains artist Marissa Alma Nick. Photo by Jeffery Salter.
"Adaptive Chassis:SFL" is a site-specific performance piece created by dancer and choreographer Marissa Alma Nick for Grass Stains, a project that was one of the winners of the 2014 Knight Arts Challenge South Florida. In the work, Nick addresses life in Miami after climate change. Can we stop it? And, if not, can we survive it? These are the questions Nick asks us to consider.
I ran into Nick at Kush (recently voted Most Green Restaurant in Florida by the Nature Conservancy), where she was meeting with her collaborator Sebastian Ruiz, a Miami-based visual artist. I was eating Key lime pie at the table next to them as they mapped out plans for "Adaptive Chassis:SFL."
"'Adaptive Chassis:SFL' responds to Miami's vulnerable landscape post-climate change," Nick said. "When I applied for Grass Stains, I had set the intention to collaborate with a visual artist. I wanted to find someone who was working in the realm of D.I.Y in reaction to a particular environment, with very particular circumstances. Enter visual artist Sebastian Ruiz. He's known for his ad hoc approach to creating innovative accoutrements and garments that stem from a means of survival, coping and recovering."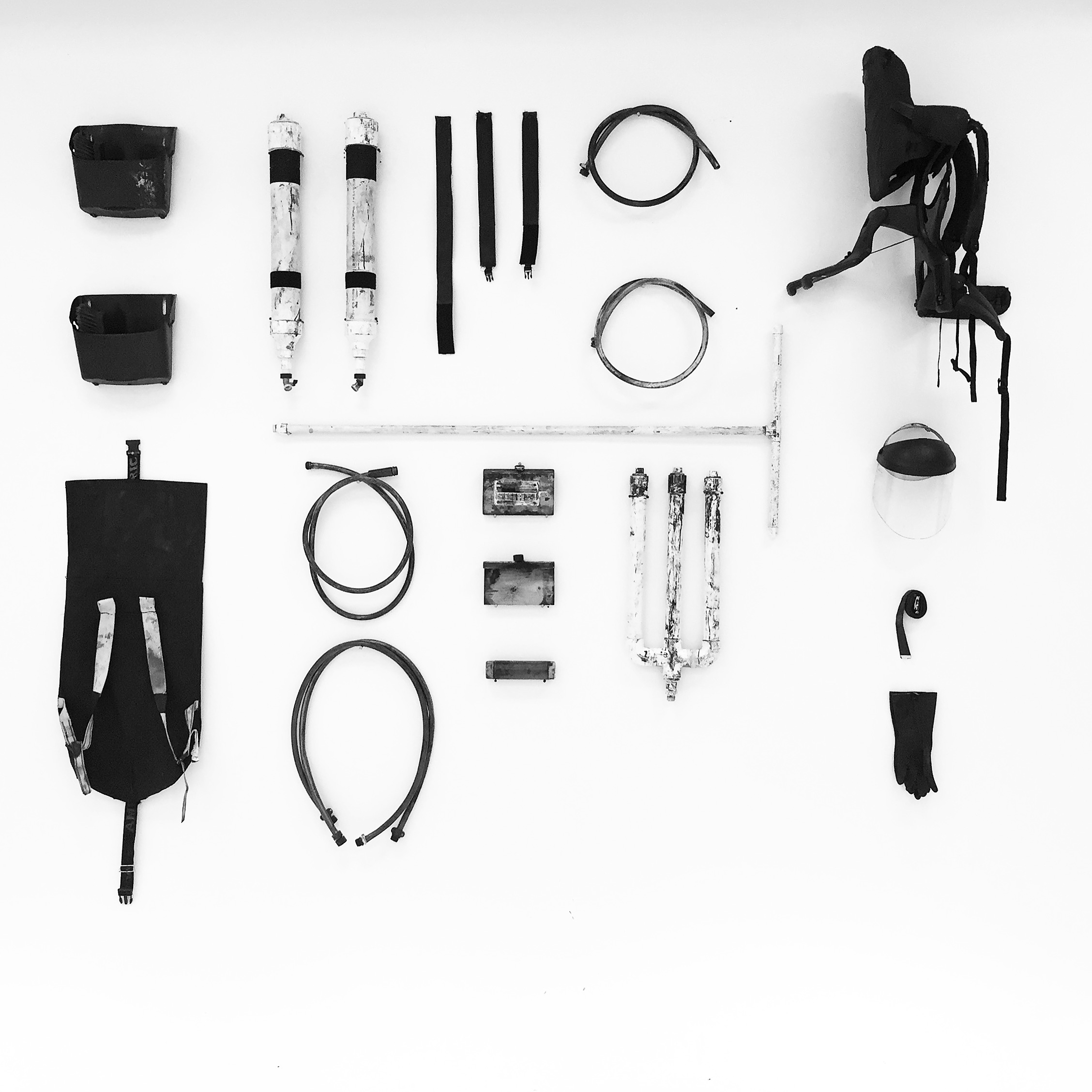 "Arsenal 001 – en plein air kit" by Sebastian Ruiz.
Maybe art can help bring the gap between politics and the environment, I suggested.
"The collaborative wearables and choreography seen in 'Adaptive Chassis: SFL' will reflect the need to persevere in a time of crisis, due to dramatic changes in our climate. What we are creating is an immersive experience for the audience where they will explore an uninhabited region of Miami, and get to witness how ingenuity could possibly be the salvation of our humanity."
These days, it isn't a strange thing to find eco-friendly businesses popping up all across South Florida, a nod to this city's growing awareness that the vitality of our community and economy is intimately tied to our ecology. 'Let's save humanity' is the underlying message. But it's simpler than that. Let's be pragmatic, people.
"Growing up in Miami (as a second generation Cuban-American), I witnessed a rapid transformation of the urban landscape… and so did Sebastian," said Nick. "Something that was prominent in on our own backyards was the strong influence and presence of Caribbean culture, where there is a focus on one's ability to create with minimal resources—proving humans can be more ecologically and economically pragmatic."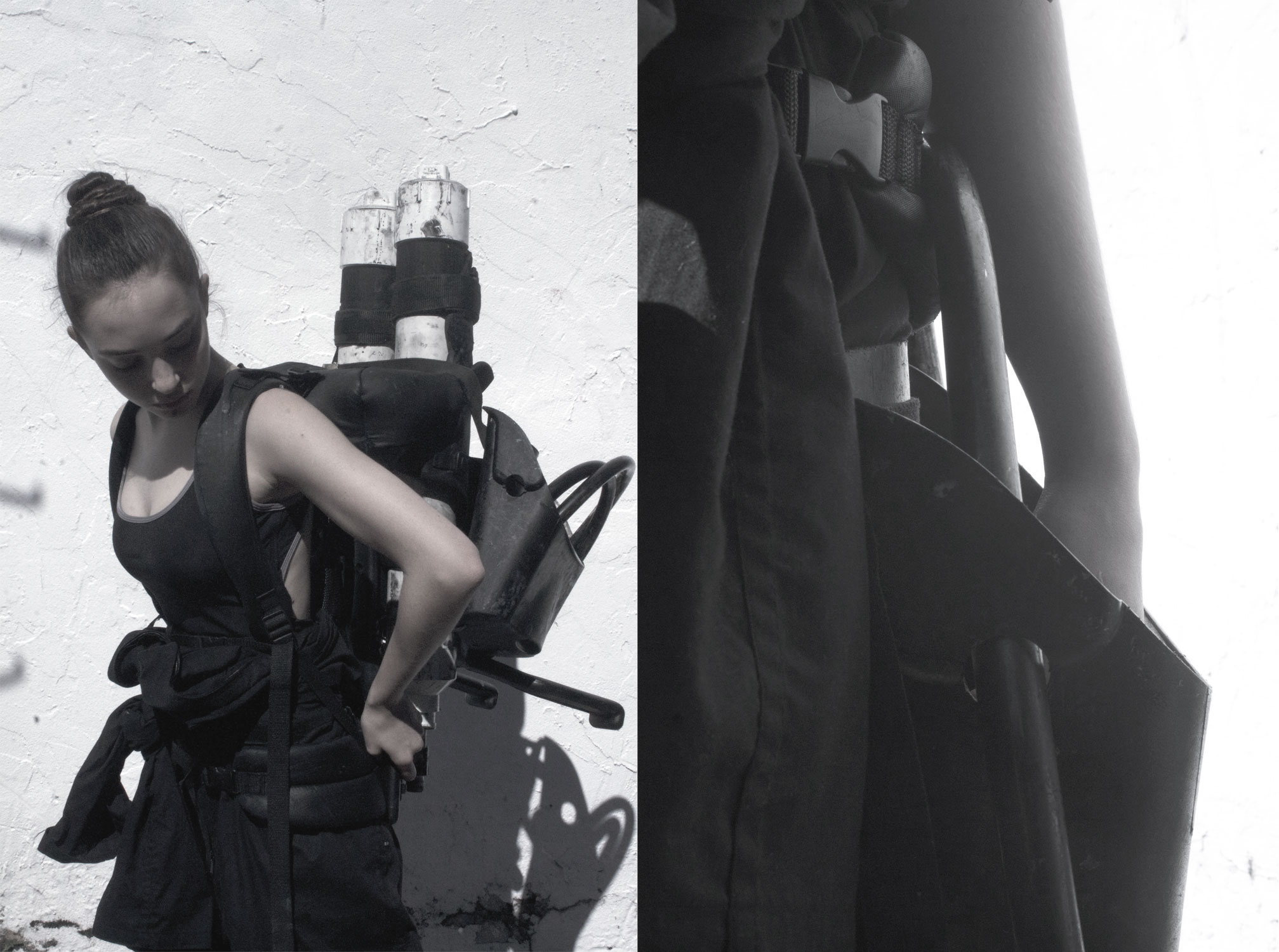 "Tank Accoutrement" by Sebastian Ruiz. Model: Allegra Preuss.
What is strange is that we're still having national political debates about the science of climate change—a debate that has done little, if anything at all, to mitigate the measurable rise in sea levels and temperatures since the 1950s. See NASA.
What impact will "Adaptive Chassis: SFL" have on SFL, I asked.
"I hope to promote the ideology of survival," Nick said. "This ideology may transform a city that is no longer in denial about growing sea levels and dramatic temperature shifts. It would create a Miami where less time is invested into materialism and vanity, and our focus is turned to nourishing our ability to innovate out of necessity. Through this, we may learn not only how to survive, but we can realize that we can and will survive."
It may (or may not) be the end of South Florida as we know it, and I don't feel too good about that. Uncertainty is destabilizing. By the time I reach retirement age, global climate change will (possibly) turn South Florida into a semi-submerged aquatic arterial landscape clogged with Miami Vice-style gondola-paddle boat hybrids. Fun, in theory, but not practical in this disgustingly humid climate.
Follow Marissa Alma Nick as she creates "Adaptive Chassis: SFL" on her website. Performance dates will be announced soon.
Recent Content