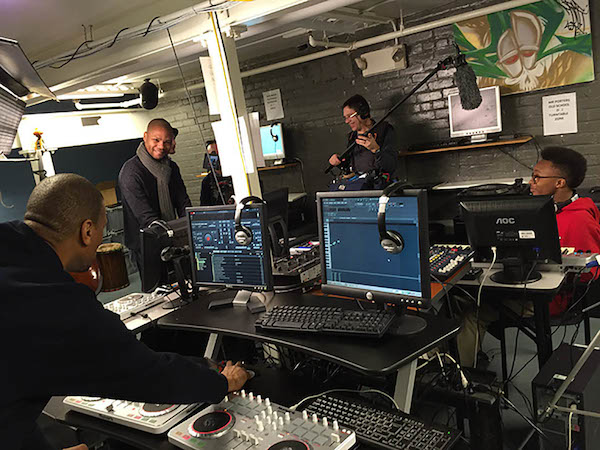 Arts
Discovering the sounds of Detroit
A new, collaborative symphony, led by the Detroit Symphony Orchestra and Tod Machover of the MIT Media Lab and funded by Knight, is taking shape in the Motor City. Below, Machover, who is gathering sounds from the people of Detroit to shape the piece, writes about his work. A version of this post was originally published at SymphonyinD.com. The Symphony in D project records sounds with the students of Detroit's YouthVille.
I recently returned from a trip to Detroit, my second in a month, and my third since we officially launched the Symphony in D project in late November. Besides exploring as many corners of the city as I can and sometimes soaking up impressions without any agenda—often the best way to find surprises—my goal right now is to meet people who would be interested in collaborating with me, the Detroit Symphony Orchestra, and my team at the MIT Media Lab to create this musical portrait of Detroit, past, present and future.
People often say that Detroit is a friendly city, and I can concur that this has absolutely been my impression. In general, everyone I have met seems eager to talk about their city, about its problems and promise, its specific and specifically quirky features, its most typical sounds, and its most important stories. Some of the same strong impressions come up over and over – the sound of the crowd at a Tigers game (and I am going to try to be there for Opening Day in April), the clunk and roar of the River Rouge auto plant (will try to catch that on my next visit), the rush of the river and songs of birds in the city's extensive wildlife habitats, the peeling of church bells or the soaring of a church choir, the favorite 0-60 accelerating muscle car exhaust.
But a surprising number of sounds I am hearing about are private, personal, idiosyncratic and simply full of life. Everyone seems to have their own favorite bar with a typical buzz, a preferred neighborhood walk, an admired deco skyscraper or earlier-than-deco factory – still in use, converted to other purposes, or waiting for new life. I was able to experience a pretty wide range of Detroit experiences on this last visit, from the overlapping sounds and stories at the Meridian Winter Blast to a 24-hour dance-a-thon in East Village to raise money for the Sister Pie Bakery. Detroit is not only friendly; it is also a city of incredible individualists, and I feel very fortunate to be starting to hear many of your stories and sounds.
I have been meeting with groups all around the city, and each community is starting to contribute to A Symphony in D in its own way. We'll be recording neighborhood sounds with the elementary school kids at Detroit Achievement Academy; documenting stories and archiving "lost" sounds from residents of American House; seeing how Detroit audio can be mixed and mashed by the teenage beat-making and DJ students at YouthVille; hearing tales of immigration and listening to beautiful choral textures from the Chaldean community; experimenting with Hyperscore and Constellation composing at the Michigan Science Center, "translating" recorded city sounds into orchestral melodies and harmonies with the Detroit Symphony Orchestra Civic Youth Ensembles, and much, much more. We are really interested in working with anyone and any group in Greater Detroit to help find the most beautiful sounds to share and most significant stories to tell, so please visit us at SymphonyinD.com or contact us at [email protected] if you'd like to participate.
We will soon launch a brand new mobile app for iOS and Adroid which will make it super-easy to record any sound in the city with your smartphone (stay tuned for the release at SymphonyinD.com!), place it on a map of Detroit, share it with others, and comment on the huge growing library of sounds from this amazing city. And you can listen to – and play with – a diverse and compelling collage of Detroit sounds in this new Constellation app on your computer, which lets you mix-and-match imaginary journeys through the city, made just by recording your mouse movements.
I'll be back in Detroit in early March and hope to meet many more people then. By that time, we will have received thousands of sounds from Detroit, will be assembling them into mini-soundscapes to share with you, and will be eager to discuss with you how all of these auditory impressions can start forming into a giant musical narrative, capable of singing the story of Detroit for now and for the ages. Please join us on this journey by recording and submitting your favorite sounds via our soon-to-be-released mobile app or at SymphonyinD.com, making and sharing your own soundscapes with Constellation, sending us your Detroit stories to [email protected], and staying tuned for public events, discussions, presentations and competitions that will allow you to be a core-collaborator and co-creator of Symphony in D.
Great City. Great People. Great Potential. Now let's make a Great Piece…..together.
Recent Content