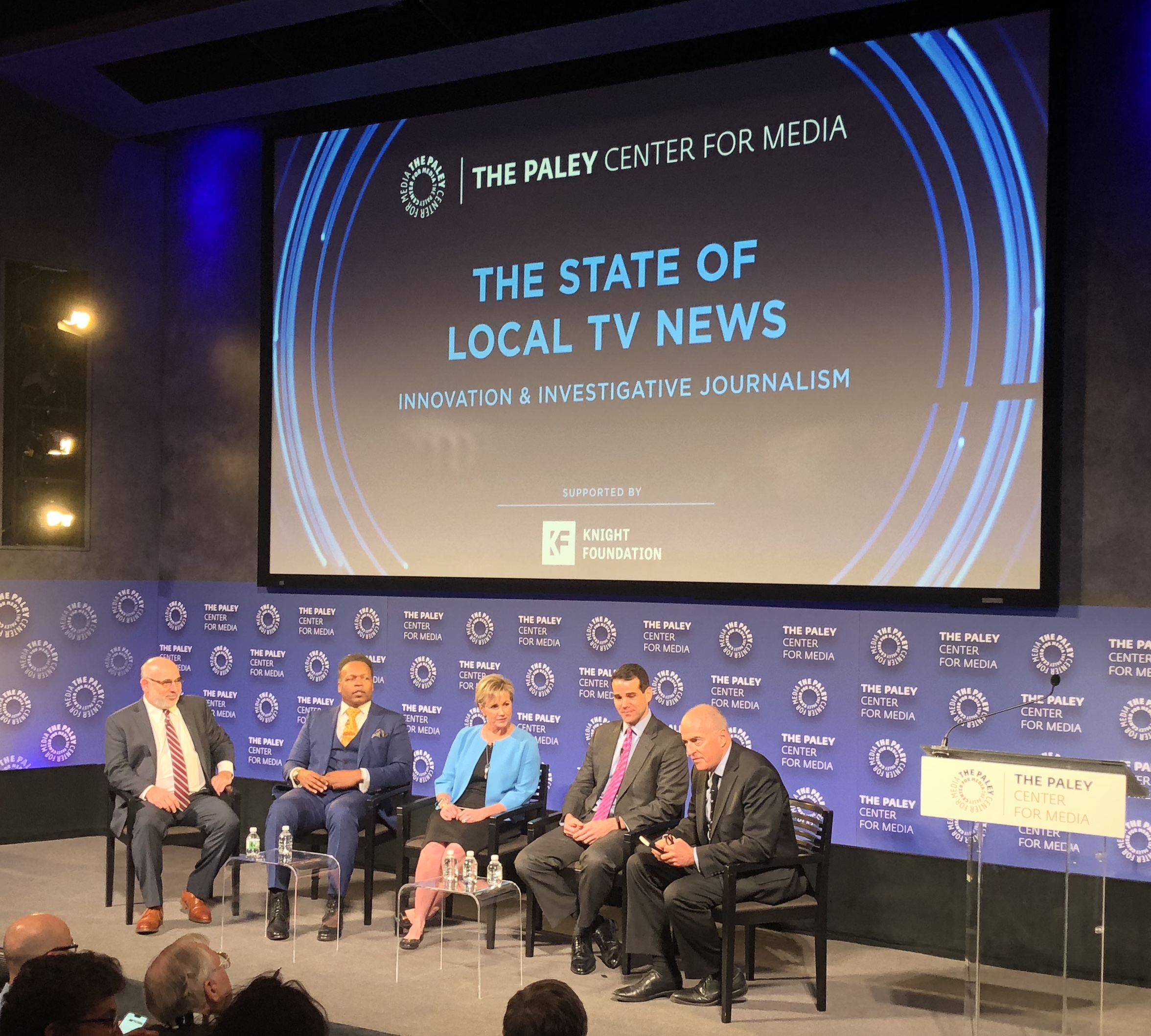 Journalism
Embracing digital, some TV stations are filling gaps in local news
Even as local newspapers steadily close, the audiences and profits for some local TV stations are growing. That's in part because local stations are tailoring news packaging and delivery to the preferences of younger and other digital-first news consumers, said newsroom leaders at last week's "The State of Local News" forum in New York City.
New forms of investigative journalism are changing the sound, look and structure of conventional newscasts, participants also heard at the forum, which kicked off with a summary of an analysis by the John S. and James L. Knight Foundationof how local news is shape-shifting in this digitized age.
"If 1,300 communities don't have newspapers anymore, your role is even more important," Bob Papper, a lead researcher for Knight's analysis, told the audience at The Paley Center for Media.
"We believe that communities should be informed, for the good of a healthy democracy," Karen Rundlet, Knight Foundation director/journalism, told the audience. Previously, she'd developed the Miami Herald's video studio and produced local television news in Miami, Atlanta and New York.
"At a time when bots are regularly spreading misinformation, communities are being torn apart by divisive politics, the mainstream media is accused of not reporting outside of their elite coastal bubble—and when our readers, our listeners, our viewers are looking for someone to trust, with facts—what is the role the local TV newsroom?" Rundlet asked. "What is the greater responsibility that everyone in this room shares as news providers who inform local communities?"
Researcher and retired journalist Papper summarized these, among other, key findings—extracted from data and hundreds of interviews with newsroom executives and rank-and-file staffers—of Knight's 166-page, five-part study, "Local TV News and the New Media Landscape":
In 2018, the total number of journalists in local TV news surpassed the total tally of journalists at local daily newspapers.
More and more people, especially younger ones, get their news online.
In the top 25 largest media markets—where half the nation's people live—newspapers supply most (56.6 percent) of the local news.
In the next 26 to 210 media markets—where the other half lives—local TV stations supply most (53 percent) of the local news.
85.5 percent of news distributed through social media—a calculation of fans, followers, shares, comments, replies, retweets and such—comes from local TV news stations, while 11.7 percent of news shared via social media comes from local newspapers.
A relative handful of digital-only news sites—generally supported by philanthropy —have a sustainable revenue model.
Innovation in local TV news is occurring almost entirely online and in social media.
Those innovations include digital-only newscasts; online storytelling that expands upon in-depth, already broadcast reporting; mobile news apps made expressly for niche audiences; and real-time distribution of content on OTT (over-the-top) video streaming directly from the internet, including portals such as Roku, Amazon, Netflix, Facebook and YouTube.
"The future is the intersection of audience and revenue. A lot of people, including in the business, don't understand that this is a business," added Papper, a Hofstra University emeritus professor of journalism and chief researcher for the Radio Television Digital News Association. "How those things interact will determine where we're going."
Even so, he and others said, challenges remain for local TV news. Whether those outlets develop replicable, money-making models for delivering journalism over the long haul hinges on news executives' willingness to take risks.
TV news has to take itself "out of the assembly line" that has had competing news stations leading their lineups with the same "commodity" stories on the same, often recycled topics, said Ellen Crooke, vice president for news at 47-station Tegna. In 2015, legacy newspaper giant Gannett launched Tegna's broadcast and digital news operations.
"Social media is proving to the bosses that people want [investigative journalism]," said Crooke, a member of the forum's panel on the future of investigative journalism. "We have metrics that show great investigative work will bring in a younger audience."
Tegna is among companies that are in experimental mode, whether bucking the "minute-30" rule of how long a broadcast segment should be, constructing entire news packages that live solely online, or challenging conventions about who should be in front of the camera.
Another member of the investigative panel, Byron Harmon, vice president and news director of Fox's New York City affiliate, WNYW, gave his own example of what change looks like. His station dispatched a reporter with dreadlocks—Blacks have sued in federal court, as recently as 2016, to wear that natural hair to work, a style that is hardly ever seen on TV news—to Brooklyn to profile "a different side" of Bedford-Stuyvesant's "Pink Houses," after a rookie NYPD officer shot to death an unarmed African-American man in a stairwell of that public housing project. The prize-winning segment, "Yellow Tape," took its title from a mixtape by two celebrity rappers from that neighborhood.
"We did the requisite initial stories," Harmon said, but "also told the inside stories. The reporter was a nontraditional hire. … We had a mainstream DJ score it. It was 14 minutes long, it ran at the top of the broadcast. We have something like that—every day—in some form."
Panelist Lee Zurik, chief investigative reporter at WVUE in New Orleans and co-founder of year-old Investigate TV, which partners with Knight grantee ProPublica, said viewers spend an average of 28 minutes at a stretch watching its engrossing OTT segments. "All day, people are on the phone getting news. You have to give them something they won't see on the [typical] news[cast]. … You have to give them something different."
"We have to step our game up," Harmon said. "The rise of citizen journalism out there—everyone is an investigative journalist now. … We're not the sole gatekeepers anymore."
Not doing journalism as usual also demands much more engagement with audiences, speakers said. "Coverage and decision-making have to come from the bottom up," said panelist Esteban Creste, vice president of news at Univision 41 Nueva York. "People give us information that is really relevant. We also do … town halls and phone banks," for example, that had lawyers fielding queries on Trump immigration policies. "We try to keep the ear on the ground. We make decisions based on what's coming to us."
Interactive news anchor Amy Wood, of WSPA in Spartanburg, South Carolina, said engaging news consumers, especially through social media, builds not only news audience but also news literacy. She started what now is a decade of "two-way" newsgathering and disseminating by Google chatting with viewers. "In this age when we are talking about trust in media, it is incredible to know that the audience has that relationship," she said. "They ask all the time, 'What's your opinion?' I remind them that journalists don't have opinions. … It's to the point that I've educated my crowd, and that they educate each other: 'No, she doesn't share that. She's a journalist.' "
Errol Louis, political anchor at NY1 in New York City, said he's optimistic that local TV news will improve as it morphs, digitally, but especially as it serves up probing, problem-solving journalism. He dismisses suggestions that he should join a national news outlet. Leaving local news "would be a breach of faith with my audience," he said. "We're in this together until we get all of this fixed. … That is the spirit that will carry us through. And the bells and whistles will follow."
Said Tegna's Crooke: "With the decline of newspapers, if not us, then who? Our community needs that."
Recent Content