Endeavor Miami honors Jessica Goldman Srebnick for transforming public spaces through art
Arts / Article
When Wynwood Walls opened up in 2009, it announced the arrival of a burgeoning cultural district loud and clear. The magnificent colorful wall murals painted by internationally known street artists on a property on Northwest Second Avenue quickly became a focal point for the rejuvenating urban core of Miami, centered in the Wynwood neighborhood.
The Walls are one of the myriad creative real-estate ventures of Goldman Properties, founded by Tony Goldman in 1968 in New York with an emphasis on revitalizing depressed inner city neighborhoods. In 2012, daughter Jessica Goldman Srebnick took the helm as CEO (her father died that same year). She and her father had spearheaded economic development from New York to Philadelphia, Miami Beach to Miami through developing a mix of restaurants, retail and residential properties–and art.
In 2015, Goldman Srebnick founded Goldman Global Arts, which aims to expand the realm of public art, to bring art to people and places outside the usual confines of an arts district or museum. The first project: 18 artists from 10 countries have been commissioned to install monumental murals at the home of the Dolphins football team, in the refurbished Hard Rock Stadium. The initial works were unveiled at the first home game on Sept. 25.
These are just some of the projects that have led to Goldman Srebnick being honored with the third Endeavor Miami award, which recognizes high-impact entrepreneurship, on Oct. 22. (Endeavor Miami is the first U.S. affiliate of Endeavor, an organization dedicated to promoting entrepreneurship and fueling worldwide economic growth by building communities of entrepreneurs and innovators; it is supported by Knight Foundation.)
There are numerous developers and real-estate companies that are changing the landscape of Miami, but Goldman Properties nonetheless stands out. "I think we have always looked at what a community could be," said Goldman Srebnick. A community that is conducive to walking, to commingling, to enjoying the atmosphere.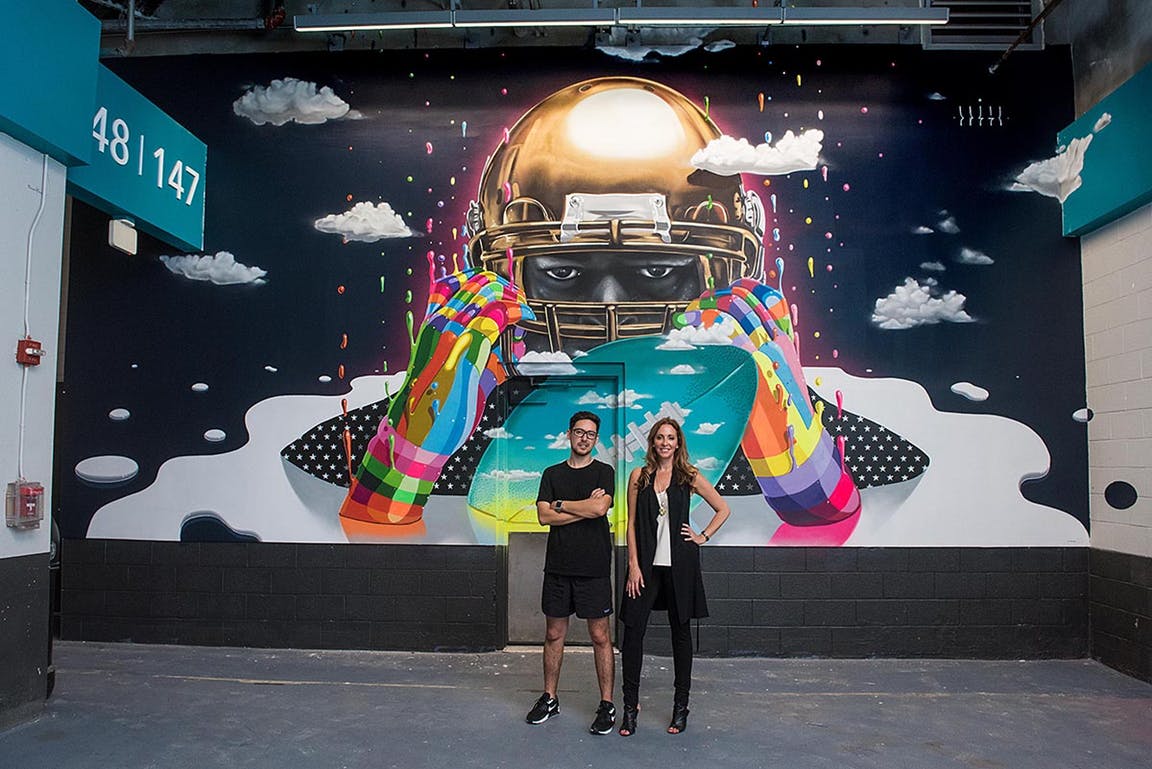 "When we first looked at Wynwood, we saw a beautiful open canvas to work with," she noted. For the most part, Wynwood had been a down-and-out, working-class residential neighborhood with a center filled with bland, windowless warehouses, and a few intrepid art galleries. But the streets were lifeless and, at night, dark and ominous. The Goldmans bought up property to repaint this canvas, commissioning outdoor art, refitting warehouses and opening up a couple of restaurants. "We wanted to blanket the area with art," explained Goldman Srebnick. "Art changes the energy, makes a place infectious," and also makes it international. "You don't have to know a language to be moved by art." If you build it, the rest will come–and, indeed, today Wynwood is one of the most dynamic districts in South Florida.
Its impact has been dramatic; a neighborhood once off the beaten track a decade ago is a major tourist destination because of the plethora of outdoor art, and a homegrown incubator for local industries, especially tech start-ups.
But Wynwood in some ways remains an enclave. Much of South Florida may not know much about public art, street art, and how it has the potential to invigorate everyday life and communities. So why not bring it to a very different crowd–for instance the throngs who come to a huge stadium to see a professional football game?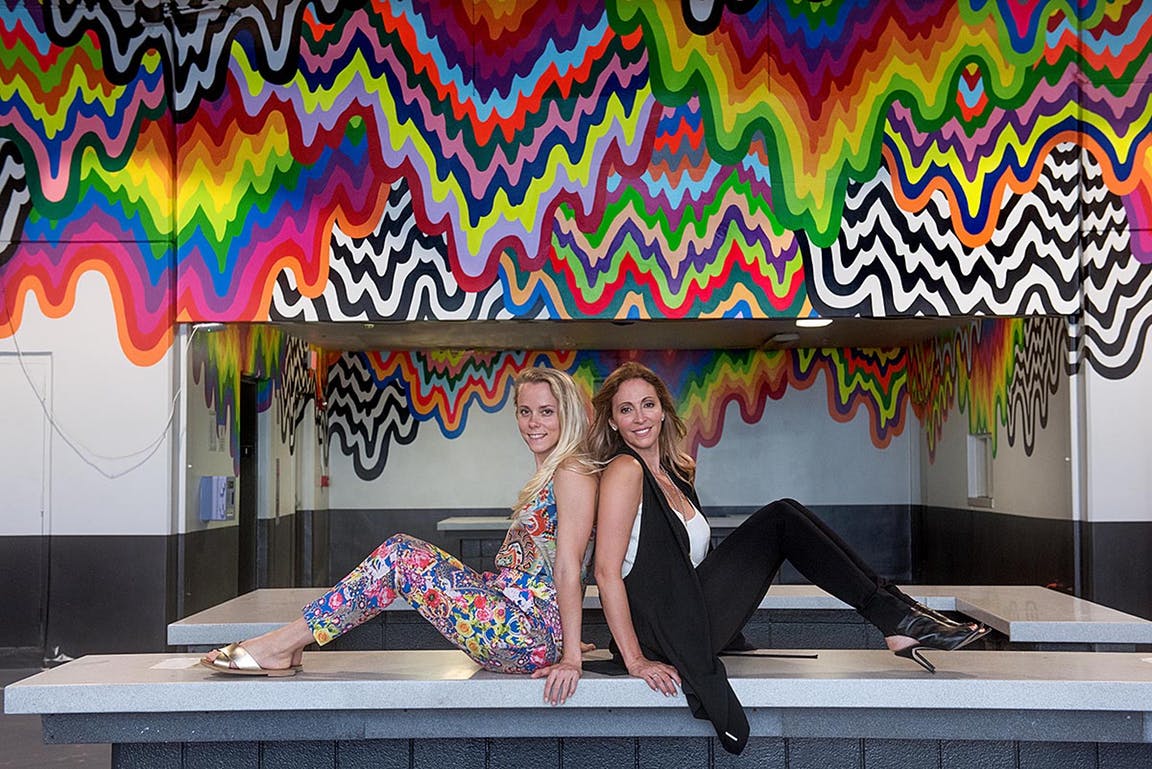 According to Goldman Srebnick, Dolphins owner Stephen Ross became enthralled with the art at the Wynwood Walls and all across the facades of neighborhood. "It was too good an opportunity to pass up," she explained about the collaboration between the both of them, to infuse the aging stadium with new energy with mural art.
Plumbing her relationships with artists for many of the Goldman projects throughout the years, she and Goldman Global Arts co-founder, artist Peter Tunney, picked out a variety of artists–most of whom come from a graffiti or street art tradition–to kick off the first phase of the Dolphins stadium project. Some of the better-known names on the international scene are Logan Hicks, The London Police and the amazingly trippy duo of assume vivid astro focus (AVAF). Some of the murals have a sports theme: Chilean Dasic Fernandez has created a portrait of a player clutching his helmet with brash multi-colored gloves, ready to take the field; Portugal native Vhils has hammered out–literally–an image of legendary coach Don Shula.
But others are abstract collages. The early-generation graffiti artist CRASH has spray-painted a whimsical mural with tropical hues; while Miami's own Jen Stark has covered her walls with telltale psychedelic colors and staccato patterns.
This Goldman art project, while not about rejuvenating a neighborhood, still has the mission to re-energize a place, and expose art to a general public. "It's all about creative spirit," said Goldman Srebnick.
That's the spirit that Endeavor Miami recognized for its latest award. And one that will be on display at the flagship Wynwood Walls again this December. Another 12 wall murals have been commissioned, under theme of "Fear Less." It's a play on both the meanings–fearless art and the desire for us all to fear less. "This year, with everything going on in the world, I felt it appropriate to advocate a message of courage, in the hope that we can all embody courage in our everyday lives," according to Goldman Srebnick. "Street artists by vocation are some of the most fearless people I've met–and here in Wynwood, we've grown from a marginal area that many feared to explore, into one of the most desirable art-filled locations in the world. My father always said, 'Don't give in to fear,' and this year we're honoring that sentiment."
The Endeavor Miami 2016 Gala will be held Saturday, Oct. 22, from 7 p.m. to midnight at Soho Studios, 2136 NW First Ave., Miami. Proceeds from the event directly support Endeavor Miami's mission to select, mentor and accelerate high-impact entrepreneurs in South Florida.
Recent Content