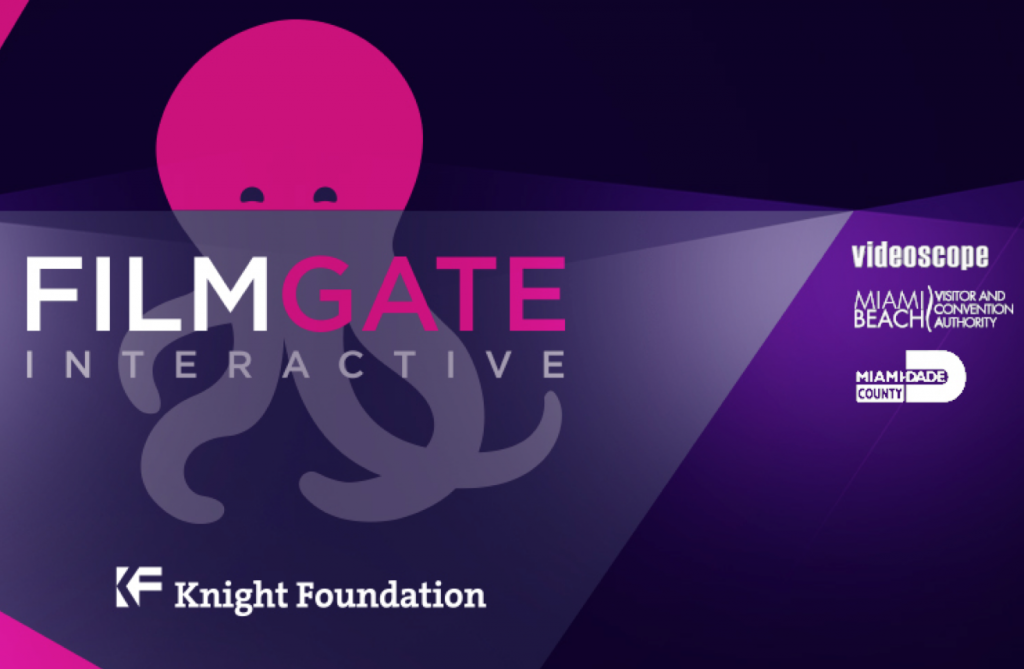 Arts
FilmGate: inspiring Miami filmmakers to create
FilmGate Interactive, a Knight Arts grantee, returns with another week-long event "at the crossroads of film, technology and interactive storytelling." The festival, which runs from February 1-8, is the brainchild of Executive Director Diliana Alexander. Alexander, whom I interviewed last year, spoke with me again about the creative value the festival will generate for local filmmakers and the community.
Neil de la Flor: What will be different, the same or unexpected for the 2015 FilmGate Creative Conference? Diliana Alexander: This year's Creative Conference spans over seven days and includes interactive screenings, interactive labs and interactive exhibits, as well as the Interactive Tech Playground. The Interactive Tech Playground returns with more exhibitors – 26 new tech exhibitors, ranging from start-ups to blue chip clients, that will showcase the latest developments in new tech and film production.
For the first time in Florida, FilmGate 2015 invites 40 students to participate in Learn.Do.Share, a social innovation lab, which is intended as a vehicle for sustainability. It is an international roving event for those who create. It's free to high school participants, and run by volunteers in the spirit of collaborative culture. The lab will be designed around sharing ideas and resources that help move inspiration to action. The challenge this year is to take the problem of rising waters and its effect on South Florida's coast. The 40 students and very special mentors in the fields of development, architecture, environmental activism, sustainability, data visualization, coding, filmmaking and education, will meet, ideate and work out solutions for the common good. The experimental elements that will explore the future of social innovation are complemented with talks, networking and playful activities that are meant to spark the imagination of many.
ND: Some notable highlights of the festival include the sci-fi web series "Futurestates," and the Interactive Tech Playground at the Lowes Hotel. Tell us about these events and why they anchor Filmgate 2015. DA: The Interactive Tech Playground is where you can meet blue chip and start-up companies that are on the leading edge of new tech. We bring this new technology to life with a live studio set and actors. Attendees will have the opportunity to operate and experiment with cameras, lenses, lights, lens accessories, dollies and cranes. At FilmGate, you can feed off your dream camera on the finest video monitors available. Expert staff from all participating manufacturers will be on hand to guide you through the features and answer your questions.
"Futurestates" is a revolutionary series produced by ITVS. Seven directors were asked to create shorts around the theme of what's our future going to look like – from education to prison to our neighborhood bar. We will begin the evening with a reimagination of a future bar, then the audience will have a chance to explore the seven shorts interactively, and finally, they will be invited into the theater for a walkthrough and discussion of the future. We even have a legend futurist in attendance to help us imagine and discuss. The central question at the heart of "Futurestates" is how the technology we make we take for granted, which has a profound effect on our capacity to feel, create, live …. and be human.
ND: I'm especially curious about "MelanchoLaLand." It seems like a surreal farce that melds elements of opera, theater, dance and experimental visual media (thus the interactive connection). What's that all about? DA: I really like this night because it has three Knight Arts award winners collaborating: Indie Film Club Miami, Joey Bargsten and Pioneer Winter. Joey Bargsten and his partner, Thea Zimmer, created "Melancholalaland," a transmedia opera that includes the elements of singing, theater, dance and experimental new media, all set to an electronic music score. "MelanchoLalaland" tells the dark, tragi-comic story of three artist/engineers who design mind-altering experiences, enhanced by self-pleasuring technologies and a variety of brain chemicals. They deal with disgruntled employees, corporate takeovers, dissatisfied girlfriends and cheesy space-aliens.
We complete the night with Pioneer Winter's "A Proper Marriage." "A Proper Marriage" is a speculative live performance piece that was created in collaboration with Indie Film Club Miami. It explores the perceived co-dependence of music and movement, and teases the eye movement of jazz musicians.
ND: What makes FilmGate Interactive such a vital component of Miami's film and arts community? DA: Throughout the year, we exist as a film collective, which promotes and showcases Miami filmmakers and creators through screenings, workshops and networking events. Once a year, our creative conference, FilmGate Interactive, invites pioneers who move the method of storytelling forward. We aim to introduce new tech and gadgets that are, in turn, used to make these stories immersive and interactive, while showcasing the creative work of locals and international visual storytellers.
When we created FilmGate three years ago, no one knew what we were talking about when we spoke of interactive and immersive. What makes me really happy is that now with FilmGate, more artists are creating within the cross-platform space, and our goal is to increase this number after each conference. We had upwards of 40 projects conceived and created at FilmGate 2014, and we aim to double that this year. FilmGate is the bridge between new tech and the creators of South Florida, a hub where you learn, experience and create. Our goal is to promote the progress of science and the useful arts, and in our own way, elevate filmmakers to a global stage by educating and inspiring them to create.
Recent Content