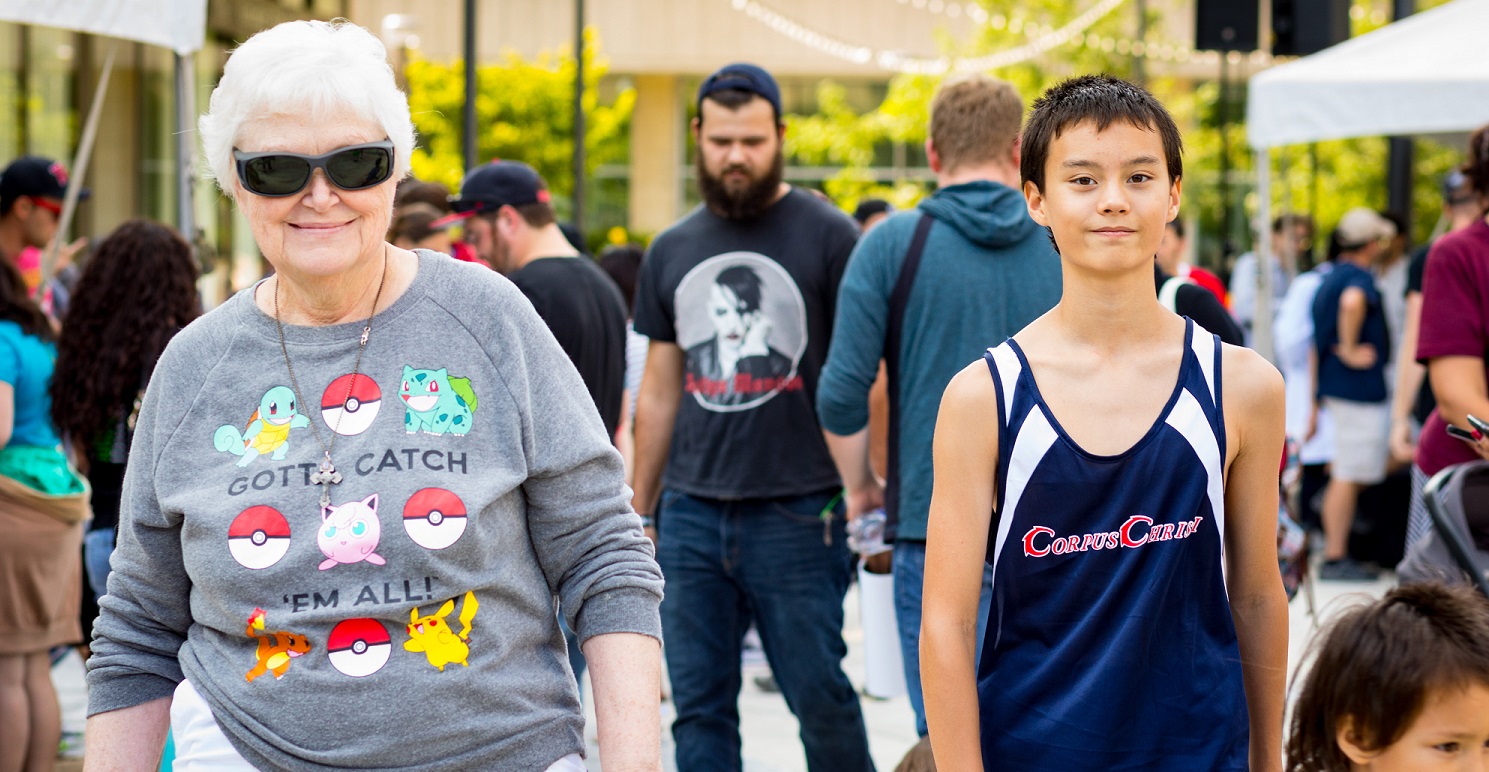 Communities
Four ways cities can use augmented reality games like Pokémon GO to bolster civic engagement
In summer 2016, Pokémon GO took the world by storm. Large crowds teemed in public spaces around the globe at all hours. The game, made by the Silicon Valley firm Niantic, Inc., uses a technology called augmented-reality (AR) to layer virtual objects (cute, cartoonish Pokémon creatures) onto the actual city map.
Knight Foundation invests in informed and engaged communities. Like our founders, Jack and Jim Knight, we aspire to be open to how technology can shape our work, and we're exploring how best to harness the growth of digital technology to improve they ways communities respond, connect to and engage with residents.
We were impressed by Pokémon GO's ability to bring residents into public spaces. We saw a prime opportunity to learn more about how our society, and its ubiquitous digital technology, might further spark public life in the communities where we work. This leans on an opportunity we see in our work: how to create cities of the future designed, driven by—and serving—the people who live in a place.
We partnered with Niantic to explore how Pokémon GO might enhance or augment existing efforts to support vibrant public life. The partnership launched in Charlotte, North Carolina, at an open-streets festival, in which busy streets were closed to cars and, instead, filled with pedestrians, bicyclists and—thanks to the Knight-Niantic partnership—people playing Pokémon GO. Our collaboration continued in three additional Knight communities: Akron, Ohio; Philadelphia; and San Jose, California.
Working with American University, we sought to track the impact of this partnership and discern lessons that others might apply to the role of technology in engaged communities. We were delighted to see that the report, "Cities Remix a Playful Platform: Experiments to Embed Pokémon GO," found that AR games seem to be a promising tool for cities to strengthen civic engagement and build stronger communities.
For cities considering similar strategies, we learned four foundational lessons:
Adapt games for local events. Cities should adapt AR platforms to amplify local strengths and better reflect civic needs. For example, cities can layer walking tours, scavenger hunts and other activities on top of the game, adding value for existing players and integrating play with local campaigns.
Invite player networks (not just individuals). Pokémon GO players of all ages often arrived to events in groups and with existing social media networks poised for discussion. Recruiting is also easier through player and fan networks, and cities can help by tapping network leaders, beyond the usual open invitations.
Focus digital activity near inviting and accessible physical spaces. Players often want to interact, but bringing people from different backgrounds and walks of life happens more easily when cities position play near inviting physical spaces with seating and food.
Bring local culture to online platforms. Players can be connected to global cultures through AR platforms like the Pokémon universe. At the same time, games can engage players with local culture, from murals to local history. In a digital age, cities should increasingly invest in technology innovations that shape how we discover local culture.
The full report can be found here.
We hope city leaders use the lessons from these case studies to take advantage of the inevitable growth in technology to foster more engaged communities.
Recent Content