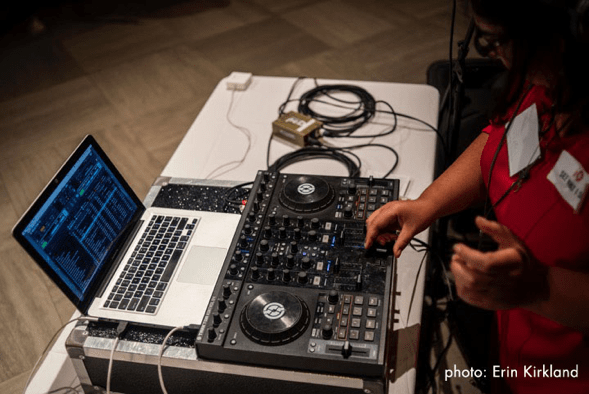 Arts
From Motown to techno: Project explores Detroit's modern musical legacy
Led by InsideOut Literary Arts alum Nandi Comer, Techno Poetics aims to inform new audiences about Detroit's post-Motown sound, and celebrate the growth of electronic dance music and the contributions of Detroit DJs. By recording the narratives of citizens, youth, techno pioneers and other sound artists, the project helped Detroiters understand the importance of having launched a global music industry in the shadows of Motown music. The project culminated in a multidisciplinary poetry performance celebrating Detroit's wide-reaching musical legacy. Comer also led a three-week intensive summer program for youth poets curious about techno's history, including production workshops to inspire students to become a part of the musical tradition.
Read more about the project in my interview with Nandi Comer:
What first moved you to want to document Detroit's Techno history and what drew you to the idea of using poetry?
I first wanted to document Detroit's Techno history a bit out of shame. Back in the 1990s while studying abroad in Spain and rifling through albums in a record shop, I happened upon a section labeled "Detroit Techno." What? I had no idea this was a thing. I thought, how could I not know about a group of people making music in my own hometown? How was it that people in Europe thought highly enough of Detroit techno that they dedicated a whole section of their store to my city's music, yet I was completely unaware of it? While kids were banging to Detroit techno in European clubs and raves, I knew there were many Detroiters, like me, who were unaware of the city's impact on contemporary music.
Ever since that experience, I have been wondering how to talk about Detroit and its contemporary influence in a creative way. I am a poet, and am always thinking of ways poetry can contribute to reclaiming history through storytelling. With Techno Poetics I wanted to apply strategies for writing historical poetry to the little known techno narratives and re-present them to new audiences. While writing these poems and coming up with the in-school curriculum, I was influenced by other literary traditions such as jazz poetry that drew on the rhythmic structures of a musical genre in order to compose the poems.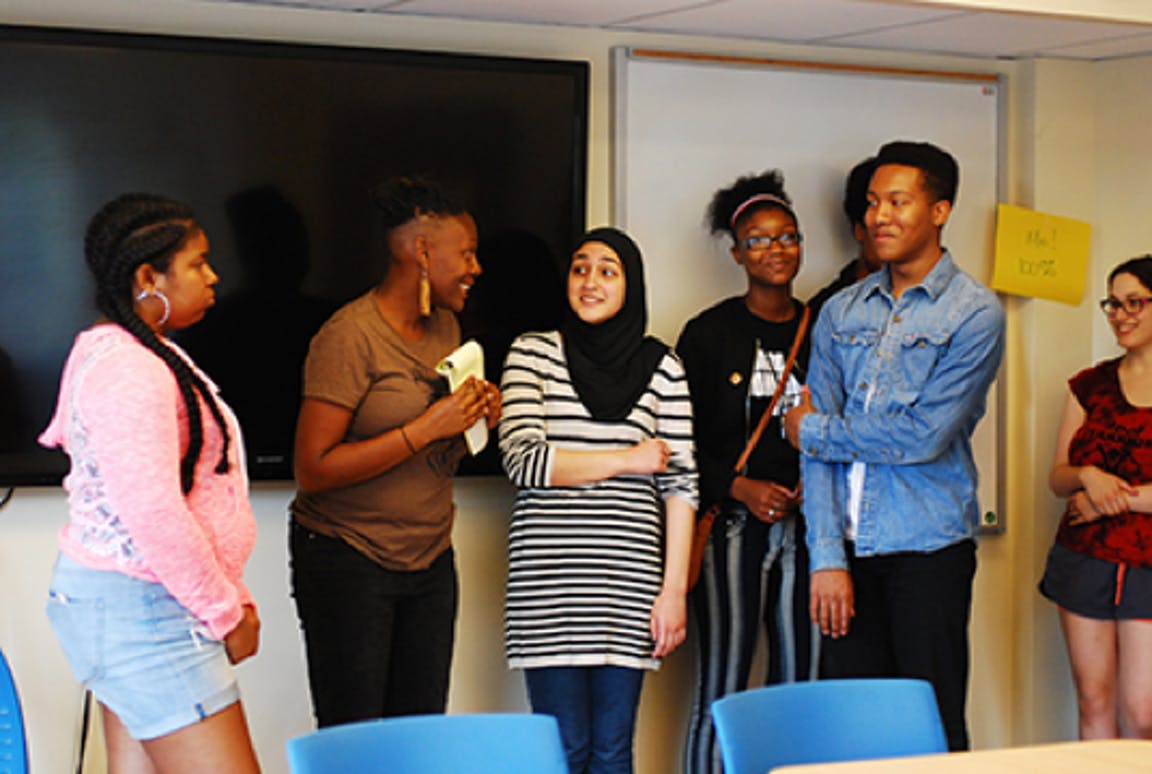 Talk about some of the research you did. How were students involved in this aspect?
Armed with a Zoom recorder and in collaboration with youth poets, Techno Poetics captured over 40 recording of interviews, community gatherings, class sessions and workshops. Interviews include personal narratives of Detroit music producers, DJs, fans and people who might be considered disinterested in the techno community. We wanted to capture the voice of Detroit. While it is important to get the voices of music makers who are entwined in the nitty-gritty of techno production, we also thought it was important to capture the responses of people who have never been fans. We held community gatherings and in-school workshops where some people experienced techno for the first time. Surprisingly some of the old school songs like Juan Atkins' "Clear" are actually very familiar to the average native Detroiter. Many of us hear these songs on the radio every Saturday night, when we go to roller skate, and even at our parties between top 20 pop songs.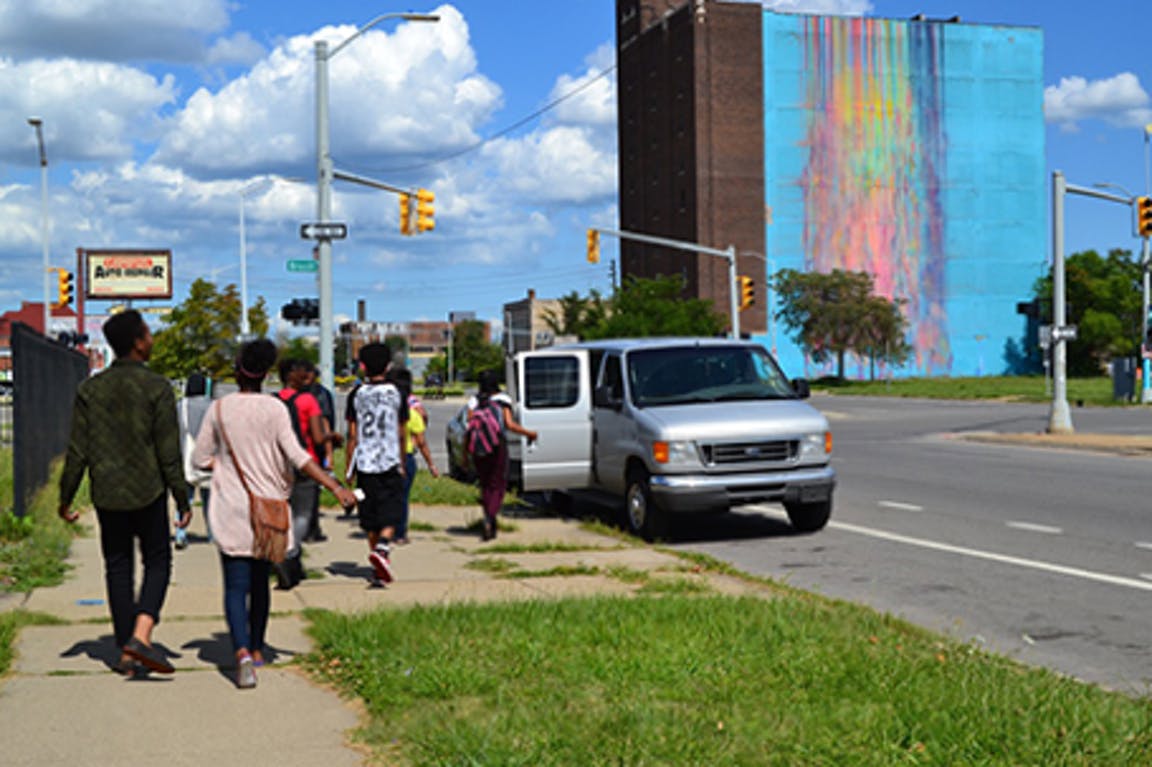 What surprised you most about working with young people and their understanding of this topic?
What surprised me the most about working with young people is their surprise when told about the history. When I came into high school English classrooms talking about techno and poetry, the average response was suspicion. Once I played the music for them and shared the history, students recognized the songs and began to show a lot of interest. Many of the young people remember Detroit techno as the soundtrack of their backyard barbecues and birthday parties. In some cases, the young poets wanted to dive deeper into the experience of techno and so participated in production workshops, making their own beats. Those were the times that the work became really exciting because the students wanted not only to learn about the history of the music, but they then wanted to start becoming a part of that musical tradition.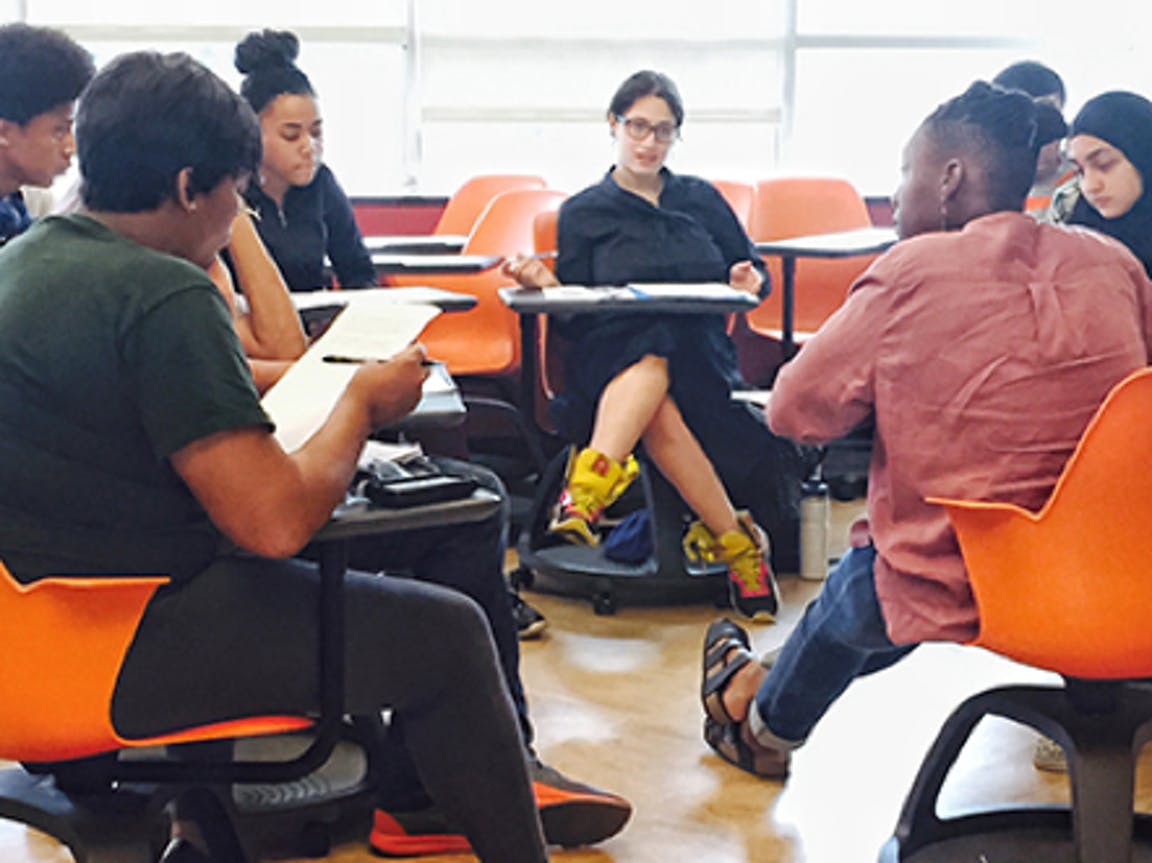 Talk about some of the groups you partnered with?
I couldn't have done this without working with community partners. John Collins, a member of Underground Resistance and Director of the Techno Museum at Submerge, was an invaluable resource. He opened the museum and lead tours for the youth poets and me. We held a community gathering at Submerge, and he allowed me to interview him about his own personal experience in techno.
We also partnered with the Detroit Sound Conservancy to learn how to build a digital recording archive. Carleton Gohlz, the conservancy's executive director and music history preservationist, was essential to helping to establish connections with techno artists and historians. Powerhouse Productions opened their Sound House to us for a community gathering. It was important to have community gatherings across the city, and so The Sound House provided a unique location that included residents from Hamtramck as well as Detroit.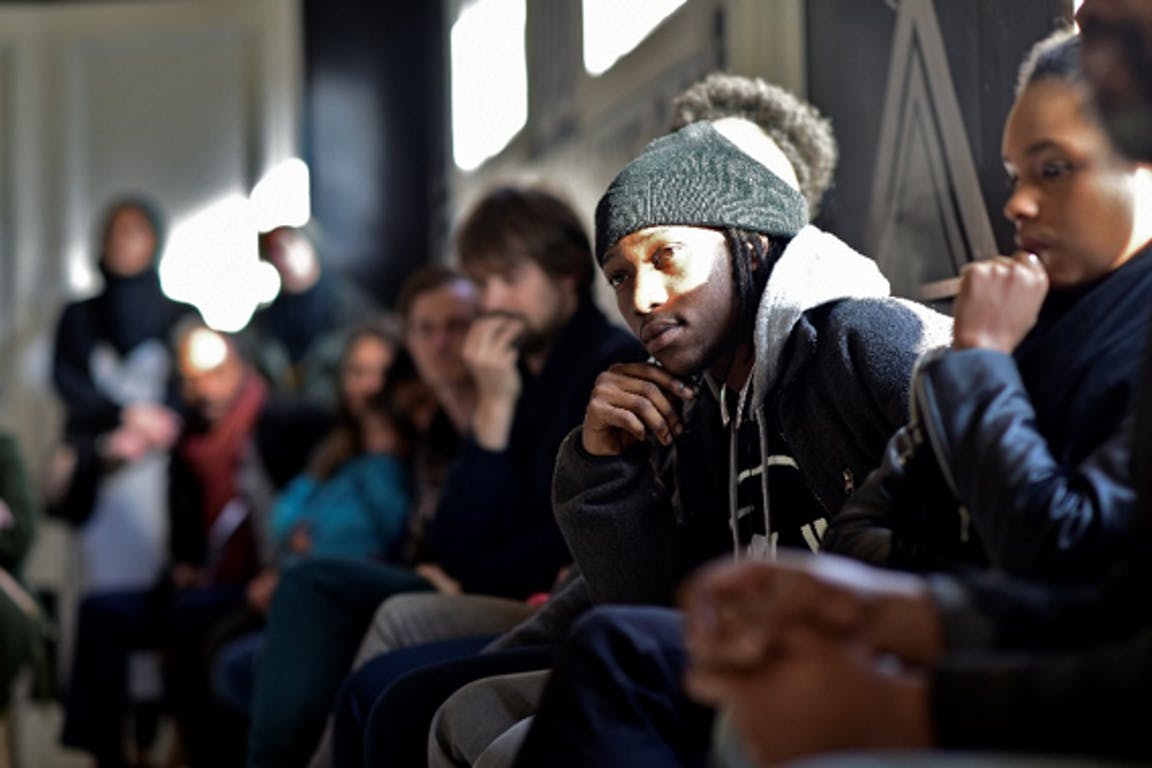 One of the really exciting pieces for me was the "My bump-in with the DJ" sessions. Can you describe these? What applications does this model have for exploring other aspects of Detroit's history?
The community gatherings titled, "My Bump-ins with the DJs" were designed to allow participants to come share their personal stories with techno, to learn from one another, and to experience new music. At each Bump-in, we showcased a map of Detroit and asked participants to place a sticker on a location where they had experienced an important music memory, thereby creating a visual map of where Detroit music lives. I also started each gathering with a sound workshop where participants were invited to listen to the music and share their responses based on prompted questions. It was great to ask people to step into a vulnerable place where they had to close their eyes and answer questions like, "If this song were an outfit, what would it look like?" These activities really allowed people to shake off their nerves and invited them to share their memories, their desires for Detroit and their concerns about the future of the city. We finished each Bump-in with a producer showcase, where we invited a music producer to share new projects and answer questions about their process.
The poems that you and the students created beautifully merge music history, Afro-futurism & current events. Can you describe your own process of writing and revision with this project and how you incorporated that into your work with students?
Engaging with historical poetry can be very delicate, especially when you are building pieces from stories of living people. Every time we wrote a new piece, we were so worried about the community's response, so we returned to the archive. We played and replayed the interviews and used direct quotes. Then there were poems where we allowed ourselves to play. We grabbed new Techno beats and wrote poems in direct response to the music. The students wrote pieces in direct response to what they had learned during the field trips, workshops and Bump-ins. A lot of times we drove one another to create imaginatively. For example during one of our writing days one of the students said, "What if our bodies were spaceships?" I put on Theo Parish's Black Jazz Signatures and we start writing about our bodies as futuristic space traveling machines. The result was an amazing group piece!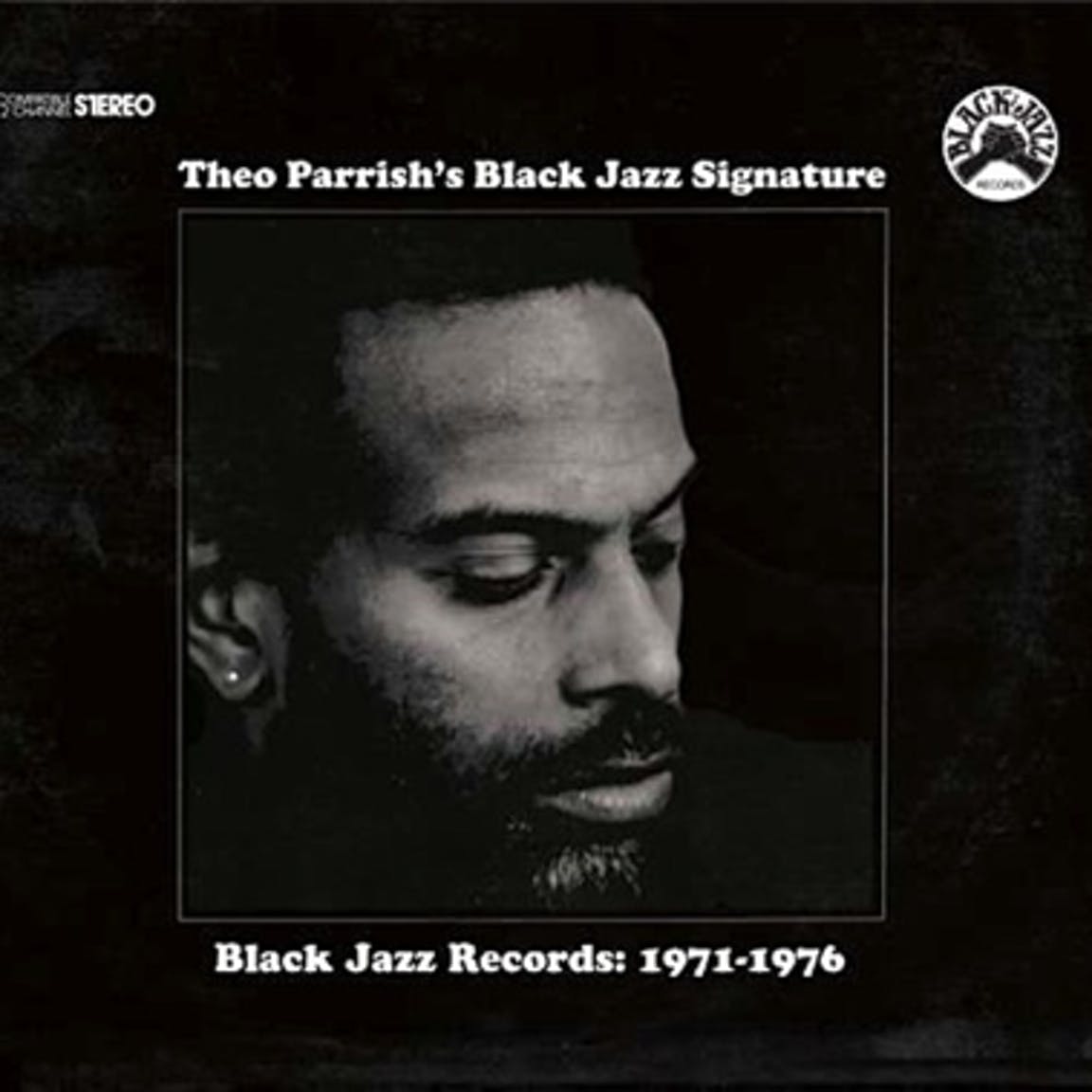 Recent Content