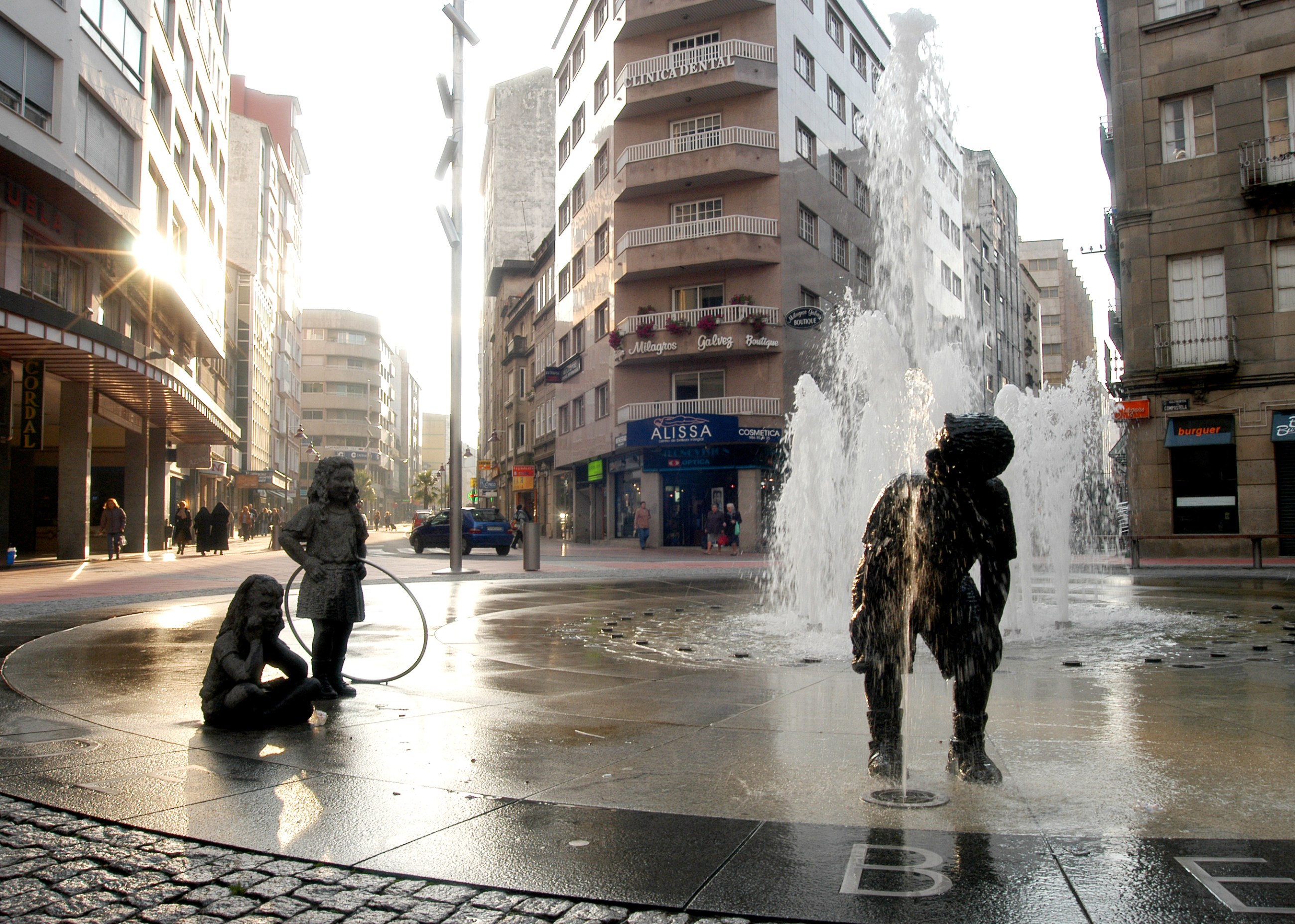 Communities
Guidelines to help cities design public spaces that better attract people
Reena Agarwal is director of strategic initiatives for the Center for Active Design, which Knight Foundation supports as part of its efforts to invest in civic innovators who help cities attract and keep talented people, expand economic opportunity and create a culture of engagement. Today the foundation is announcing $1.8 million in new support for the center. Above: Pontevedra, Spain. Courtesy Center for Active Design.
Only 15 years ago the city of Pontevedra, Spain, faced a declining population and a city center swarmed by nearly twice as many cars as residents. To transform the city from a place dominated by traffic, noise and air pollution, Pontevedra leaders incorporated a series of simple but progressive measures that have created an inclusive, vibrant, streetscape tailored to the needs of residents. By implementing a traffic calming plan, creating pedestrian-only avenues, and introducing humancentric elements such as quality lighting, public art and trees, the city has reversed the population slide, increasing residents by a third. They have also created a network of well-connected public spaces, services and amenities that residents from all backgrounds frequent and enjoy.
Pontevedra's success in transforming its public domain is exactly the type of story the Center for Active Design will use as a precedent in the development of a new publication, the "Design Guidelines for Robust Engagement." With the support of Knight Foundation, we will build on the success of the "Active Design Guidelines" by bringing our evidence-based approach to a new subject: the impact of design on civic engagement.
Cities around the nation are experiencing negative trends in civic engagement, with low voter turnout, reduced participation in local events and citizens who don't frequent the public spaces in their communities. Practitioners from several fields, including political and behavioral science, have made some significant strides in positively impacting this trend. However, "Design Guidelines" will offer fresh strategies and a unique perspective to demonstrate how design can greatly improve the role of the built environment in fostering civic engagement.
A decade ago, there was little acknowledgement that the design of our communities could influence behaviors and have a larger impact on societal priorities such as public health. However, due to the translation of a growing evidence-base into publications such as "Active Design Guidelines," a framework we built linking place-based design with healthful communities, a clear relationship was established between design, physical activity and public health. Long before this connection was widely understood, the guidelines offered cities and designers practical design strategies that could be adopted to impact health. Building on this model, the "Design Guidelines for Robust Engagement" will outline practical and evidence-based design strategies that practitioners can use to encourage participation, stewardship and a collective civic identity among residents.
Our team will analyze the nuances of public and private spaces that make them engaging, pleasant and accessible. We will undertake a series of original experiments in Knight communities to fill knowledge gaps in the existing literature, and we will convene a multidisciplinary network of expert advisers to provide input on the strategic direction and development of the guidelines. We'll ground the work through conversations with city leaders about the best ways to put the ideas to work in the places they call home.
Early research into this initiative began a little over a year ago. Now, armed with a burgeoning evidence base and a set of engaged practitioners, we are thrilled to begin production of a tool that will support designers and civic leaders who look to follow the example set by Pontevedra. To stay informed and receive updates on this initiative, please visit our website at centerforactivedesign.org/subscribe.
Recent Content