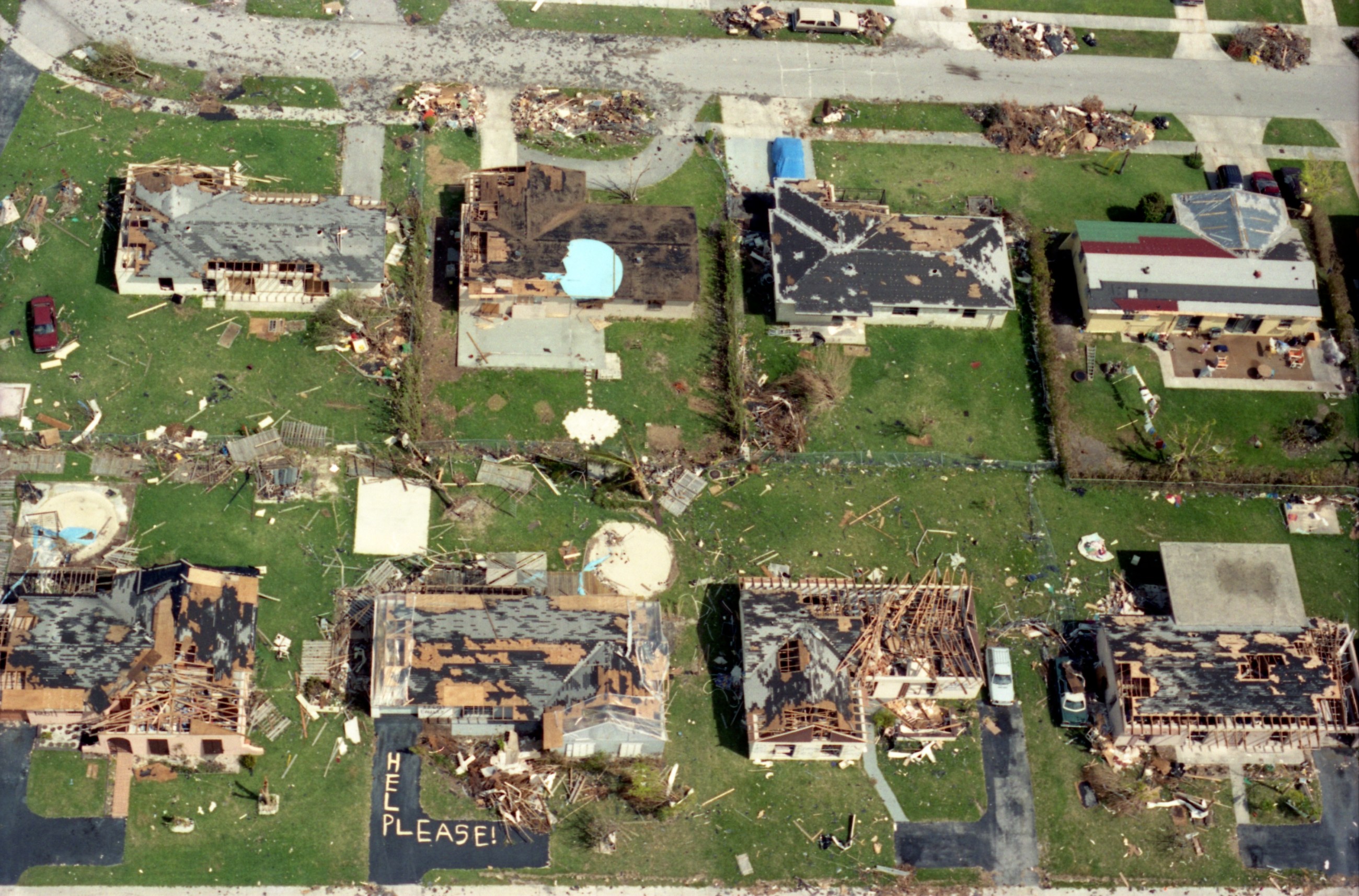 Arts
HistoryMiami exhibit remembers Hurricane Andrew, 25 years after the storm changed Florida forever
Hurricane Andrew. It struck South Florida 25 years ago this summer, and I can remember it like it was yesterday, especially watching meteorologist Bryan Norcross on television telling us to prepare for the worst.
I was 11. It was my first hurricane, and I had no idea what to expect. As the night grew dark, the rain started, and the winds began to howl. Sheets of plywood started flying off my home, windows were opening, and I remember my parents using their strength to keep them shut. When the hurricane passed and I walked outside, I realized just how lucky we were. Our house survived, but I knew South Florida had changed forever. In the aftermath of the storm, though, one thing stood firm, the resilience of our community.
Andrew, a powerful Category 5 storm, devastated buildings and homes, but it could not destroy the Miami spirit. Communities gathered around grills to make cafecito and rice and beans and various other meals for each other. People helped each other through the pain of losing everything by being each other's everything.
These stories of determination and perseverance will line HistoryMiami Museum's walls from June 1, 2017 to Jan. 14, 2018 in an exhibition funded by Knight Foundation through the Knight Arts Challenge. The goal of "Hurricane Andrew: 25 Years Later" is to remember a storm that changed the course of Florida's history, a storm that forever changed how Floridians handle hurricanes and a storm that showed the willpower of Miamians to overcome and rebuild.
The exhibition tracks events surrounding Andrew—from pre-storm preparations to the community coping with the wreckage—through first-person stories, video, photos, artifacts and more. The howl of hurricane force winds battering down blocks of homes at a time can be heard throughout the exhibition—a sound often described by Hurricane Andrew survivors as being reminiscent of a loud train. That sound still haunts many of them.
According to the Miami Herald, Andrew killed 15 people in Miami-Dade County and caused $26 billion in damage, making it, to that point, the most destructive hurricane in our history. The following year, the Herald won the Pulitzer Prize for Public Service "for coverage that not only helped readers cope with Hurricane Andrew's devastation but also showed how lax zoning, inspection and building codes had contributed to the destruction."
Norcross is the guest curator for the exhibit, and footage of him urging people to take the storm seriously comprises the first section of the exhibition. A meteorologist for WTVJ at the time, he pleaded with everyone who could hear his voice to evacuate if possible. The storm, which made landfall near Florida City on Aug. 24, 1992 with 165-mph winds, left many people homeless and without food and water.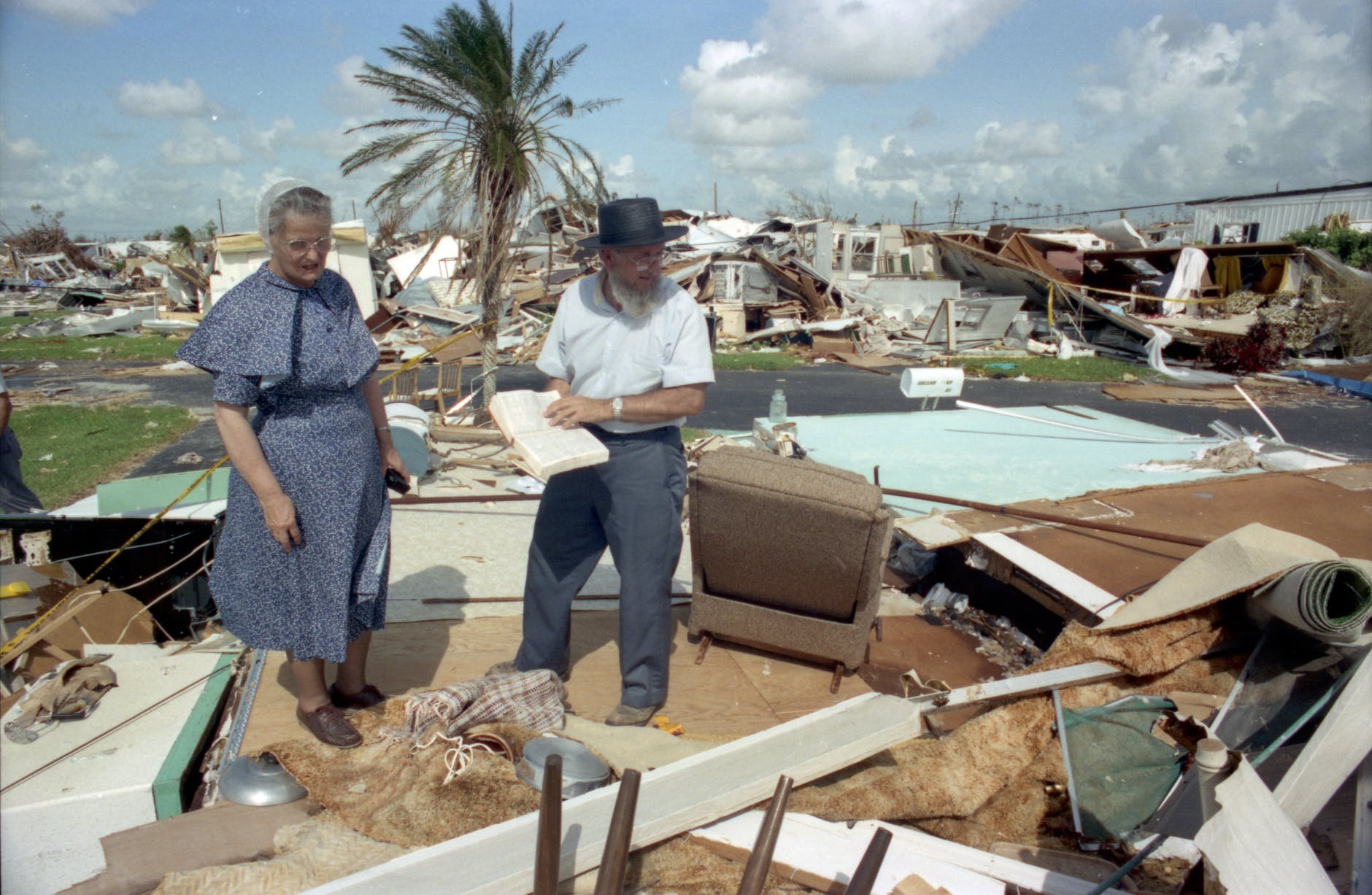 During the hurricane, Norcross's voice comforted people like me throughout the nine-hour wait for the storm to pass. Families curled up in bathtubs clutching radios and listening to his voice. He guided people through their worst nightmares, even taking calls to give advice. Afterwards, people mailed in hundreds of letters thanking him for his selfless service to the community during their time of need. In addition to letters, schools sent in huge banners and local musicians sent in original songs in gratitude for his broadcasts; artifacts in the exhibit capture that outpouring of emotion.
The exhibition also honors the Coast Guard and military personnel who helped rescue people trapped under debris and delivered supplies to those in need. Military uniforms, a cot and small toiletry items used by soldiers are also part of the display. But what struck me were the MREs (meals ready to eat) from the military and canned water from Anheuser-Busch. These prepackaged foods were often someone's first meal after Hurricane Andrew demolished their home.
These items represent a fraction of all that this exhibition holds. It is a compelling collection of memories from an event that South Florida will never forget. Whether you lived through Hurricane Andrew, lived in its aftermath, or see and experience it for the first time at HistoryMiami, this exhibition is sure to move you and cause you to reflect on a Miami story that is so personal for so many.
Marketing Associate Norah Garcon contributed to this report.
"Hurricane Andrew: 25 Years Later" opens at 6 p.m. Thursday, June 1. Click here to register for the opening reception. The exhibition runs through Monday, Jan. 15, 2018, at HistoryMiami Museum.
Recent Content