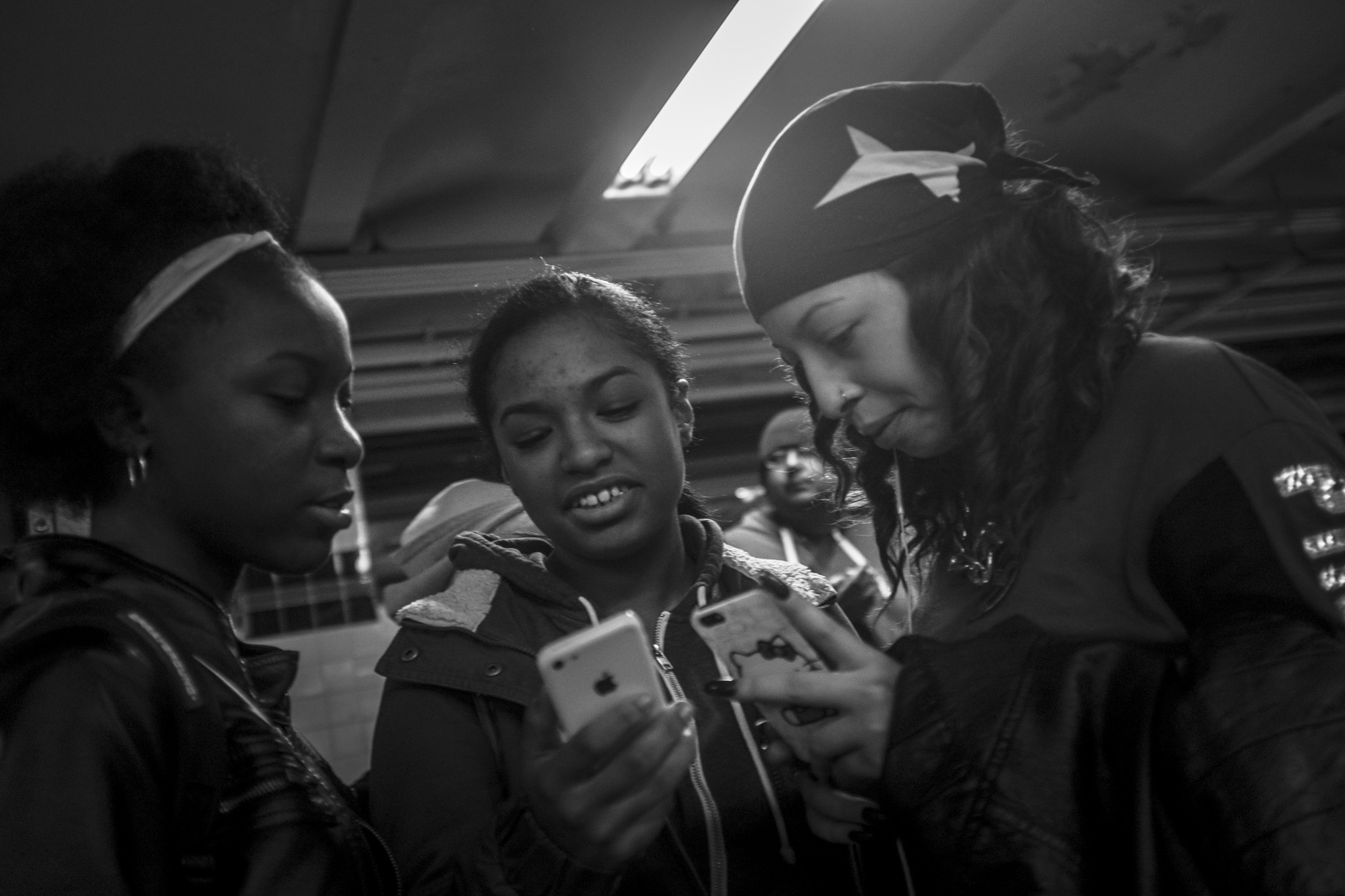 Journalism
How youth navigate the news in a time of distrust and disruption
Last year, Knight Foundation commissioned research to explore how Americans consume news on mobile devices. That national data highlighted growing rates of news consumption on social media platforms, particularly among demographically diverse, younger millennials.
In a new report released today that was produced by Knight and Data & Society Research Institute, we used a qualitative approach to explore how these changing behaviors might affect young people's relationship to news in their daily lives. This method allowed us to gain a deeper understanding of the language young people use to describe news, their conceptual models and their frames of reference.
Over two months, we convened focus group conversations with a diverse mix of teens and young millennials (14 to 24 years old) in Philadelphia, Chicago and Charlotte, North Carolina, to surface insights into how these rising generations think about news, where they encounter and share it, and what makes them trust some pieces of information more than others.
The new report, "How Youth Navigate the News Landscape," shows that today's young Americans are immersed in a news environment that is mobile and social by default. At a time of widespread eroding trust in traditional media institutions, they are on the front lines of navigating an increasingly complex and polarized digital media environment.
Several key themes emerged from these focus groups.

Definitions of news are amorphous
Young people's concept of what constitutes "news" often extends well beyond the content produced by traditional journalism institutions. The focus groups highlighted the evolving definition of what counts as news, with new forms of media, such as social media, aggregators and messaging apps, and new media practices, such as user-generated content and live video transforming news production and consumption.
Low levels of trust and high levels of scrutiny
In our conversations, large numbers of participants in all three cities expressed a low level of trust in the news media, combined what they perceived to be widespread bias and inaccuracy. Many young people reported browsing multiple sources so that they could scrutinize stories independently before seeking verification from online peers. Patterns of verification varied, but we found that many young people experience mainstream media as the "elevator" of stories, rather than the "originator." As the April 2016 death of legendary recording artist Prince charted rapidly on social media, many young people saw the story as compelling Twitter gossip until it was verified—and thus elevated—by CNN. The most heartening takeaway: When faced with conflicting information, young people are ready and willing to dig deeper for accuracy.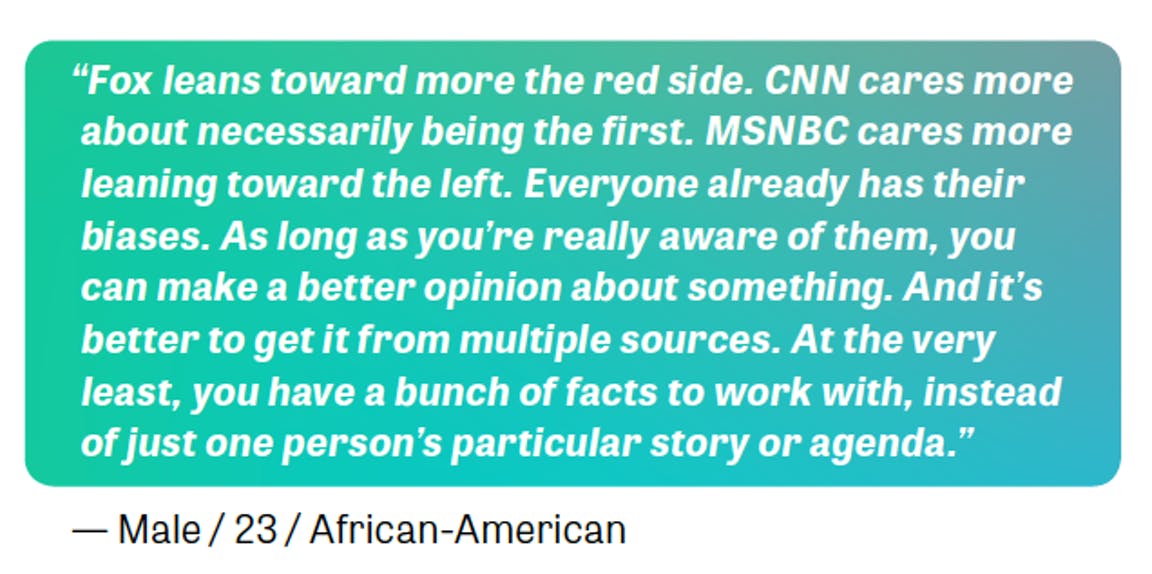 Private message, public source
Faced with scrutiny from advertisers, employers and friends, some young people intentionally bury their news-sharing behavior inside the "dark social" realm of chat apps and text messaging. Teens and young adults often use screen shots to privately share news with friends over text and messaging apps such as Facebook Messenger, Snapchat and Kik. These user behaviors have implications for journalists and media outlets attempting to follow the wider circulation of their stories as they spread beyond an initial viewer.
Several participants cited live, user-generated video—including Periscope and Facebook Live—as more "trustworthy" than professionally shot news broadcasts. These participants pointed out that live-streamed video would be especially difficult to manipulate on the spot. Live video was also heralded for its role as an emerging tool for everyday people to document interactions with authority figures, such as law enforcement. Showing the complexity of their judgment as news consumers, however, participants noted that unaffiliated individuals and "citizen" journalists likely have their own biases.
Overall, teens and young adults in our focus groups were fairly critical consumers of news. Some even expressed a burgeoning awareness of key media literacy issues such as the potential for bias in algorithm-controlled social media platforms. The insights from these conversations are important in today's news landscape. The old concept of "following the news" (or being wed to one news provider) no longer applies with these younger demographics. We hope our report provides insights for news providers hoping to leverage the disruptions of mobile and social news to serve these younger audiences.
Recent Content