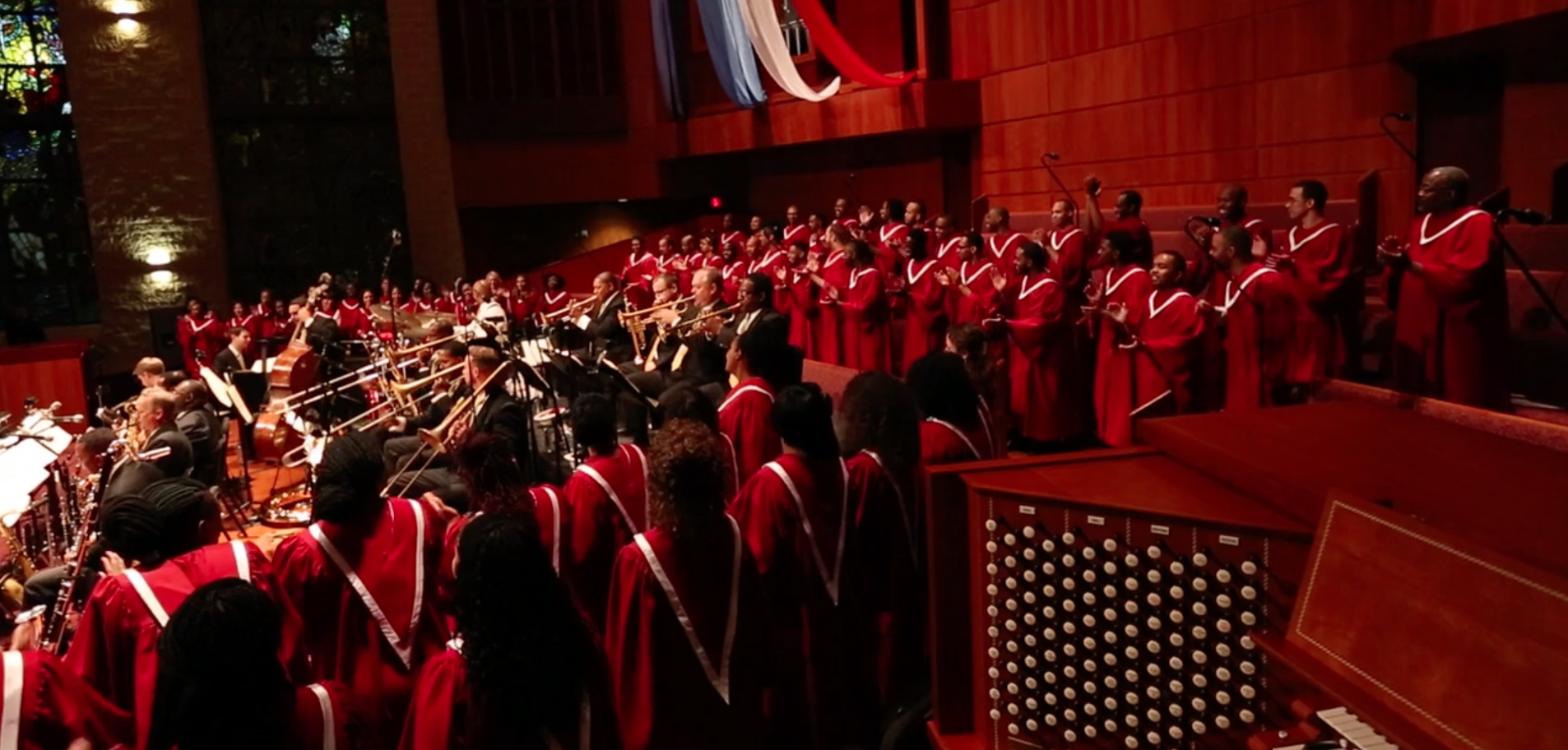 Arts
Knight-produced documentary on Marsalis performance to be shown nationally
Wynton Marsalis' Abyssinian Mass exemplifies perhaps better than any other recent musical piece that it's not just the spirit can move us, but the music as well.
Originally commissioned by Harlem's Abyssinian Baptist Church to celebrate its 200th birthday, the piece bridged the gap between the secular and the religious by bringing together jazz, gospel, vocals, and instrumentation in a unique, original, and exhilarating special liturgy.
Now, viewers of PBS affiliate stations across the country will be able to experience being in those audiences, when the stations screen "Everyone Has a Place," a behind-the-scenes look at the Knight-funded Charlotte performance at the city's Friendship Missionary Baptist Church. The piece also was nominated for Midsouth Emmy Thursday.
"Everyone Has a Place" made its debut this past February on Charlotte's local PBS TV station, WTVI, and over the next two years, will be shown by close to 100 PBS affiliates covering, covering 80 percent of the country. (The December showings schedule, including in San Francisco, San Diego, and Flint, Mich., are below.) The documentary, made by Miami filmmakers Marlon Johnson and Dennis Scholl and produced by Knight Foundation, has also been exhibited in several film festivals.
"When the piece came to Charlotte, it was the very first time that it had been performed in a southern, African-American church," says Scholl, former vice president for arts at Knight Foundation. "And that was to us an important moment."
Important because the city of Charlotte has always been a key community for Knight Foundation. Its founders, the Knight brothers, owned The Charlotte Observer newspaper, and so the area always had a special place in their hearts.
"When we saw that there was an opportunity to bring this piece, to help fund it, and have it performed in the historic venue of the Friendship Missionary Baptist Church, that was very exciting for Knight Foundation," says Scholl, who co-produced and co-directed "Everyone Has a Place."
A thousand tickets were also given away to people from the neighborhood surrounding the church because, in the end, this was a project about community.
Both Scholl and Johnson have been big fans of Marsalis' work, and so when Scholl shared the idea of the film to his collaborator, Johnson was on.
After more than a dozen projects and nine years working together, Scholl and Johnson still have the excitement to collaborate and explore rich cultural subjects that seem to fall under the radar or that more commercial filmmakers would not devote themselves to.
"Film is inherently a collaborative medium, and often times when you find someone that you work well with, you tend to work with them over and over. You don't want to lose that magic," explains Johnson.
That magic appears again in the little-over-26 minutes that make up "Everyone Has a Place," with interviews, coverage of the performance of the mass, and behind-the-scenes glimpses. But above all, there is the music. Lots of glorious, heavenly music that perfectly matches the composition's main theme.
"One of the things that Wynton Marsalis stressed when writing this piece," said Johnson, "was really trying to incorporate so many different cultures, whether it was the history of jazz, gospel, the Muslim call to prayer, or flamenco. All of those things, that blend, is a uniquely American story, and it's beautiful when someone can pull something that nuanced off."
For conductor Sneed, the message of the work comes through loud and clear.
"Everyone has a place in the house of God. That's the overall theme of the mass, and it's interesting that that's also the title of the documentary," said Sneed, the musician, arranger, composer, producer and educator who's excelled in jazz, gospel, pop, R&B and musical theatre. "There are several movements in the mass, like about 18 to 20, and one of them is called 'Sermon,'which is broken into three parts. And in the final part of Sermon, the choir sings 'Everyone has a place in the house of God'."
While Marsalis was working on the "Abyssinian Mass," Sneed was asked by the music icon (whom Sneed had first met at age 12 and would later on become his mentor), to come to his house to listen to the new composition.
"And while we were sitting there, I started singing some of the parts. He didn't know that I could sing," the 36-year-old Sneed recalled. "So I sang the soprano parts, alto, tenor, and bass, and then he said, 'Could you go to the rehearsal and work with the church choir?' And I ended up conducting it."
Like a living organism, the "Abyssinian Mass" evolves, and so when the 2013 tour came about, it had grown to include the 70-piece Chorale Le Chateau (Chateau is Sneed's middle name), which Sneed founded in 2009.
For Sneed, conducting an icon like Marsalis, especially while being filmed for the documentary, felt a little "surreal."
"I was so nervous then," the Augusta, Georgia, native adds with a laugh. "This time around, if I did it I probably would not be as nervous because Wynton is constantly pushing me to be in a place of security, to be able to do the work without worrying about him being there."
Sneed may find himself in that place once again. An album of the "Abyssinian Mass" recorded live is expected to be released early next year, and future performances, a reunion, of "Abyssinian: A Gospel Celebration," could ensue.
"Wynton wrote the whole libretto, he wrote all the words. That's massive, that's major," says Sneed. "And the words are so apropos to what's going on right now in the world. This mass and the documentary will help people find out more about the music, the church and the message."
Upcoming January showings of Everyone Has A Place
WNITDT, 10:30 p.m. Jan. 15
WNITDT, 4:30 p.m. Jan. 17
KWSUDT, 1:30 a.m., Jan 16
WILLDT, 2:30 p.m. Jan. 17
KYNEDT, 8:30 p.m., Jan. 22
KYNEDT, 3:30 p.m. Jan. 24
KHNEDT, KLNEDT, NET1, KUON-X , KUONDT, NETE, NETHD, 8:30 p.m. Jan. 22
KHNEDT, KLNEDT, NET1, KUON-X , KUONDT, NETE, NETHD 3:30 p.m. Jan. 24
KXNEDT5, KXNEDT, 8:30 p.m. Jan. 22
KXNEDT5, KXNEDT, 3:30 p.m. Jan. 24
KRNEDT, KRNE, 7:30 p.m. Jan. 22
KRNEDT, KRNE, 2:30 p.m. Jan. 24
KTNEDT, KTNEDT5, 7:30 pm. Jan. 22
KTNEDT, KTNEDT5, 2:30 p.m. Jan. 24
KPNEDT, KPNEDT5, 8:30 p.m. Jan. 22
KPNEDT, KPNEDT5, 3:30 p.m. Jan. 24
WHUTDT, 9:30 p.m. Jan. 23
WHUTDT2, 9:30 pm. Jan. 23
Recent Content