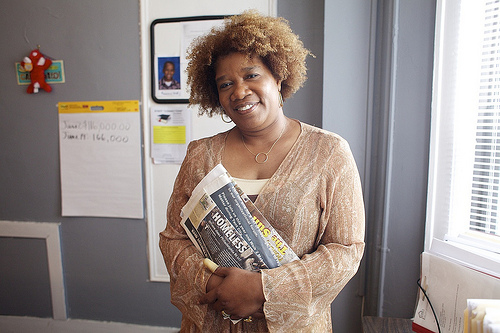 Communities
Lend local, lead local: Kiva Detroit empowers Detroiters as champions of local businesses
Above: Delphia Simmons, who has received a microloan.
What if you could make a loan to your favorite new art gallery in town? What if you could connect with others lending to the art gallery and, together, discover other small businesses in need that your community might rally around?
Now, you can: today, we're happy to announce the launch of Kiva Detroit, an innovative effort to empower Detroiters by enabling them to lend to and champion the success of local businesses through Kiva.org.
Knight Foundation is contributing $250,000 to Kiva Detroit: our grant will match citizen lending dollar-for-dollar on Kiva.org, while also helping the program scale. Kiva Detroit is the organization's first locally-organized effort in the United States.
Other partners are helping, too. Michigan Corps, a network of local and global Michiganders committed to social change across the state, leads a volunteer community of Detroiters who source businesses for Kiva Detroit and builds enduring, productive relationships among lenders, borrowers, and the community at large. ACCION USA, a U.S. microfinance institution, approves and administers loans.
Kiva Detroit is already helping. Delphia Simmons, founder of "Thrive Detroit Street Newspaper," which is sold by homeless Detroiters, is receiving $1,000 to enable her to print her first run of 5,000 newspapers.
Other Kiva Detroit small businesses include a vegan food cart, an organic fashion label, a bike shop run by young people and more.
This is all especially meaningful for me: I co-founded Michigan Corps in early 2010 and, later last year, initiated partnership discussions with Kiva regarding Kiva Detroit. Little did I know that Knight Foundation had, too, been in talks with Kiva about advancing community engagement in the U.S through Kiva.org. When Knight reached out to me regarding my current role in early 2011, our paths collided and the Knight-Kiva partnership was born.
I see Detroit as an inspiring community of natural leaders and it's been moving to watch Detroiters engage and organize around what matters to them: the vitality of our community's small businesses.
Kiva Detroit's aspiration to connect citizens to one another and to small businesses is a powerful example of how Knight promotes an informed and engaged Detroit: by giving Detroiters themselves easy opportunities to flourish as leaders in their own community.
Recent Content