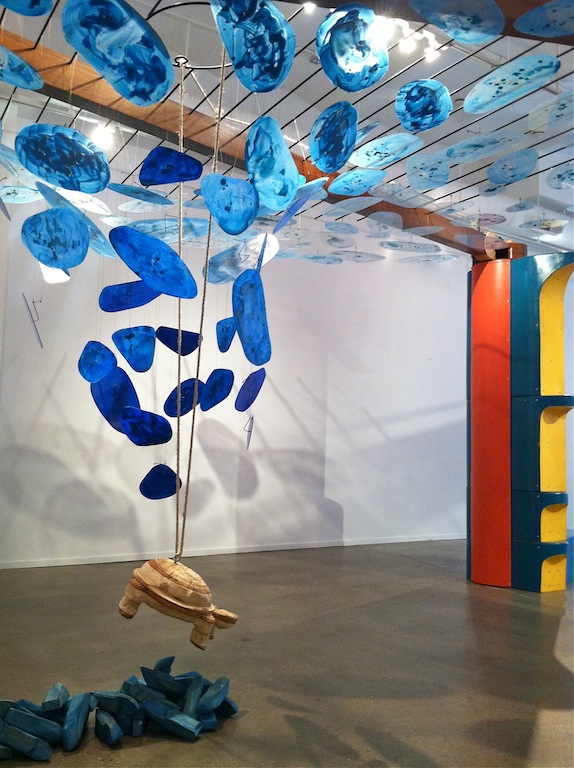 Arts
Visually stunning and socially conscious duo at LGTripp
The dual exhibit at LGTripp Gallery showcases two different Philadelphia artists with colorful techniques. First, Matthew Stemler exhibits a new site-specific installation, entitled "Flotsam," in the front half of the gallery. In the back part, Raphael Fenton-Spaid displays recent tiled painting work.
Upon entering LGTripp Gallery, the installation by Stemler demands your attention. In fact, it is extremely visible from outside through the large, windowed front of the building and urges art-seekers and curious passersby to enter the gallery. The installation is entitled "Flotsam," as in flotsam and jetsam, the floating or discarded junk from a shipwreck or similar nautical emergency. It includes large, colored columns that support an overhead structure of parallel metal bars and wooden supports. From the top of the installation hang round, translucent-blue slivers of plastic, which are clearly reminiscent of water. The focal point of the work is a carved, wooden turtle, which hangs above a pile of tiny boats, which appear to have been discarded by an invisible tide.
The structure itself speaks to human achievement through the allusion to architecture and monumental construction. Submerged in the standing "water," the installation becomes a metaphor for natural disasters, specifically ones which leave floods or deluges in their wake. There is a small, functional bridge on the ground behind the turtle and shipwreck, and the installation begs for patrons to walk around or beneath it. The space is contemplative and reflective and seems almost like a memorial to disasters of its kind. It certainly allows time to consider humans' impact on the planet, as well as our temporal nature and fragile existence in the face of nature. Stemler also has a number of his biological-looking, pastel drawings around the room, as well.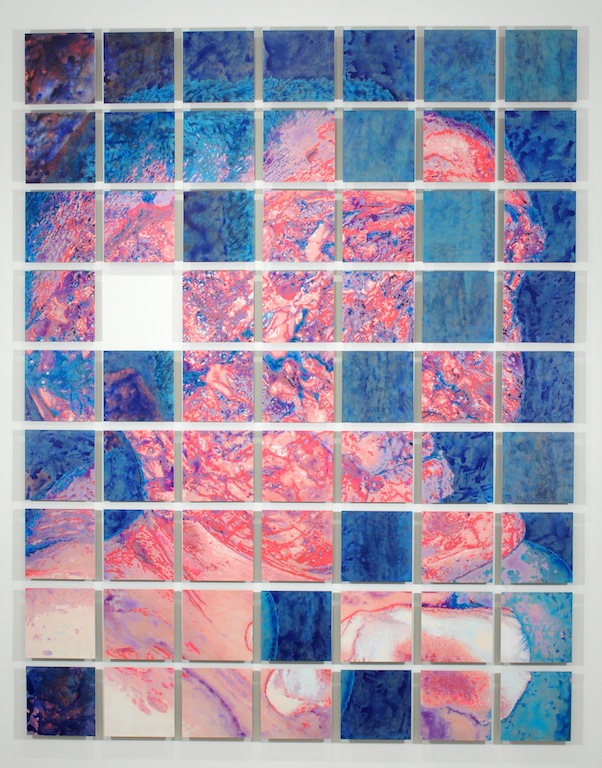 In the back part of the gallery are Fenton-Spaid's paintings, which resemble the moving tile puzzles in which you slide segments until an image emerges. The difference here is that the solution to Fenton-Spaid's puzzles is one we may not be excited to realize. Although the bright colors and abstracted images, which crisscross the walls, seem trippy and fun, the original source material consists of images from war — most directly America's wars in Iraq and Afghanistan. Puzzles remind us of our detachment from these events: our inability or unwillingness to recognize the atrocities of war. As for the images themselves, they are pixilated and presented in a way which seems congruent with, and possibly critical of, the media's portrayal of conflicts.
Both artists present material which examines the nature of tragic events in the course of human history, but do so in a way that is hopeful. Stemler tends to reflect and allow us to consider our own humanity, while Fenton-Spaid rearranges and disguises images we have perhaps become too familiar with. Ultimately, the show is simultaneously visually stunning and socially conscious — a fine line to tread, but one that this exhibition does splendidly.
Recent Content