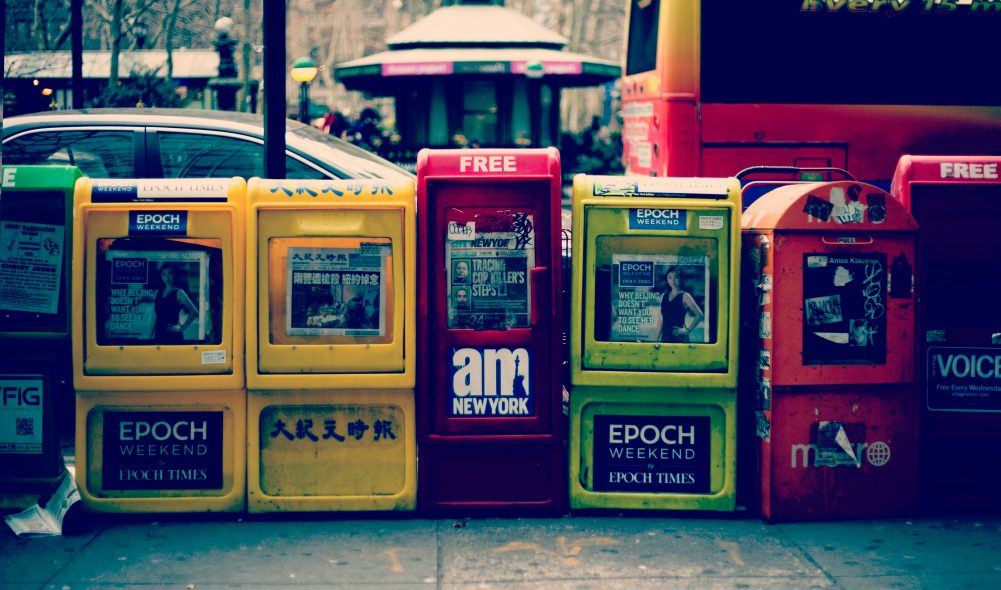 Journalism
Local news attention at low ebb after election; few say it spread misinformation or division
In a year full of intense news cycles, Americans' media diets have fluctuated dramatically. Current attention levels to local news are at a three-year low after peaking during the early part of the COVID-19 pandemic. With national politics dominating the agenda in recent months, attention to local news has faded. However, local outlets have largely avoided the blame for sowing discord and falsehoods other news sources have received.
The latest Gallup/Knight Foundation survey in the Trust, Media and Democracy series finds:
Americans intensely followed local news in March, but in the days leading up to and after the election their interest waned, and they focused much more on national news.
The public did not feel well-informed about local elections in 2020. Even those who pay a lot of attention to local news were much less confident they had the information needed to make informed choices for state and local offices than for federal offices.
Still, those who pay attention to local and national news were more confident they were informed about voting for all offices than were those who do not pay attention to news.
Americans are far less likely to believe local news fosters divisions within the country or contributed to election misinformation in 2020 than to believe other information sources — particularly social media and cable television news — did.
The internet survey was conducted Nov. 9-15, 2020, with 2,752 members of Gallup's probability-based panel.
Local news attention down from peak earlier this year
After surging in the spring as the COVID-19 pandemic took hold in the U.S., Americans' attention to local news declined to recent lows after the election. Currently, 21% of U.S. adults say they are paying "a great deal" of attention to local news — less than half of the percentage in late March (44%) and down 11 percentage points from late April. This percentage is among the lowest measured in the trend, which stretches back to early 2018 when Gallup/Knight first began to regularly track attention levels.
Another 46% of U.S. adults say they are paying "a moderate amount" of attention to local news. The combined 67% paying a great deal or moderate amount of attention is also the lowest in the trend.
Some partisan differences have emerged in recent years, with Democrats tending to pay more attention to both local and national news than Republicans and independents do.
Attention to local news declined among Republicans (from 24% paying a great deal of attention to 15%) and independents (24% to 17%), but not Democrats (28% in both surveys), comparing the results from a Sept. 24-Oct. 5 Gallup/Knight Foundation pre-election survey to the post-election survey.
As attention to local news declined, more Americans followed national news closely, with 54% of Americans paying a great deal of attention to national news in the November survey, up from 49% in late September and early October. Post-election attention to national news is similar to the record 56% paying a great deal of attention measured in late March.
The recent changes in attention to local versus national news suggest that the post-election controversy in the U.S. consumed Americans' attention, and local news faded into the background.
Democrats are primarily responsible for the shifts in national news consumption, with 70% paying a great deal of attention to it, up from 60% before the election. There has been a modest increase among independents, from 38% to 44%, and no meaningful change among Republicans (48% pre- vs. 45% post-election). Joe Biden's apparent victory in the presidential election could be a reason for the disparate patterns among Democrats and Republicans.
At the same time Americans' focus on national and local news shifted, their attention to international news has been flat, with 12% of U.S. adults paying a great deal of attention to it after the election, compared with 13% before the election.
Americans who relied on television news organizations for election news coverage are much more inclined to say they used national television news than local television news. Thirty-nine percent say they primarily relied on national television news organizations, 15% local television news organizations and 32% both about equally. Thirteen percent say they did not use television as an election information source.
Americans who used newspapers to follow the elections were about as likely to rely on local newspapers (24%) as national newspapers (26%), while 23% used both about equally.
Americans felt less informed about local elections
According to the November post-election survey, Americans were largely confident they had the information they needed to make informed decisions about voting in the 2020 elections. However, they are much less likely to say they were "very confident" they had the necessary information to make informed decisions about elections for state (54%) and local (42%) offices than for president (85%) or Congress (63%).
Still, most who say they were not very confident were "somewhat confident" in voting in state or local elections, leaving no more than one in five who express little or no confidence.
To some degree, this confidence deficit is a function of Americans paying less attention to local news than national news. As would be expected, those who pay more attention to local news are much more likely than those who pay less attention to express confidence in being informed about state and local elections.
However, even those who pay "a great deal" of attention to local news were much less confident about voting for state and local candidates than they were about voting for federal offices. As such, voters' diminished confidence in being informed about state and local elections likely also reflects a lack of information available about those campaigns.
Local news not seen as contributing to political division, misinformation
The 2020 election underscored how divided the nation is and misinformation — something Americans are greatly concerned about — may contribute to those divisions. The November survey finds 73% of Americans describing the nation as "deeply divided." The survey also finds that more than eight in 10 U.S. adults believe they were exposed to "a great deal" (50%) or "a fair amount" (34%) of misinformation about the election (defined as "stories that are made up or cannot be verified as accurate, but are presented to readers as if they are accurate").
Americans are less inclined to see local news as contributing to either situation. Thirty-four percent of Americans say local TV news deserves a great deal or fair amount of blame for political divisions in this country, and 29% say the same of local newspapers. At least six in 10 blame national network TV news and national newspapers, and nine in 10 blame major internet companies and cable TV news.
Additionally, relatively few Americans who believe they were exposed to election misinformation identify local TV news (21%) or local newspapers (16%) as a source of that false information. They are much more likely to see social media, the internet and cable news as misinformation sources.
Republicans are more inclined than Democrats or independents to see most information providers, including local TV news and local newspapers, as sources of misinformation. Specifically, 37% of Republicans who believe they were exposed to misinformation this year name local TV news as a source, compared with 24% of independents and 7% of Democrats. Twenty-eight percent of Republicans, 15% of independents and 5% of Democrats cite local newspapers.
But Republicans are less likely to see local TV news and local newspapers as spreaders of misinformation than all other information sources except radio (22%) and family and friends (19%).
Local news sources rank among the most trusted by Americans and are also seen as less politically biased. These findings may help explain why, unlike other news and information sources, Americans are disinclined to see local news as contributing to political division and misinformation in the country.
This year, the COVID-19 outbreak created a situation in which people showed increased attention to all types of news, particularly local news. As the news focus broadened in the summer and early fall months to include other issues beyond the pandemic — particularly the presidential election — attention to local news declined.
Some observers of the local news media industry believed the pandemic presented an opportunity for local news to demonstrate its value to the public and increase readership and viewership in the long term. However, Gallup/Knight Foundation research indicates that did not occur to a meaningful degree. Americans' attitudes toward local news did not improve much or at all during the period of greater local news attention earlier this year, and heightened attention to local news has not become an ongoing habit for Americans. Also, Americans' relatively lower confidence in being informed about state and local elections compared with federal elections — including among those who say they follow local news closely — suggests an area where local news efforts can improve in future elections. Still, while the major news events this year have not enhanced trust in local news or its perceived value to society, attitudes about local news remain more positive than they do for national news.    
Recent Content