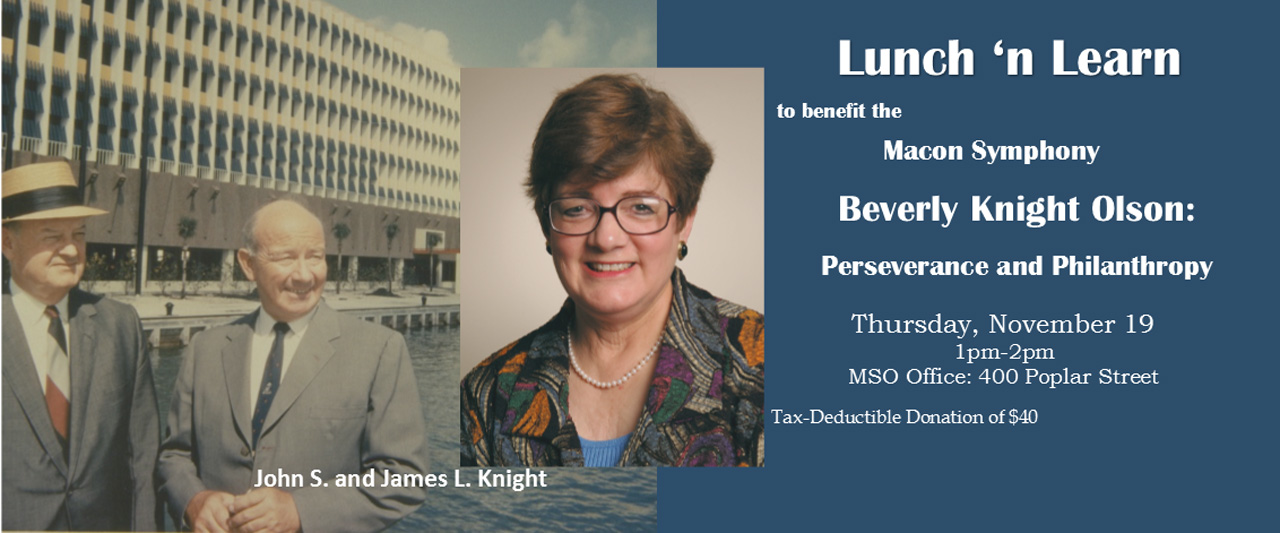 Arts
Lunch 'n' Learn with Beverly Knight Olson to benefit the Macon Symphony Orchestra
Perseverance and philanthropy are just two of the topics that will be covered by Beverly Knight Olson–a Knight Foundation trustee and daughter of Knight Foundation co-founder James L. Knight–when she speaks at a Lunch 'n' Learn event in Macon, Ga., on Thursday, Nov. 19. Both characteristics, she says, define the Knight family and their value system.
"I will be speaking on my family's heritage and growing up in Miami Beach in the '50s and '60s," Olson says. "I will also share twists in my life which caused disappointments and started at an early age, like the yacht sinking, mountain accident, marriage and starting three businesses. All of these experiences made me question my life's purpose and helped me to find God and church in Macon."
The Lunch 'n 'Learn event is designed to benefit the Macon Symphony Orchestra, a Knight Foundation grantee that was founded nearly 40 years ago and itself embodies the spirit of perseverance. Many city symphonies have long been struggling to generate the kind of enthusiasm that drives both fundraising efforts and attendance; after all, symphony orchestras have existed in America for more than a century, and the once beloved pastime of attending a classical concert has given way to entertainment centered around new media. As audience sizes shrink, the funding from private and public donors is not enough to offset the cost of running a city symphony.
But while many of these organizations have simply ceased operations, the Macon Symphony Orchestra has become more creative. It has pop and youth orchestras that aim to engage youth with classical music and the organization specifically, in the hope that they will become invested in continuing its legacy. It has also partnered with organizations such as the Bibb County School District on performances and allowing students hands-on access to play their orchestral instruments. The Knight Foundation's Random Acts of Culture in Macon, which were designed to bring surprise performances from all disciplines of the arts into nontraditional places, were spearheaded by the Macon Symphony Orchestra–a perfect way to take classical music to retail, office and other nontraditional settings.
The event with Olson is yet another example of the way it is working to keep the community engaged with its efforts. The event offers a chance to hear firsthand about one of America's most philanthropic families, all while raising money for the orchestra.
Recent Content