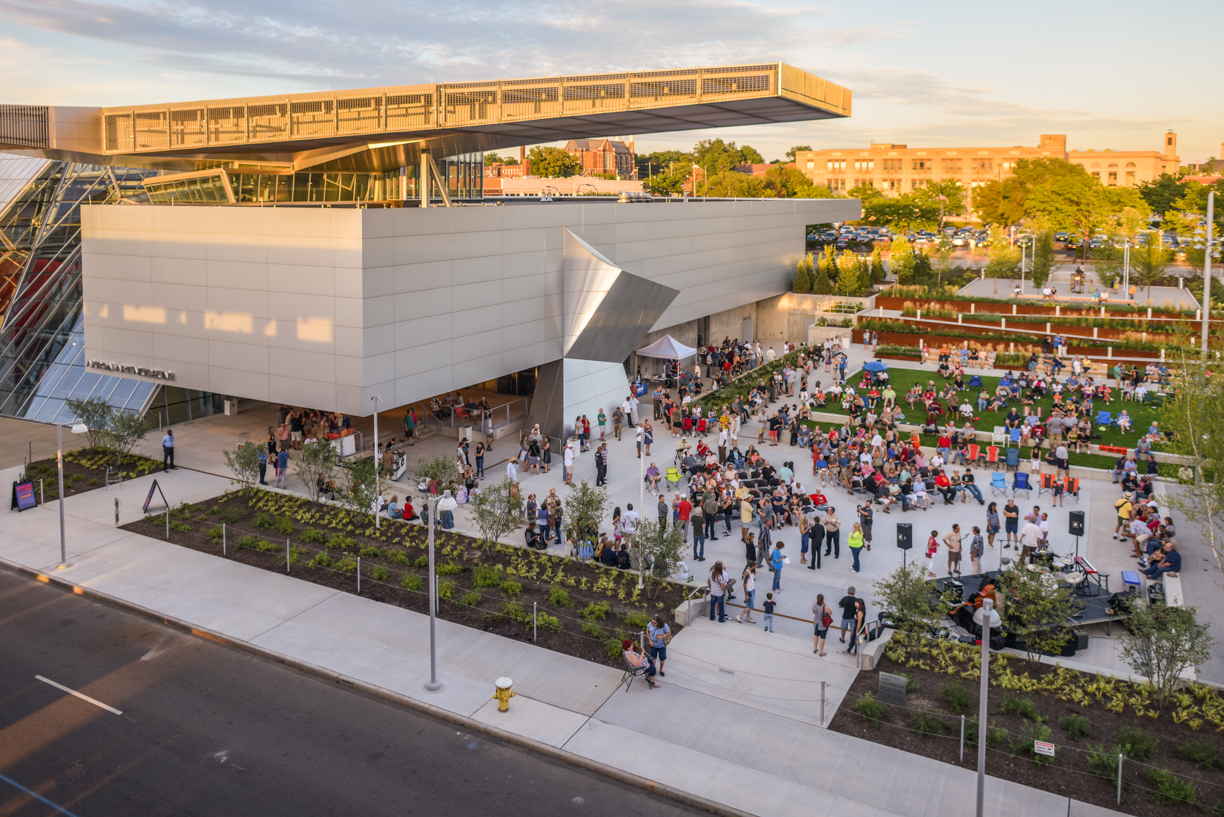 Arts
Meet Akron's 2017 Knight Arts Challenge winners
Tonight, we're excited to announce the winning ideas in the 2017 Knight Arts Challenge Akron: 17 projects receiving a combined $743,000 to further Akron's growth as a center for arts and culture in northeast Ohio. This cohort of winning ideas, the challenge's third, brings world-class talent and cutting-edge projects to the city, while celebrating the creators and artists working locally.
Drawn from more than 300 applications, these ideas reflect a growing Akron, a city that celebrates its rust-belt roots, while moving beyond them. An Akron that recognizes the diversity of its residents and embraces the shared understanding that can come from connecting with one another.
These ideas are like the city itself – unique, charming, and with an influence and impact far greater than their size would suggest.
To support individual artists in Akron with a service that helps them improve their online imprint, boost traffic through social media, connect them with learning opportunities and more
Recipient: Brittany Charek
To highlight films that pass the "Bechdel Test," which brings attention to gender inequality in film and fiction, at a festival that features works made by female directors, producers and actors
QuTheatre Ensemble: Akron's LGBTQ Youth Take the Stage
Recipient: Center for Applied Theatre and Active Culture/New World Performance Lab
To form QuTheatre, a training-based performance ensemble, that will create and present a series of events based on the experiences of LGBTQ youth and adults in the region
Recipient: Christopher Coles
To ignite conversations on racial inequality and empathy through Nine Lives, an interdisciplinary piece that immerses the audiences in the story of nine African-Americans killed in 2015 at an evening prayer service in Charleston, South Carolina
Recipient: Cindy Michael / Harps & Thistles Yarn Emporium
To create a large-scale, public crochet installation of an historic figure as part of a national project by Polish-American artist Olek on how women have shaped history
Akron's Rubber Industry, a personal photographic essay
Recipient: Daniel Mainzer
To tell the story of Akron's rubber industry in the 1970 and 1980s, exploring themes of work, immigration, integration and loss through a photo collection taken by the former in-house tire company photographer
FRONT Triennial at Akron Art Museum
Recipient: FRONT Exhibition Company
To bring a cutting-edge installation of public art to the Akron Art Museum's garden as part of the inaugural edition of FRONT International: Cleveland Triennial for Contemporary Art in July 2018
Recipient: GroundWorks DanceTheater
To initiate a dialogue about creative expression through movement workshops where community members can experience and react to the dance company's artistic process
North Hill Music Festival
Recipient: Himalayan Music Academy
To celebrate the music of Akron's immigrant communities through a music festival in North Hill that will be professionally recorded
As a Community We Lift You
Recipient: Kent State University Foundation
To beautify a county building with stories of hope and change by creating a new mural based on the stories of a range of culturally diverse Akron residents
…Or Does It Explode? (SHOW2GO)
Recipient: Ma'Sue Productions
To explore race and identity in Akron by touring a production of "Or Does It Explode?" which uses stories from the city to examine black manhood through dance, poetry, and rap
Recipient: none too fragile theatre
To bring to the stage the world premiere of a play based on the British indie film, 44 Inch Chest.
Recipient: Rubber City Theatre
To adapt two of Shakespeare's works into a modern musical and play with themes and characters that reflect Akron's LGBTQ+ community
Akronstein VR·Animation Lab
Recipient: Anthony Samangy and Eric Vaughan, Red Point Digital
To provide educational opportunities for Akron's present and future animation artists by creating a studio for stop-motion and 3D virtual reality animation
Crocheted Tires and Rubber Quilts: Crafting Family from Appalachia to Akron
To celebrate the history of Akron's industry in handicrafts through sculpture that celebrates the heritage of the artist and the city in rubber, tires and polymers
Prelude: A Musical Bridge Across Time and Culture
Recipient: Tuesday Musical
To mark the organization's 130th anniversary by commissioning a new piece by South Africa-born and University of Akron lecturer and composer James Wilding
Recipient: Urban Troubadour
To create artistic and social synergy while showcasing Akron's hidden gems through a roving concert series that takes place in the city's galleries, restaurants, office and loft spaces, brew pubs, wineries, bakeries and more
Recent Content