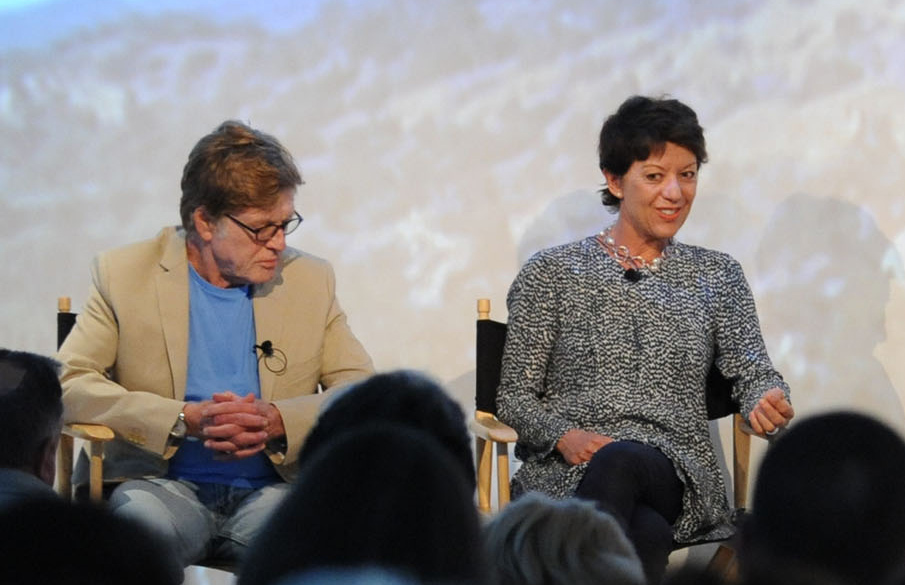 Arts
In Miami salon, Redfords advocate using art to inspire social change
Above: Robert Redford and Sibylle Szaggars Redford at the Young Arts Salon Series Wednesday night. Photo credit: World Red Eye.
Winning hearts is half the battle when it comes to saving the environment, and art can be one of its strongest allies.
That's the message iconic Hollywood actor Robert Redford and his wife, artist Sibylle Szaggars Redford, delivered to a crowd gathered at the headquarters of the the National YoungArts Foundation in Miami Wednesday night.
The event, moderated by Dennis Scholl, Knight Foundation's vice president for the arts, was the second in the YoungArts Salon series, which brings together renowned creative minds to discuss issues about the cultural landscape and to interact with the audience.
That interaction actually began the night before at the YoungArts' Biscayne Boulevard campus, the former Bacardi Museum and Tower, with the world premiere of "The Way of the Rain Miami." The collaborative artistic performance pays tribute to the Earth and—through abstract art, dance, film, music and words—calls attention to the damage being caused by man. Directed by Sibylle Redford, it also starred YoungArts alumni, other Miami artists and her famous husband, a longstanding environmentalist, in a special reading. The artist was born in Germany and had a successful career as a trader before turning to art full time.
The seeds of the project were planted last year, with an earlier and less elaborate version of "The Way of the Rain" presented in Albuquerque, N.M., where the Redfords own a home. The desert landscape and its weather inspired the artist, who then expanded the scope of the work originally created with David Thor Jonsson and adapted it for Miami.
"So, what we did last night, what we tried to convey, is a tiny, tiny little drop," Sibylle Redford said during the YoungArts Salon. "But I believe there is a chance to save this planet."
The couple admitted that chance faces many obstacles, from money pressures to political interests, but Redford considers change inevitable.
"It's the only thing that I think is possible. No matter what's going to happen, things are going to change," said Redford, a California native, philanthropist and founder of the Sundance Institute and its film festival. "The idea is, I think, you can use art as an agent for change."
As someone who experienced this from an early age, Redford shared the story of how when he was a small child in school he preferred to draw rather than pay attention to what was being taught in class. One day, his teacher caught him immersed in something and asked him what was so important. The instructor told him to show his drawing to the class and explain it. "I thought I was going to get burned," he remembered with a laugh. The image he drew had cowboys chasing Indians, who were about to fall off a cliff. In turn, they were shooting back arrows. Landing on the cowboys, however, were also bombs. This got everyone's attention. From then on, his teacher allotted time each week for drawing in class.
"You put art into the educational system at a much earlier age," Redford, who has testified in Congress on behalf of more funding for the arts, recommended. "It would be a wonderful, positive thing to say art is important."
Which is precisely what entrepreneur and philanthropist Ted Arison and his wife Lin recognized, and what led them to establish the National YoungArts Foundation in 1981: to identify, support and invest in the artistic development of emerging artists to strengthen the cultural fabric of the nation (besides Miami, there are regional programs in New York and Los Angeles, plus opportunities in Washington, D.C.).
"One of the things we wanted to have – and this is actually thanks to the Knight Foundation – with YoungArts' expansion, with this new campus, was a year-round program," said Paul T. Lehr, president and CEO of the National YoungArts Foundation. "So what does that look like when you're going to have a year-round program? What's going to be interesting to the community?"
The birth of this series was one way of addressing those questions.
"We received a very generous grant from the Knight Foundation following our proposal for the salon series to bring in luminaries, these renowned artists from around the country, to have a conversation with the public," Lehr said. "Speak to them about what makes them tick and what the future of the arts holds and get their unique perspective on this."
Redford, explained Lehr, has been an incredible supporter of YoungArts over the years, while Sibylle Redford's work as a multimedia artist and her sensibility towards issues that are affecting the health of the planet check all the boxes that appeal to the up-and-coming in the art world.
"A couple of years ago, [YoungArts] brought Robert Redford in as a master teacher, so I was able to see him talk to all of the winners from all disciplines—art, music, theater, everything—and in doing that, it just was so inspiring," said Naomi Fisher, a 1994 alum and visual artist whose work has environmental themes as well. "Hearing him talk to the kids, and how much he's trying to nourish the next generation, was really exciting to me. I am very concerned about the next generation, and that's why I'm involved with YoungArts."
That's why Knight Foundation, Scholl said, supports the salon series and the multifaceted work of YoungArts.
"Miami is ready and able to engage in artistic dialogue," said Scholl. "There's a hunger for it right now in our community, as we go through this cultural awakening, which you can feel. Part of that is discussion, and when you get people of the caliber of the YoungArts Salon Series coming to Miami, it creates a spark. It creates a sense of dialogue."
Juan Carlos Pérez-Duthie is a Miami-based freelance writer.
Recent Content