Mike Pavol is both adept and inquisitive in his vision of painting
Arts / Article
At Da Vinci Art Alliance, the dedication and curiosity inherent in Mike Pavol's figurative oil paintings is unmistakable. His collection of recent works for "Portaits and Such" is heavily based on the human body, but Pavol also takes liberties with his art that twist traditional portraits beyond mere representation. Delicately perceptive and at times experimental, these works both uphold and challenge his medium of choice, as well as his own intentions.
Mike Pavol presents his sheer skill by way of a few powerful and personal portrayals that draw on individuals from a range of ages, backgrounds and appearances. They are full of life and warmth, and it seems fairly certain that he is close with at least some of the subjects due to the personality of his renderings; if this assumption is incorrect, it's even further testament to his keen eye and the subsequent translation through his hand and brush. We find "Paul" sitting shirtless, a boxy string instrument held vertically in one hand, and his chest and armfuls of tattoos perched atop his hairy, fleshy torso. Beneath the fuzzy blondish mustache and beard, the man's mouth nearly grins as his reddened eyes pierce forth in an attentive, if weathered, stare.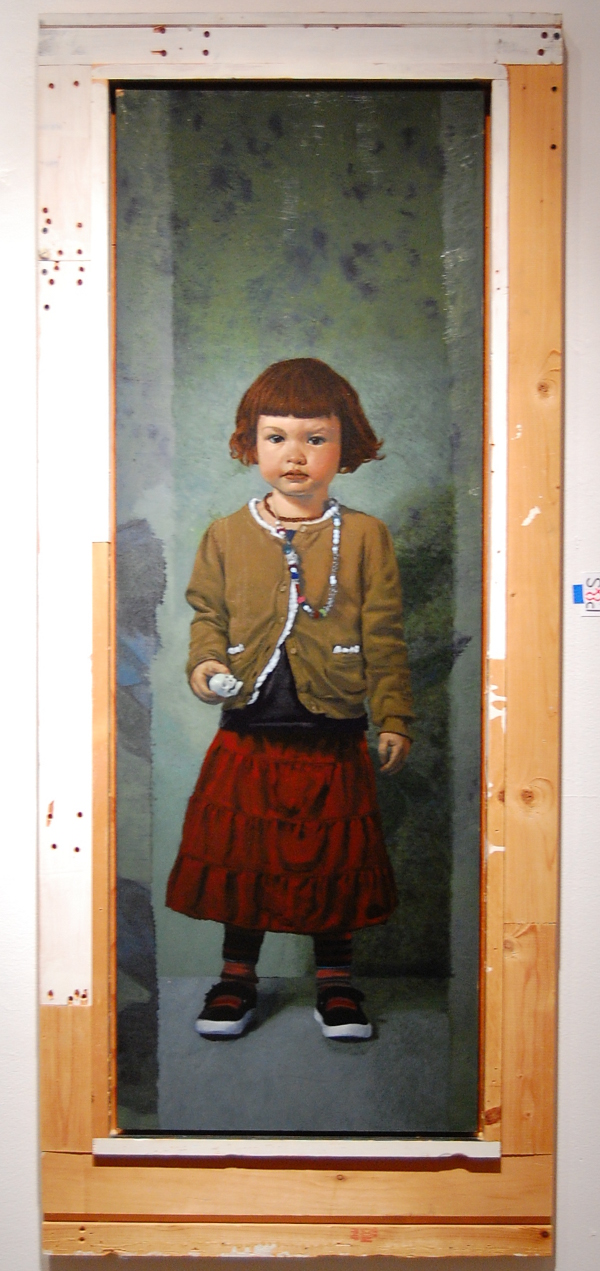 Directly adjacent, and in sharp contrast, there is "Josie," an auburn-haired toddler in a deep red, ruffled skirt and wooly cardigan. Her necklace and buttons are slightly askew, as is her expression, a mixture of bemusement and posed focus. She doesn't particularly look like she cares or quite understands why she is standing for a portrait, and in one hand clutches a small white skull, a morbid accessory to her otherwise cherubic innocence. This image seems to interrupt her playtime, and it is not hard to imagine her scurrying away shortly afterward.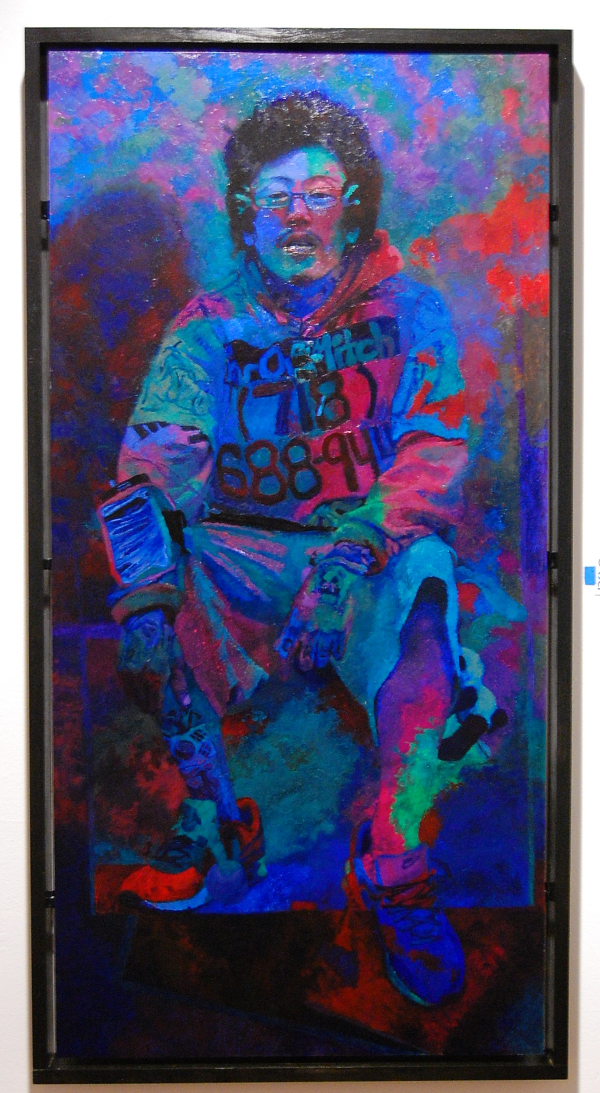 Pavol elsewhere allows himself to patch together his images with vibrant colors of almost black light phosphorescence or creamy pastels. Through a process of sanding down layers of paint and freely exploring the hues that emerge, the artist allows happenstance to flood over his figures in splotches of red, blue and green, while their forms remain steady and sharp beneath. For "Mitch," blues cling to the bulk of the seated man, while hot red and green flicker as accents on his sleeves and legs. Behind him, purples mingle with the fields of blue and recede to a point of near obscurity as the red and green highlights splash forth with significant energy. He repeats this coloration with softer tones in "B&W One," which depicts two young girls seemingly through a rose colored glasses. These pinks and blues that contain much less weight and intensity than the colors in many of his other paintings.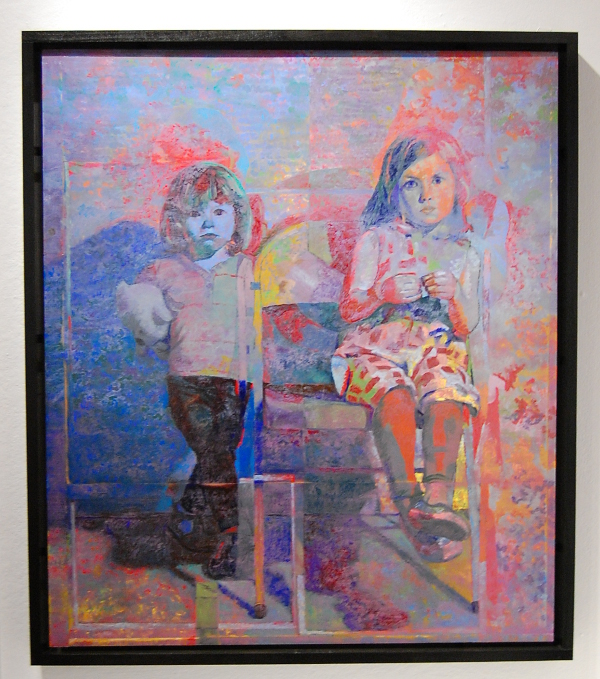 Opposed to his obvious training as a portrait painter, Pavol likes to throw in snippets of his photographic references or perceived strips of blue painter's tape into the fray. We can often see the borders of the photographs from which his paintings emerge and even the grids he uses to construct his images. Pavol makes a fairly obvious distinction between his portraits and his more abstract paintings, which tend to thrive on a more crowded, disjointed subject matter.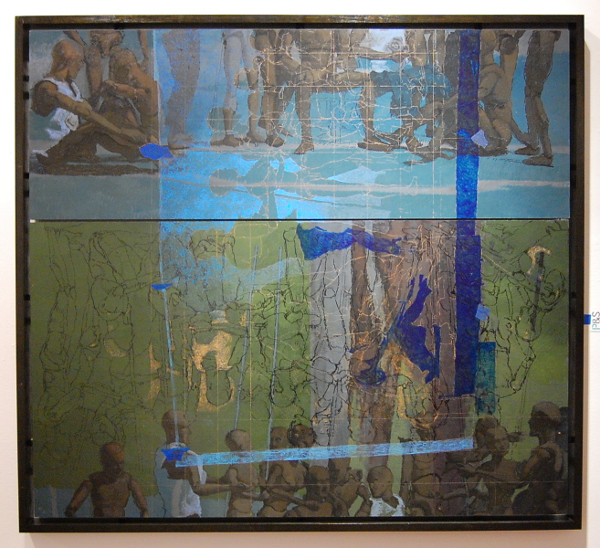 In "Assembly," it is perhaps most apparent that the act of painting interests Pavol as much as the finished product. The artist's eye as an always roving, reinterpreting instrument turns the scenes of posed wooden figurines sideways, upside down, and even slices them in half with the midpoint located at the top and bottom of the two panels, not its actual center. A grid of squares emerges across the convoluted mixture of sketched and painted arms, legs, heads and rotating joints, while the blue painter's tape seems to peel away from some of the layers. This almost unfinished appearance, while outwardly chaotic, is actually quite calculated, a sort of structural holdover from the artist's training as an architect.
He repeats this seemingly free-form but rigidly planned method in a number of other paintings like "Hand & Ball" and "Incident @ Seger Park," which see groups of these anatomically accurate, yet lifeless bodies mingling together in strange communal activities. As much as these specific paintings focus on the human form, they are largely studies in paint application and coloration at their core, utilizing the figure as a means to an end.
There is no doubt that Pavol can paint an unforgettable face and construct a human hand with precise detail, but it is his interest in the paint itself and its potential to trick, challenge and distort that makes his work truly engaging. By residing between the face-value analysis of what he sees and the piecemeal assembly of snapshots of his mind's eye, Mike Pavol provides a deeply inquisitive take on the world.
Recent Content