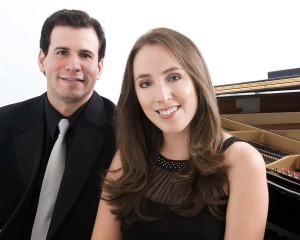 Arts
New academy offers rigorous curriculum for music students
Later this month at the Greenery Mall in Dadeland, a husband-and-wife team will open the doors to a new music school. But it's not the kind of casual school you often find affiliated with a guitar shop or a similar business.
Pianists Fabiana Claure and William Villaverde (pictured above) founded the Superior Academy of Music (SAM), an institution they see as filling in the gaps that are missing from too many musicians' educations, younger musicians in particular.
"We want to set the bar higher," said Claure, who just earned her doctorate from the University of Miami. "From teaching at the university level, we've seen firsthand what the average freshman has to face."
And what they have to face is a world of things, like ear-training, solfège and music history, topics not often covered in the everyday American music lesson.
"In other countries, you have a comprehensive education. You have solfège, you have theory, you have harmony," said Villaverde, who grew up and studied in Cuba and is currently in the UM doctoral program. "It makes you a better musician."
The Superior Academy of Music is open to all ages, but one of its goals is to improve the training for young musicians heading to college, where they will often find musicians like Claure, a Chicagoan by birth who studied in her parents' native Bolivia, as well as Cuba, before returning to the States.
The two also say they have made sure to hire thoroughly trained teachers for their faculty, which will number 10 people by opening day Aug. 29. In addition to Claure and Villaverde, who will teach piano, the Superior Academy of Music hired violin, voice, guitar and musicianship teachers, as well as instructors in jazz voice and jazz piano.
"That's what I always wanted to do," Villaverde said of the jazz curriculum. "I love both classical and popular music, and I wanted to start preparing musicians in a very broad way … Someday, you're going to play in a church and there isn't going to be any staff paper … The jazz program is essential."
Central to the Superior Academy of Music mission is a new accreditation program launched in March by Carnegie Hall and The Royal Conservatory of Music in Toronto. The Carnegie Hall Royal Conservatory Achievement Program offers a sequential program that allows students to move from beginning to advanced levels and be evaluated as they go through each of them.
The Superior Academy of Music will provide preparation for the achievement program, which is geared to pre-college musicians. First, though, the students get an initial assessment.
"What we do is identify the needs of the individual student and do a trial lesson before we go into the program," Claure said.
Classes are kept to 10 to 11 students, she said, and so far, 30 students have already signed up before the doors open. Villaverde said construction work is still being done on the space to get ready for the first day.
Fees for the school run from $138 for a month of weekly half-hour private lessons to $1,795 for the five-month spring semester of weekly hourlong private lessons and musicianship class, which covers music theory, keyboard harmony, music history, ear-training and solfège. Claure said the academy has a "big budget" to tackle right off the bat, but Villaverde said they've received plentiful support from "friends and family who support our idea and want to help us."
Another important facet of the venture is that it demonstrates a business mindset that Claure said is critical for today's musicians.
"As part of my studies at UM, I took business courses, and I found it fascinating how little I knew about that," she said. "Musicians are generally not trained to think in a business way."
But Claure said today's technologies have changed the music world and the demands on musicians to meet those changes. "Musicians have many more opportunities today then they did when everything was controlled," she said. "Anything they record and put on YouTube could become viral, and they can use Twitter and Facebook to build networks for themselves."
It's not for nothing that Claure's doctoral dissertation was called "The Entrepreneurial Concert Pianist." The Superior Academy of Music idea received three awards at UM after Claure and Villaverde entered it in the school's annual business plan competition, and the two were featured on a segment of PBS' "Nightly Business Report" in late May.
All of which amplifies the whole mindset behind the Superior Academy of Music as it gets ready to welcome its first pupils. "This is a very competitive world," Claure said.
And if the Superior Academy of Music can do something to help musicians thrive in that world, then it will fulfill its mission.
Recent Content