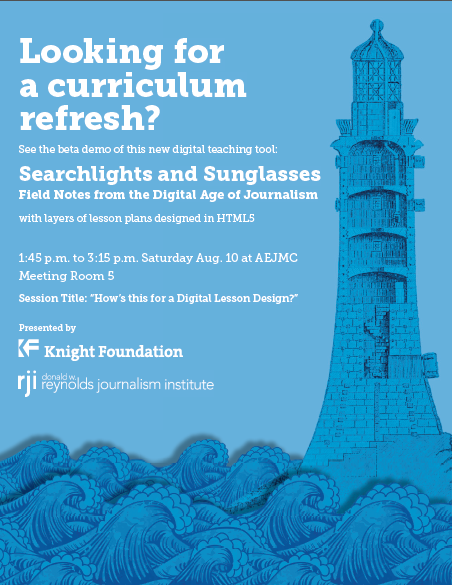 Journalism
A new teaching tool to innovate journalism education
The digital age is turning journalism upside down and inside out, but it hasn't done the same to journalism education. Most digitally savvy educators agree the tsunami of disruption that has walloped the news community is now bearing down on education. Institutions that don't face reality risk being washed away.
Changing from top to bottom means reforming all your tools and technologies. Consider the most basic one of all: the book. "The problem with writing a book about the changing state of journalism in the digital age is, well, the changing state of journalism. The subject flat refuses to stand still long enough for proper treatment in a book, a 'content platform' which, after all, isn't much advanced from its 15th century roots," wrote Tom Fiedler, dean of Boston University's College of Communication and former executive editor of the Miami Herald, in CommonWealth magazine.
Traditional printed textbooks make it difficult for journalism teachers from high school to graduate school to stay up to date with the latest developments. Textbooks can be outdated from the moment they arrive. They're heavy. They're expensive. Some school districts and colleges are moving away from them and looking for free educational sources online. If a printed book is 5 years old, in digital media years, it's too old. If it takes two years to print, that's too long. Innovations are coming faster than that. Some teachers are starting to drop books altogether and move to using NewsU, Nieman Lab, PBS Media Shift and other digital sources of journalism news.
The book contains more than 1,000 links, exercises, assignments, research projects and other ways to bring digital age issues into the classroom. It aims to show that teaching tools can be built to be updated in hours rather than years. We don't just say journalism education should change. We're trying to provide an example of one way it can change – to become more experimental – in this case with a digital book that could be used by high schools (where some printed textbooks are 10 years old) as well as community colleges and colleges.
The alpha version of this open educational resource will be previewed Saturday at the Association for Education in Journalism and Mass Communication. We've done two other demos, one to high school teachers at the University of Missouri and the second this week in partnership with the Poynter Institute for Knight Chairs in Journalism. So far the questions have been helpful and interesting—how do you index an ever-changing book so it can be accurately quoted by scholars and librarians?—and in the beta phase we'll work on answering them. We plan to release "Searchlights and Sunglasses" this fall. Part of the testing is to help us determine how students and teachers prefer to keep the ideas flowing after the tool comes out.
The new world is exciting but very different—as different as Galapagos turtles are from Teenage Mutant Ninja Turtles. We hope our free, Creative Commons-licensed teaching tool will be another example that the transition can be made without losing fundamental values of good journalism.
Eric Newton, senior adviser to the president at Knight Foundation
Recent Content