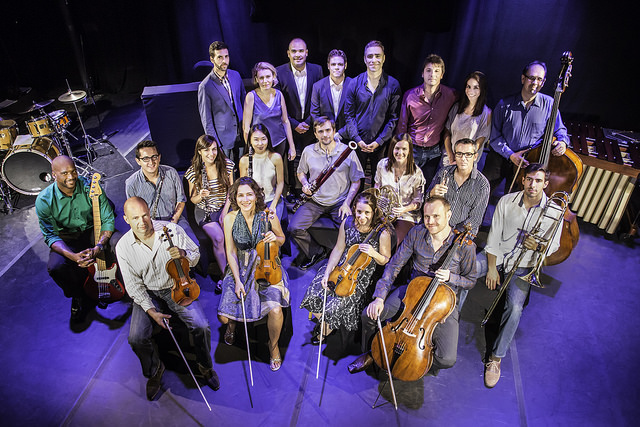 Arts
Nu Deco Ensemble plans larger, more collaborative first season
Sam Hyken is the co-founder and artistic director of Nu Deco Ensemble, a new electric chamber orchestra and a winner of the Knight Arts Challenge South Florida.
During the run-up to our inaugural concert last April for Nu Deco Ensemble, my co-founder Jacomo Bairos and I felt deeply that we were on to something truly special. The energy and artistic quality coming from our entire team was palpable. The exciting performance that occurred in the Light Box at Goldman was just the icing on the cake. This first undertaking of what a 21st century orchestra could be, and what a new, eclectic chamber orchestra in Miami could potentially mean culturally, was successful in ways we did not imagine.
What happens next? Where do we take this energy? What does it mean to now be a leader in the community for presenting high art, education and outreach, as well as creating a sustainable business and community partnerships? These were all questions we asked ourselves once we knew that Nu Deco has a voice that wants to be heard.
When we conducted our post-concert surveys, interestingly, our younger audiences responded strongly to our young, living composers, and our more mature audiences connected to the music of Miami's own Afrobeta as well as my orchestral arrangements of Daft Punk. These reactions reconfirmed that music is not only a universal language that connects to all peoples, but that these so-called "barriers between different genres of music" were completely imaginary.
One of our priority's after this debut was to build a larger, more robust board of directors that harnesses community and business leaders as we also began the strategic planning we knew was necessary to help Nu Deco realize its full potential. Immediately, potential collaborators began reaching out. Before we knew it, other successful outings, including performances at the Bang on A Can Marathon at the Light Box and with Manual Cinema's "My Soul Shadow," as part of O, Miami, occurred. It was evident to us that Miami was along for the ride.
Our next task was to build a full concert season that built upon these pillars we initially established. Our original plan was to perform three series of concerts at the Light Box. As this took shape, other Miami organizations reached out to collaborate. We are thrilled to announce that in this first full season, we have not only doubled the amount of programs that we had initially intended, but we have laid strong foundations for some incredible and unique partnerships for the future.
Concert One, our season opener, occurs Sept. 25-6 and follows our original formula of merging some of today's most exciting composers and local artists with popular and mixed genres. Through our creative friends at Alarm Will Sound, a New York Contemporary Ensemble, we discovered the music of Clint Needham and Greg Simon, who themselves are genre-bending composers. Needhams' "Urban Sprawl" and Simons' "Draw Me the Sun," pull from contemporary styles, sounds and forms. Other noted composers include Marc Mellits as well as Brazilian composer Marcos Balter. After intermission, the concert will feature a Miami-based, singer-song writer Brika. She is a star in the making, and collaborating with her in an orchestral setting is going to create an intimate, exclusive, and special moment on this performance.
Our second performance will take place at 5 p.m. Nov. 22, and will be presented at the historic Deering Estate, with a concert titled "Nu Deco Water Music." We will feature our trademark music of Daft Punk, Adam Schoenberg and Paul Dooley along with reinventions of famous classics by Bach, Bizet and Brahms.
Next, on Jan. 28, 2016, we will begin a new partnership with the Rhythm Foundation, in a collaborative performance at the North Beach Band Shell. We will be performing with pioneering local music legend, Andrew Yeomanson and The Spam All-Stars creating original works and reinterpretations of their classic music while also highlighting Nu Deco Ensembles favorite composers and arrangements.
We close our season April 24-25 celebrating one of the composers we appreciate and love dearly, virtuosic percussionist/composer as well as winner of the prestigious Rome Composition Prize, Andy Akiho. In our debut concert, we performed Andy's "Ki' Iro," and our audience and musicians connected to his music intensely. We wanted to explore a deeper collaboration with Andy, and invited him to perform several of his works as a Steel Drum Soloist with Nu Deco Ensemble. The music of Paul Dooley as well as a brand new version of Jamiroquai's music will close out our first season.
We are so honored to share this dynamic season with all of Miami. We are eternally grateful to all our collaborators, mentors, board members, sponsors, and our dynamic and talented musicians who are helping us realize the dream of a 21st century chamber orchestra in Miami.
Recent Content