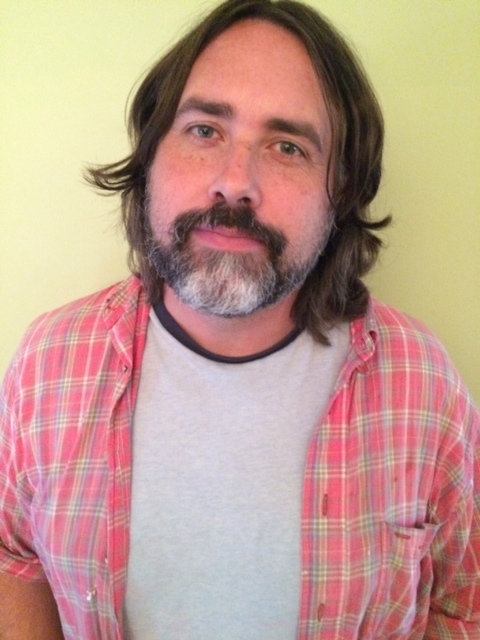 Arts
One story, two wheels: Bike theater will help revive ancient art form
Image courtesy of Andy Krieger.
The Knight Arts Challenge Detroit is accepting applications through April 13 for the best local ideas for the arts. Here, writer Mary Chapman catches up with 2014 winner Andy Krieger.
With the nation in recession, and Detroit all but broke, out-of-work carpenter and visual artist Andy Krieger read a magazine piece about an arcane art form called kamishibai. Originating in Buddhist temples nearly 1,000 years ago, it was popularized in early 20th century Japan, when cash-strapped men earned money by traveling from village to village on bicycles equipped with a small stage, and telling stories.
For Krieger, a light went off.
"It struck me that I was going through something similar, I was out of work just like those Japanese guys," he said. "I decided I had to rely more on my creative abilities. I had to do something."
Krieger was already a sculptor and painter, specializing in three-dimensional formats. "When I saw the art form, I saw an opportunity to go after art full time. Because really, there was nothing else to do."
In 2014, Krieger was awarded a Knight Arts Challenge Detroit grant to work art into people's everyday lives with Kamishibai Man, a bike-mounted wooden theater based on the Japanese tradition, where performers use paper art to tell serial stories.
Kamishibai, which means paper theater, began when Buddhist monks used picture scrolls to convey stories. It's best known for its revival in the 1920s through the 1950s in Japan, when storytellers road small bikes to towns and used wooden clappers, called hyoshigi, to announce their arrival.
Once an audience assembled, storytellers used a set of illustrated boards, inserted them into the stage and withdrew them one by one to create a narrative. In order to keep crowds coming, new episodes were told each visit. Storytellers earned small incomes by selling candy to kids. Ultimately, the advent of television largely killed the art form.
Krieger hopes to revive it, at least in Detroit. He's planning to collaborate with The Hub of Detroit, a bike shop near downtown, to build a suitable bike, which he sketched above. "I want a sculptural, eye-catching monstrosity," said Krieger, of suburban Grosse Pointe Farms. "Maybe something folk-arty."
The painted wooden box, or theater, will be about 18 x 24 inches, with an extra compartment, perhaps, for coffee and donuts.
"Kamishibai involves painting and craftmanship, which to me is just another form of expression, a new platform for me to use to say things," he said. RELATED LINKS
Krieger will tailor the stories to appeal to all ages. "Particularly people who are underserved as far as arts culture. I want to try and make art more important in people's daily lives."
Krieger has never been to Japan, and the stories will be in English. He himself will perform, but he will also assemble a team of writers, artists and performers. "We'll be doing original stories, and cliff hangers to keep people interested," he said.
He is planning 10-minute performances for Campus Martius, a popular downtown gathering spot, particularly with area office workers; the Children's Hospital; street corners; driveways; parties, among other locations.
If the project takes off, Krieger has visions of incorporating more bicycles and theaters.
"It's all a way of communicating to people that's pretty intriguing," he said. "When you paint a picture and sell it, it disappears into a home and you never see it again. Here, you're showing in front of a live audience and getting feedback."
Mary Chapman is a Detroit-based freelance writer.
Recent Content