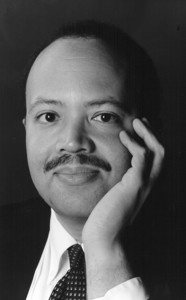 Arts
Organ recital sheds light on black composers
You don't often find the names of Florence Price and John W. Work III on organ recitals, much less classical music programs in general.
But this afternoon at St. Agnes Episcopal Church in Miami, works by these two African-American composers and three others will be featured on a Black History Month celebration event. The organist will be Anthony Williams, a professor at Fisk University in Nashville.
"Really, I would have loved to do a program of American music and include African-American composers," Williams said, and added that he does a lecture-workshop about this topic and will do so on Monday for the Miami chapter of the American Guild of Organists. "I've kind of noticed when I've suggested or promoted this, the initial reaction is, 'Is there enough to talk about?'"
Williams, who has taught at Fisk for the past six years, assures them that there is, pointing to a seven-page handout he has listing pieces by composers, such as Price and Work. But it takes some doing to keep these composers in the public eye, in many cases because many of them appeared not have even approached publishers with their scores, he said.
There will be six works in all on Williams' program, starting with an Impromptu in F (Op. 78, No. 1), by the best-known of the six, Samuel Coleridge-Taylor, whose death centenary is being observed this year. Williams said he found a set of three Impromptus in a Nashville music shop and has performed the first one ever since.
"It's one of his last compositions. I have played all three Impromptus, but I think No. 1 is my favorite," Williams said. "It's a nice piece. I love his music."
A much less well-known composer is Price, who lived from 1887 to 1953, and who is represented by her Sonata No. 1, written in 1927.
"She is very much underestimated as a performer. She studied at the New England Conservatory; I believe she entered at 14 and graduated at 18," Williams said. One of her accomplishments at the Boston school was to play a major sonata (No. 1 in D minor, Op. 42) by the French organist Alexandre Guilmant, a staple composer of the organ repertoire.
As it happens, Guilmant was in the United States at the time on tour and heard Price play his piece. "He publicly praised her, and this sonata is really modeled on the Guilmant sonata," he said.
Williams also will play the "Passacaglia and Flourish," written for him in 2004 by his Fisk colleague Gary Powell Nash and premiered by Williams in 2007. "His music has a lot of jazz influence, a lot of jazz harmonies. His mother says he grew up listening to his father's jazz collection," Williams said.
Another piece written for Williams is the Voluntary on "Holy Manna," written by Ralph Simpson in 2006 and based on William Moore's 1825 hymn tune of the same name. Simpson is retired from the chairmanship of the music school at Tennessee State University and wrote the piece, in part, because of a longstanding joke between the two men about an early Prelude and Fugue for organ that Simpson composed "that he will never let me see," Williams said.
"And every time I mention it, he'd say 'I'll write another piece for you,' and he finally did it."
One of the larger works on the program is the suite "From the Deep South," composed in 1936 by Work, whose taught at Fisk for almost 40 years and directed the legendary Fisk Jubilee Singers. "He was also an ethnomusicologist and traveled throughout the Deep South collecting folksongs, kind of like Bela Bartok in Hungary, and modeled his compositions on these folksongs as well," Williams said. "I would call him an American Bela Bartok."
The language of the suite — which Williams has posted a performance of on his website, along with the Price sonata — is much milder than a lot of Bartok, but it's elegant, lovely music and well worth a listen. Work wrote the suite after a trip to a black Sacred Harp convention in Alabama. "There are a lot of pictures from that and it seems that by looking at those pictures you can see a lot of harshness and struggle, and he's kind of depicting that in the piece," Williams said.
Finally, Williams has added "Yoruba Lament," written in 1955 by the Nigerian-born composer Fela Sowande, who spent many years in Britain and the United States, closing his career as a professor at Kent State University.
The repertoire for the organ is huge and varied, but it's also not particularly well-known to audiences outside the discipline. "Sometimes I think the organ is so closely associated with church that people automatically say, 'I'm going to hear hymns,'" Williams said. "And I've had people say, 'How do people major in organ performance? What do they do?'
"And I've had to point out that the organ repertoire is probably the largest repertoire of any keyboard instrument," he said.
This afternoon, Williams will demonstrate just how rich that repertoire is, and in so doing also bring some much-needed attention to worthy black composers whose efforts have largely gone unrecognized by the wider world. The concert begins at 4 p.m. at St. Agnes, and admission is free.
Recent Content