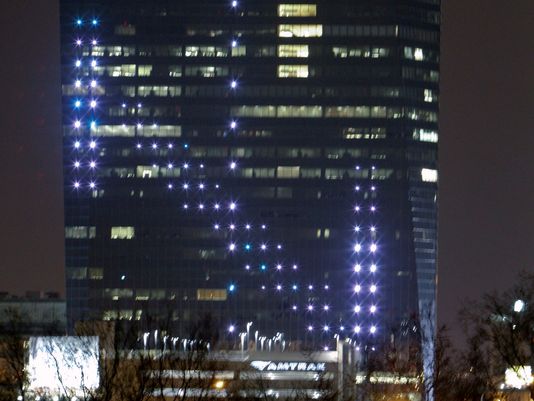 Arts
Philly Tech Week and the grandest game of Pong on the planet
On Friday April 19, the third annual Philly Tech Week kicked off with a celebration at the Philadelphia Museum of Art which included the world's largest video game – a massive, playable LED version of the classic game Pong on the side of the Cira Centre. Tech week is presented by AT&T and generously sponsored by the Knight Foundation. The festivities run through April 28 with a variety of tech-related fare around the city.
The kickoff party at the Art Museum featured a slew of activities including retro video games, food trucks and a performance by the quintessential Philadelphia chiptune band Cheap Dinosaurs. With one eye on the vintage technology of Game Boys and one eye on the future of electronic music, this group of musicians is one of the more recognizable acts in the vibrant Philly 8-bit music scene. In the sea of beeps and bass that makes up much of contemporary music, these guys are definitely a standout.
Of the spectacles though, the show stealer was certainly the 29-story game of Pong on the face of the Cira Centre. Dr. Frank Lee of Drexel University had long dreamed of turning the skyscraper into a working homage to the 1972 video game by Atari. Through a partnership with City of Philadelphia, Cira's owner Brandywine Realty Trust, the Art Museum and Philly Tech Week, Lee's vision was realized.
In Philadelphia, the Cira is often notable for its LED display which coincides with a variety of holidays and sports team logos including a gigantic Phillies 'P', but for the technophiles and geeks among us, this rethinking of the seminal video game is an exciting and inviting way to kick off Tech Week. A lottery allowed a number of visitors to try their hands at the gigantic Pong match. Interestingly enough, Frank Lee himself won the first round against Brandywine CEO Jerry Sweeney.
Many more events await as the week proceeds including web design, app, and robotics seminars, discussions about sustainable tech and architecture, a game marketing lunchtime series, and of course a second installment of the Grandest Game of Pong on the Planet which will happen at the Philadelphia Museum of Art on Wednesday, April 24 from 8-11 p.m.
Recent Content