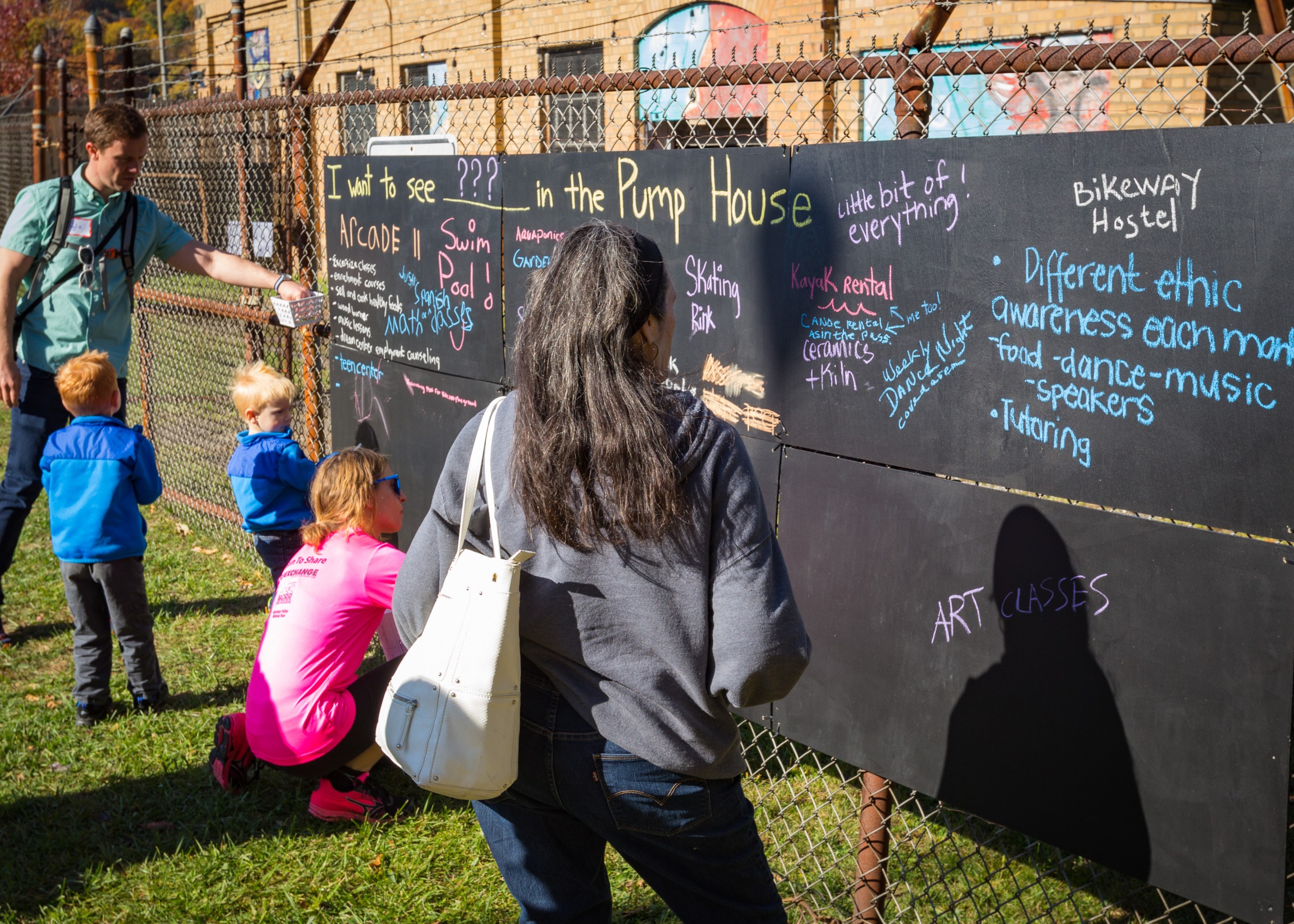 Communities
Public spaces are at the center of city-building
There is a palpable buzz in Akron– the kind that signals exciting things to come. You can feel it within our growing arts community, in mounting activity in downtown and the groundswell of technology startups.
Admist this rising tide, parks are playing an essential role in providing gathering spaces where everyone is welcome. Their role in connecting people to the city and each other is vital to continuing the energy for new ideas, collaboration and investment in Akron.
At Summit Metro Parks, we are working to build authentic relationships with residents and engage them in shaping our public spaces. In particular, we see many opportunities to connect Akron's neighborhoods to the new energy we are seeing in the downtown core.
While working on the Reimagining Civic Commons project in Summit Lake, a national initiative that leverages public spaces to promote inclusion and foster connected communities, we preformed an experiment in co-creation. We listened to and learned about the area from the people who live there, and, together, we built programs that met their needs. This direct engagement led to the development of a pop-up nature center with programs for all ages. In just three months, we began seeing the impact of our presence. Programs like Zumba, canning, poetry writing, hiking, painting, sketching and a nature club, saw ever-increasing attendance.
This temporary experiment brought to light a demand for more programs that connect the community across backgrounds and experiences. Building on this lesson, Summit Metro Parks is embarking on a plan to transform two Akron public spaces –the pump house at Summit Lake, and the historic barn at the former Valley View Golf Course in Cascade Valley Metro Park– into permanent community hubs.
With the city's help, we plan to take possession of the pump house and transform it into an outreach center in collaboration with residents. The project will be supported by existing partnerships with local groups like Let's Grow Akron, Students with A Goal (SWAG) and Summit Lake Build Corp.
The Cascade Valley Metro Park barn, built in the late 1800s, is adjacent to the North Hill neighborhood, a resettlement area for Akron's refugee community. We have previously worked with these new entrants to Akron to translate park information (e.g., rules, fishing guidelines) into their native languages and introduce translation services. We also installed a cricket field so our neighbors from Bhutan could continue playing a sport from their homeland. Building on these initiatives, the barn holds great potential for serving this population, and providing a space for them to gather and connect with the wider community.
Creating connected, vibrant public spaces in Akron is central to the city's success. They serve as beacons for economic activity and meeting grounds for the artists, innovators and emerging talent who can help to attract new opportunities and investment to the city. Through these projects, we hope to add to the momentum for growth in Akron, and provide new avenues for all Akronites to help shape their community.
Recent Content