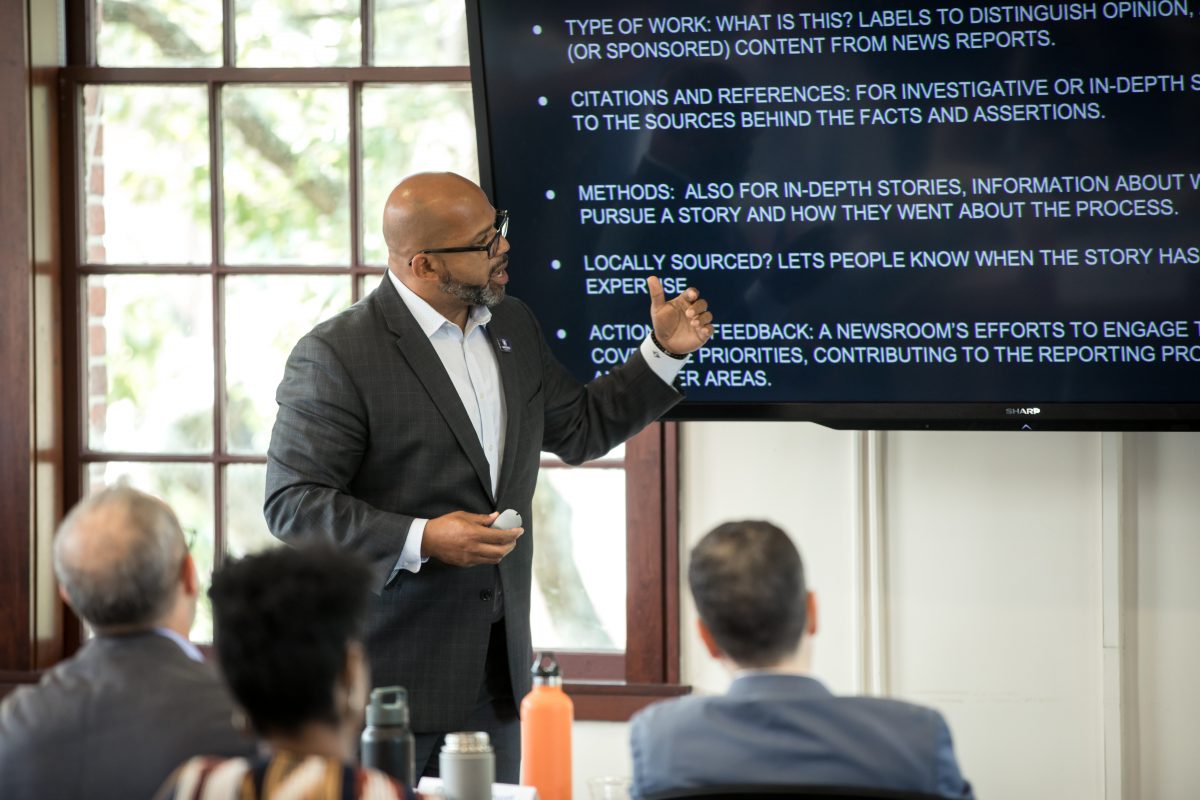 Journalism
Raising the stakes to ensure local news thrives
A new $2.23 million Knight Foundation investment will support the UNC Center for Innovation and Sustainability in Local News and Table Stakes Newsroom Initiative
In Charlotte, newspaper veteran Glenn Burkins founded QCity Metro in 2008 to serve the city's Black community, and he needed a way to make it sustainable. Burkins used the initiative to realign his goals, which increased readership, revenue and a stronger team. And the Atlanta Journal-Constitution, a legacy newspaper that's recognized on a national level, used Table Stakes to amplify their hyperlocal content, find untapped audiences and create community during COVID-19.
These success stories show the impact of an ongoing UNC-Knight Table Stakes Initiative that began four years ago, led by the Center for Innovation and Sustainability in Local News (CISLM) at the University of North Carolina (UNC) Hussman School of Journalism and Media. This initiative, part of the Knight-supported national Table Stakes Initiative, offers select media organizations like these a rare and often transformational opportunity: to spend a year working closely with committed experts in identifying and overcoming the challenges to success and sustainability they face in today's fast-changing digital news environment.
With the training and guidance of media coaches and a diverse peer group, 32 organizations across the Southeast have now used their time with Table Stakes to build audiences, streamline operations and generate meaningful revenue, all while focusing on the kinds of local journalism their communities rely on most.
This year, Knight is proud to continue its investment in the Table Stakes Newsroom initiative and the groundbreaking research of Penny Abernathy, a Knight Chair in Journalism and Digital Media Economics, with a $2.23 million commitment to help more news organizations work toward the pursuit and resolution of critical performance challenges in their organizations and enrich their communities as trusted news sources.
Knight's renewed support for the next three years comes at a crucial time for local news, as unprecedented pressures from these uncertain times affect newsrooms around the country. The impact of this program across the first three cohorts of UNC's Table Stakes participants is inspiring. Collectively, the choices Table Stakes participants made have led to $3 million in incremental revenue, 82% growth in digital subscriptions, 52% growth in page views and 30% growth in digital revenue.
The newest Table Stakes cohort launched on Sept. 30. These organizations represent the most diverse cohort yet in both size and scope, covering everything from local news about the South, sports, Black innovation, Latinx communities and more. Joining UNC-Knight this year are:
The Richmond Observer of Richmond County, N.C.
New Digital Press of Charleston, S.C.
A group of Gannett Co. organizations – The Asheville Citizen-Times in North Carolina, The Savannah Morning News in Georgia, The Clarion Ledger in Mississippi, The Florida Times-Union in Jacksonville and a combined team from Tennessee, comprising members from the Knoxville News-Sentinel and The Commercial Appeal in Memphis.
Southerly, covering the entire Southeast
WFJX Fox Radio, covering the Roanoke Valley in Virginia
Chatham News + Record of Chatham County, N.C.
The Plug, based in Atlanta
Enlace Latino NC of Siler City, N.C.
HBCU Gameday, based in Charlotte, N.C.
Knight funding also supports Abernathy's ongoing research and extensive outreach to address America's expanding news deserts. Abnernathy's newest report, released earlier this year, works to better understand the financial challenges local news organizations face and the impact news deserts (areas without access to local news) have on communities across the United States.
Together, the combined efforts of the Table Stakes program and Abernathy's work will ensure that news organizations work to strengthen local news in the communities that need it most. At a time when information is crucial for civic participation, we're proud to support these efforts, amplify the work of these organizations, and help communities stay informed. 
LaSharah S. Bunting is director for journalism at Knight Foundation. Susan Leath is director of the Center for Innovation and Sustainability in Local Media at UNC.
About the John S. and James L. Knight Foundation
Knight Foundation is a national foundation with strong local roots. We invest in journalism, in the arts, and in the success of cities where brothers John S. and James L. Knight once published newspapers. Our goal is to foster informed and engaged communities, which we believe are essential for a healthy democracy. For more, visit kf.org.
About the UNC Center for Innovation and Sustainability in Local Media
The Center for Innovation and Sustainability in Local Media at the UNC Hussman School of Journalism and Media exists to support established and emerging local news organizations through applied research on economic sustainability and entrepreneurship as well as innovative news and digital product solutions. The center is funded by grants from the John S. and James L. Knight Foundation and UNC's Office of the Executive Vice Chancellor & Provost.
Photo (top): Martin Reynolds, co-executive director of the Maynard Institute for Journalism Education, leads an in-person UNC-Knight Table Stakes session
Recent Content