Remembering John Cage, American original
Arts / Article
For young people, John Cage is something of a hero.
So says Laura Kuhn, executive director of the John Cage Trust, which administers the affairs of the composer, inventor, philosopher and all-around artist who made such a remarkable impact on the music of the 20th century.
"Young people just fall in love with him. They just resonate; he talks, they just smile," Kuhn said, speaking over lunch on Lincoln Road recently. "And I think it's just that we live in such a produced time. There are no real artists anymore; they're all the product of manipulation, of media manipulation.
"And Cage was so real. He was just this guy who was kind of earnest, very exploratory, and experimental in his thinking in the sense that he never really repeated himself. He just kind of kept doing the next thing. So there's a kind of authenticity about him that I think young people find extremely refreshing."
Starting tonight, the New World Symphony celebrates the work of Cage with a four-day festival that is likely to be one of the most significant of this season, in which the centennial of Cage's birth is being commemorated (he was born in 1912). Kuhn worked with Cage at his home in New York from 1985 until his death in 1992.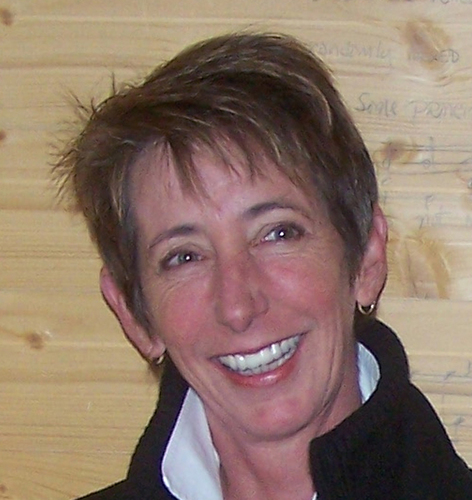 Laura Kuhn, director of the John Cage Trust.
She is careful to point out that she met him at the end of his career, long past his bad-boy days and when he had long since become a respected, established figure in new music.
"I knew John Cage when he was a Harvard lecturer. I knew John Cage when he was getting orchestral commissions," she said. "He was sweet. He was committed, he was devoted to contemporary music. He held the world of contemporary music in New York together. He went to everything, he felt deeply committed to young performers, he answered every piece of mail that was sent to him.
"He felt responsible for the work in the world. When he died, I remember thinking, 'It's OK, come back. You don't have to do this anymore. You can have a vacation,'" she said. "He was fun, he was funny, he was surprising."
Like Cage, Kuhn is a native Californian, a place which had its own vanguard of contemporary composers when she was a young musician; for example, Lou Harrison, Henry Cowell, and Colin McPhee. She met Cage while doing research in New York for her doctorate at UCLA. Finding time left on her grant with her project completed, she agreed to help Cage at the instigation of German-born composer and academic Pia Gilbert, then at UCLA and now at Juilliard.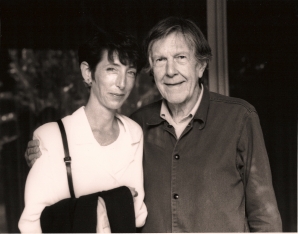 Laura Kuhn and John Cage.
"We just hit it off. It was a very good fit for the two of us, because he really didn't like to tell people what to do, and I didn't like to be told what to do," Kuhn said. "I loved every moment with him. It changed my life in a heartbeat."
Three concerts devoted to Cage's music begin Friday and end Sunday. Tonight, composer and writer Kyle Gann gives a lecture at the New World Center about the composer's most famous piece, 4'33'', a three-movement sonata of silence, and introduces composer Mikel Rouse's video installation NWS: 4'33", which is a compilation of versions of the piece submitted by people all over the world via YouTube; the video will run in the Center's SunTrust Pavilion throughout the festival. Also tonight, in the SoundScape Park outside the center, British filmmaker Peter Greenaway's documentary about Cage, filmed in 1983, will be shown.
Friday night's concert at the Center features Imaginary Landscape No. 1, Credo in Us, Sixteen Dances and The Seasons as well as six other works. Performers include soprano Jessye Norman, pianist Marc-Andre Hamelin and vocalist-composer Meredith Monk, plus dancers from the New World School of the Arts.
Saturday night's program offers two works, the Song Books and Cheap Imitation / Second Hand, a deconstruction of the music of Erik Satie created in collaboration with Cage's partner Merce Cunningham. The festival ends Sunday with the New World Symphony performing Dance /4 Orchestras and Renga, while pianist Hamelin will play the Etudes Australes.
Kuhn says the programs were chosen by New World director Michael Tilson Thomas, and that he is taking some liberties with the works in his presentations, and all to the good. His mounting of the Song Books at Carnegie Hall last year Kuhn ranks as one of the top new-music events she's seen in her life.
"It was stunning, just stunning," she said, and it promises to be just as powerful at the New World Center.
Another benefit of the festival is that Cage's orchestral music will get a hearing at the hands of the questing young musicians of the New World Symphony.
"Anything that's done by the orchestra, I'm thrilled about, because orchestras don't play Cage's orchestral works. They just don't," she said, though his music is more frequently encountered on the programs of European, not American, orchestras.
The smaller pieces on the New World programs also were carefully selected by Tilson Thomas, Kuhn said.
Cage's work is only now really beginning to be explored, she said, and she hopes the festival opens "audiences to John Cage, to bring him closer to people who don't get to hear his music."
"He's important. He's an important figure in our lives, not just as a composer, but as a man, as a person, as a philosophical soul," she said. "And you hear it through the music. You can read about it in books, but it's really in the music. These experiments, and these graceful melodic lines: he was an amazing composer."
Recent Content