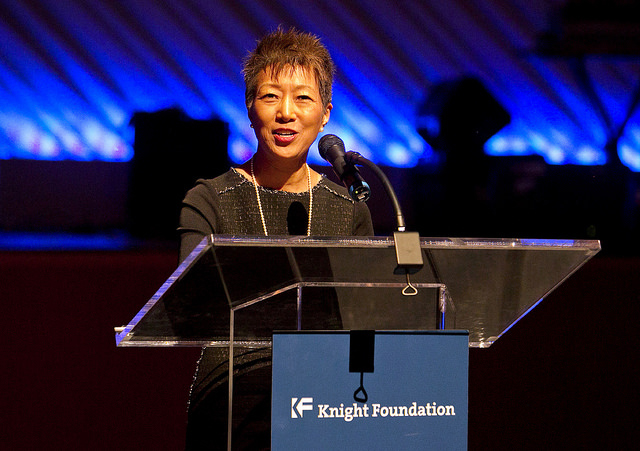 Arts
S. Florida arts groups receive share of new NEA funding
Jane Chu at the 2014 Knight Arts Challenge South Florida. Photo by Patrick Farrell.
Twenty-seven organizations across Florida received $650,000. The awards included many Knight Foundation grantees, such as:
Chu, who is visiting South Florida for Art Week, also spoke Monday night to the winners of the 2014 Knight Arts Challenge South Florida. Knight awarded $2.29 million to 47 ideas to help engage and inspire the community.
In her town hall appearance at PAMM Tuesday, Chu emphasized that the arts have a significant impact on the U.S. economy, even though her organization's budget is relatively small, about $146 million last year. She said the arts account for 3.2 percent of the U.S. economy, a little over $500 trillion, according to the U.S. Bureau of Economic Analysis and the NEA.
Throughout her remarks Chu emphasized that the arts are not for some "ivory tower" elite; the arts should involve everyone. She called for the doors to the arts being opened wider, a theme echoed in Knight's awards and work, which has the goal of "making art general in Miami."
"It is about more than head-counting but about being seen to be relevant to communities," Chu said.
Chu said Miami is a model of a community that has successfully embraced the arts.
"Miami has such a wonderful cultural diversity that is to be celebrated. Arts involves the ability [for people] to express themselves in so many different ways. Miami has figured this out," Chu said.
Michael Spring, senior adviser to Miami-Dade Mayor Carlos A. Gimenez, concurred with Chu, adding that it is no longer possible, or even desirable, to compare different cities and their arts communities. He prefers to contrast them to see what is distinctive.
"One thing I would say about Miami is that its youthfulness provides a certain vibrancy and energy that you don't see in more established places," he said. "That is why people find it so exciting to come to Miami. Part of that vibrancy and energy comes from the diverse immigration that has happened here… Immigration doesn't bring problems; it brings resources to our shores."
Spring added that includes many people from Latin America who have become patrons of the arts in Miami.
The notion of community is becoming ever more important in the arts world, Chu said, moving away from the concept of "You win; I lose" when organizations receive funding from the NEA and other organizations. It helps the entire community.
"In the arts we do this together," Chu said.
Patrick Ogle is a freelance writer and a former reporter for the Miami Herald.
Recent Content