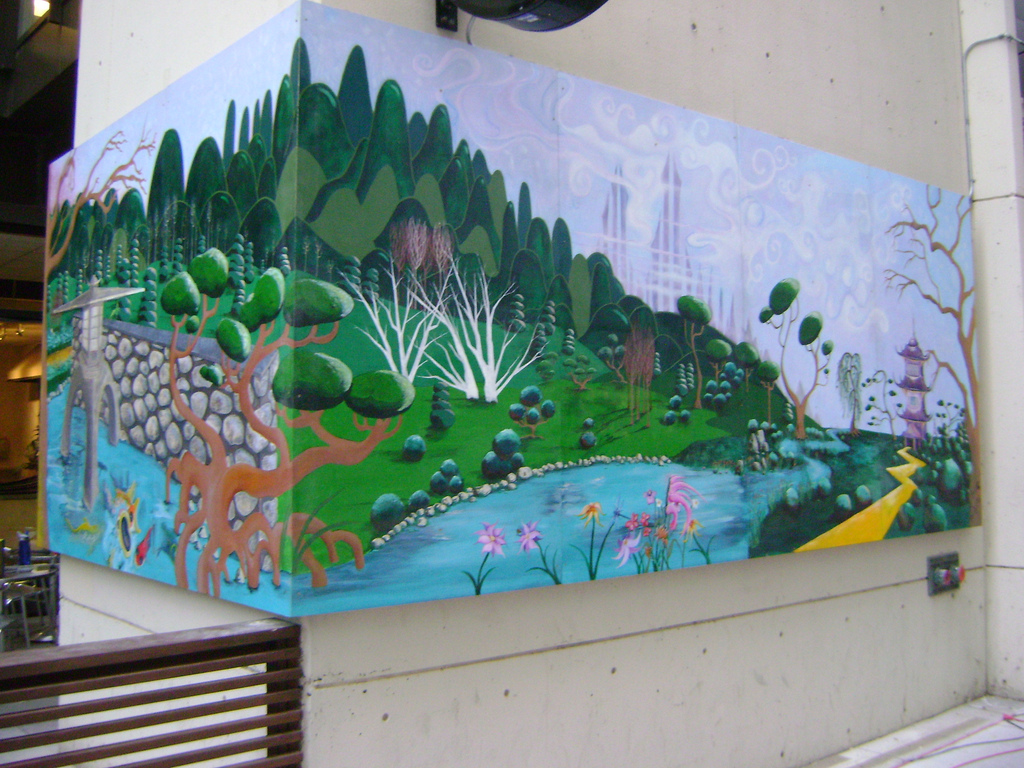 Arts
A season for growing ideas in St. Paul
Mural by Dimm Media on Señor Wong's Restaurant in downtown Saint Paul created as a part of the Irrigate project, photo courtesy Springboard for the Arts.
The calendar may say it's spring, but we Minnesotans know it is not yet advisable to put away our boots or snow shovels. Just 10 days ago, I found 5 inches of new snow on my car—argh!
Despite the fact that our daffodils aren't peeking above the ground yet, there is other new growth sprouting. And Knight is very much at the center of this.
This week marks the opening of the Knight Arts Challenge in St. Paul. Through May 5, everyone is encouraged to submit innovative ideas at knightarts.org. The criteria are simple: The idea has to be about the arts; it has to take place in or benefit St. Paul; and you will have to find funding to match the grant if you win. Your initial idea only has to be a maximum of 150 words; there's no long, formal proposal just to find out if your idea is competitive.
The Knight Arts Challenge is a wonderful example of how Knight maximizes its impact as a national foundation with deep local roots. The Knight Arts Challenge has been very successful in three other Knight communities—Detroit, Miami and Philadelphia—and now it's coming here, to grow in the fertile soil of St. Paul.
As the St. Paul program director, I have the privilege of working with a terrific Miami-based arts team to ensure we sow great seeds and reap an amazing number and variety of arts ideas over the next month. I think of my colleagues as the master gardeners. My job is to know local weather and where we can hook up the hose—or something like that.
Now, with the Knight Arts Challenge St. Paul, we are casting the net even wider. "We're looking for new, innovative, authentically St. Paul ideas that can help engage this community," explained my colleague Dennis Scholl, our vice president for the arts, in announcing the contest. Winners typically range from individual artists to large arts groups, a mix of grassroots efforts and institutional organizations. You'll even get the chance to ask us questions about the contest during a series of community Q&A sessions taking place this week. A master and local gardener will be present.
Another great sign of new growth sprouting in St. Paul is the increased interest in the work of Gil Penalosa, an international advocate for walkability, bikeability and public spaces. In St. Paul, Knight is the lead sponsor of two exciting opportunities to learn from this expert on designing cities that work for people of all ages. Next month, Penalosa, executive director of the nonprofit 8-80 Cities, will be the keynote speaker at the Saint Paul Riverfront Corp.'s 20th anniversary of its Great River Gathering, to be held at the Union Depot on May 8. While in town, Penalosa will share his expertise and learn more about the work already being done locally as part of the Riverfront's third annual Creative Placemaking Residency. More than 15 sessions are already planned (you can find details here). We'll also host Carol Coletta, Knight's vice president of community and national initiatives for the Great River Gathering. Carol recently announced a partnership with Gil and his nonprofit for a national conference.
With Knight support, Gil and 8-80 Cities are planning "The Doable City" forum to convene community leaders in Chicago in June to discuss how to make our cities better. I am excited to be leading a cross-sector group of folks from St. Paul—most of whom are deeply engaged in the Central Corridor neighborhoods along the new light rail Green Line—to learn from and contribute to this event.
And speaking of the Central Corridor… Are we ready for light rail? As excitement builds toward the June 14 opening of the Green Line, this question hovers in all of our minds. Join Knight and the other members of the Central Corridor Funders Collaborative for an assessment and celebration of the accomplishments in business, jobs, housing, transit access and investment that allow us to answer: Yes, we are! The Funders Collaborative Annual Stakeholder Event is scheduled for Wednesday, April 23, from 8 a.m. to 10 a.m. at the Union Depot in St. Paul. The program is scheduled to include remarks from St. Paul Mayor Chris Coleman, Rassoul Dastmozd, president of Saint Paul College, and Seitu Jones, an artist and member of the Central Corridor Development Strategy Task Force.
Please RSVP by Thursday, April 17. All are welcome. Please pass this invitation on to others who you think might be interested in attending. For more information, email [email protected].
Happy spring! Soon, I promise…
Polly Talen, St. Paul program director at Knight Foundation
Recent Content