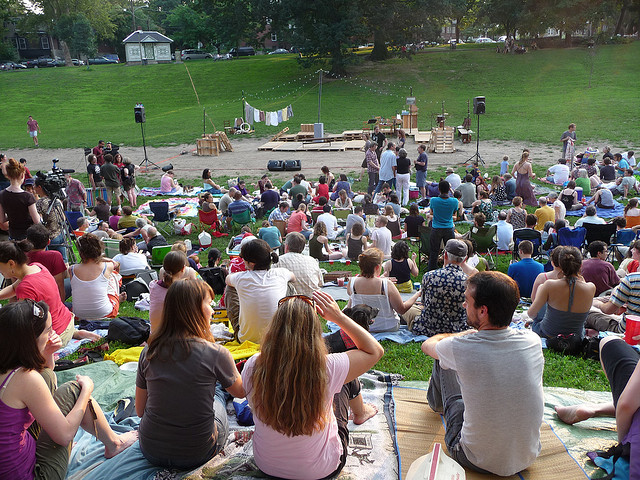 Arts
Philly residents prepare for battle in Shakespeare in the park
Video: Shakespeare's Henry IV in West Philadelphia's Clark Park. Credit: Brian Siano on YouTube.
When a staging of Shakespeare's "Henry IV" opens tonight in Philadelphia, city native Brian Anthony Wilson, a black actor perhaps best known for being Detective Vernon Holley in the award-winning "The Wire" television series, will take the stage as king.
"I'm here because I am an actor," Wilson said. "And I'm selfishly doing this. Playing a king is a challenge but the bigger thing, the key thing, is that I'm showing kids of color and people of color more of what we can do and see."
That's an important message for West Philadelphia, the neighborhood where the adaptation kicks off a four-night run in Clark Park, a block off the 43rd Street trolley stop on Baltimore Avenue. Three-quarters of the neighborhood's residents are black—a demographic not usually counted among Shakespeare fans—and some of them will help stage a battle scene in the production.
Wilson spoke while briefly breaking from studying his lines—and applying insect repellent—as a recent evening's rehearsals geared up on the main lawn of Clark Park.
Audience awaits a production by Shakespeare in Clark Park. Credit: Shana McDanold on Flickr.
The Shakespeare project launched in Clark Park in 2006 with the romantic comedy "Twelfth Night" and a resolve to take Shakespeare to a wider swath of people. A range of West Philadelphians use the park: African and Asian immigrants with babies in strollers. Men in pants and calf-length tunics of their native counties. Muslim women in hijab. Longtime neighborhood folks like the black baby boomers who play chess on park tabletops. Also, frequenting the park are college students and 20-something hipsters of assorted races who ramble over from a nearby coffee shop, pizzeria, the South Asian purveyor of "mild or wild" chaat snacks; and workers and clients from the offices of New Horizon Housing, which aims to keep people affordably sheltered in a gentrifying West Philadelphia.
As a neighborhood centerpiece, Clark Park's appeal includes its canopy of centuries-old oak and elm trees. Its expansive main lawn has an oversized downward, circular slope that locals call "The Bowl." That's where the Shakespearean plays are performed.
"It's an amazing, natural amphitheater," said Marla Burkholder, the Shakespeare group's artistic director and a resident of West Philadelphia. "Clark Park is a truly urban park … that is widely used by a whole bunch of groups: soccer teams, drum circles, [kids on the] playground and festivals of all kinds."
Some who viewed that inaugural performance of "Twelfth Night" were in the park for other activities but also dropped in on the play, curious, she added. "For Twelfth Night, we were hoping 50 people would come. But over the four nights, we had 1,500," said Burkholder, an actor multitasking as all three female characters in "Henry IV: Your Friend and Mine."
Part of the buy-in by those open-air theatergoers may rest in the communal nature of this endeavor. For example, 80 of the 100 people who will be on stage during the rebels versus loyalists-to-the-king fight scene mainly are non-theatrical volunteers, including many who live in West Philadelphia. They signed up for that fight scene at a table during last year's performance.
"Wait till you see the army," said Benjamin Camp, Team Sunshine's artistic director. "It feels like such an incredible coming together of people and of community … It's the biggest thing I've ever done, and my impression of the audience is that it's much more diverse than ones that typically come to see Shakespeare."
South Philadelphian Brett Mapp, one of the fight scene volunteers, has been attending the annual Shakespeare in the Clark Park performances—and getting to know West Philadelphians—since the plays began. As an arts-and-culture lover who cannot afford to be a big-dollar donor to such programs, he said he sees his volunteerism as a means of sharing what is perhaps his most valuable asset, his time.
The volunteers "come from every neighborhood," said Mapp, operations director for Philadelphia's Old City District. "We represent every demographic. Kids, senior citizens, black and white, straight and gay. You can imagine that when your child has a show at school, you're there to see it. So, you'd hope and expect, your friends, family, co-workers to come see you in this acting army. This play is just a great connector."
This year's fight scene volunteers also include West Philadelphia resident Patty Bulack, program manager at West Park Cultural Center.
"Clark Park is really my neighborhood," said Bulack. "We're all very, very proud to have Shakespeare as an offering in our community, especially those of us who have been here a long time, who love our community, the beauty of it and the people who are attracted to living here.
"To, in a relaxed way, be exposed to the highest of literature is wonderful. It's picnic blankets and barking dogs and kids crying and people riding around on a bike who stop to get a taste. It's the way it should be."
In 2013, 4,000 people attended over the four nights of Shakespeare in Clark Park, artistic director Burkholder said. This year, 5,000 are projected to attend.
"We draw an incredibly diverse audience compared to what goes on in the rest of Philadelphia," she said. "And I, personally, am not a great scholarly lover of Shakespeare. A lot of people have slogged through reading Shakespeare in high school.
"At the same time, it's part of our cultural discourse as Americans. It's part of our language. It can be launched as a public arts event … It's a really great starting point for getting … thousands of people to show up together, neighbors and strangers, and sit in a park together and view art."
Nightly performances of "Henry IV: Your Prince and Mine" are slated for 7 p.m. Wednesday, July 30, through Sunday, Aug. 4. Admission is free. Here are driving and public transit directions.
Recent Content