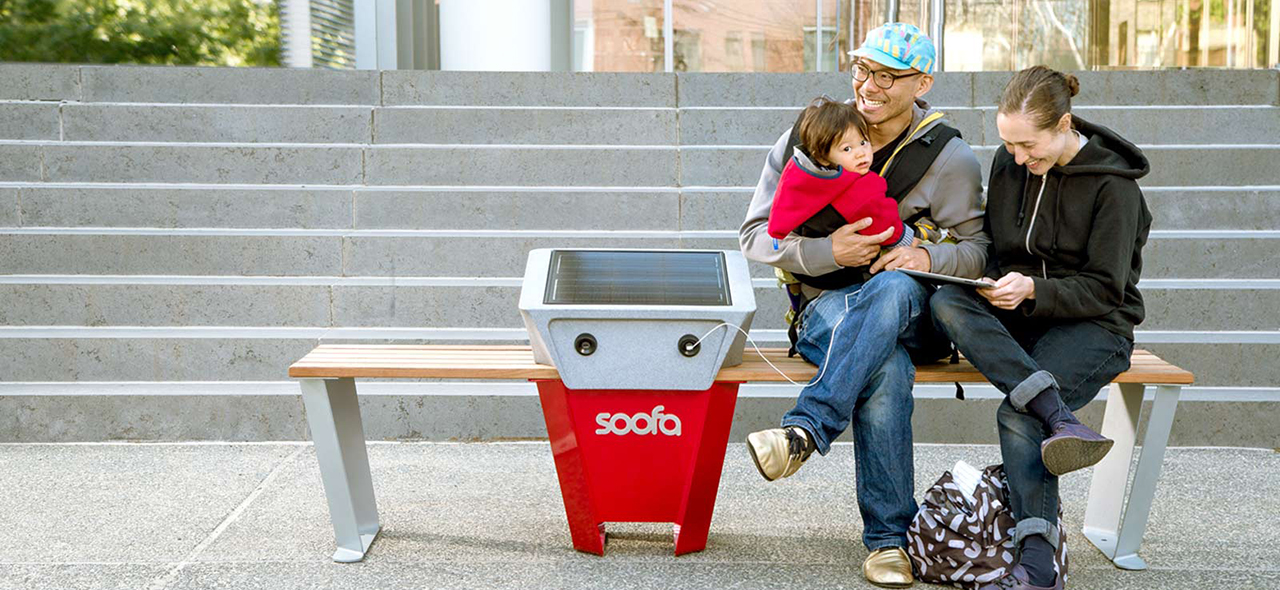 Technology
Soofa benches signal steps toward smart cities
Most ordinary benches just sit in parks or alongside city streets, providing a space for people to rest and watch the world pass by. But what if those benches had a more profound purpose: to connect the people who use them to the surrounding environment.
Soofa, a Knight Enterprise Fund portfolio company, has developed a smart, solar-powered bench with a plan to revolutionize how people, cities and businesses understand and interact with urban spaces.
"The vision really is that you get easy access to city information, so you don't have to look on your computer," said Sandra Richter, the CEO of Soofa. "It is almost like a digital layer of the city. When you go online, you have cookies; the Internet is tailored to you. The city really is not. We want to make the city better on a personal level, but also on a governmental and global level in terms of impact."
In 2014, Richter and co-founders Nan Zhao and Jutta Friedrichs started working on Soofa at the MIT Media Lab, a Knight Foundation grantee. The founders discovered an opportunity to innovate based on their conversations with companies such as IBM and Cisco.
"The reason why we started building the Soofa bench is because everybody kept talking and talking about smart cities, but no one was coming up with interventions that would lead to a smart city that we, as the mobile generation, can feel," Richter said. "We basically want to create a whole line of connected products for the urban environment"
The Soofa benches have a sensory "brain" that collects and shares data through cellular networks in addition to providing a convenient place for citizens to charge mobile devices. Started in Boston last year, Soofa can customize the sensors in the benches to capture the data each individual location wants. So far, the company has introduced benches in the Boston area, Boulder, Colo., California state parks, Los Angeles and Miami. Richter and her team plan to gradually release more benches around South Florida by the end of the year with the support of the University of Miami.
"We just did our very first one, which was a customized design for the University of Miami," Richter said. "Miami wants a particular color and size, so we hope to have [those] done by the end of the year. We are a typical startup in the sense that we want to be agile and scale fast, but learn and iterate at the same time. It is almost like we are running a hardware company like a software company."
As the company grows, so will the complexity of the benches.
"Right now we are looking into an experiment with creating a 'Soofabot' that would allow you to communicate with the bench through SMS," said Isabel Munson, a Soofa data strategist. "There have been a lot of experiments like this in other cities. In London, there was an art installation where you talk to lampposts. In Melbourne, [Australia], you could write e-mails to trees. Those may seem a little silly, but it is a great way to raise awareness about the objects and capabilities of a city. A bench can be more than a place you just sit."
Eventually, Soofa hopes to become an information hub with the ability to provide any type of data an urban center requires such as weather information, nitrogen levels and even pedestrian flows. While the bench's first version focuses on the solar charging component, Soofa is working on three more versions with added features.
"The second version of the Soofa bench is connected to the Internet. It can gather sensory information and upload the data into the cloud," Richter said. "With versions 3 and 4, we are working on different, smaller shapes of low-power sensors, which then can be used to Bluetooth talk to the bench, and can act as a uplink to start a network in the city … We've been experimenting with conductive charging too, but there are not a lot of phones with that capability yet."
Recent Content