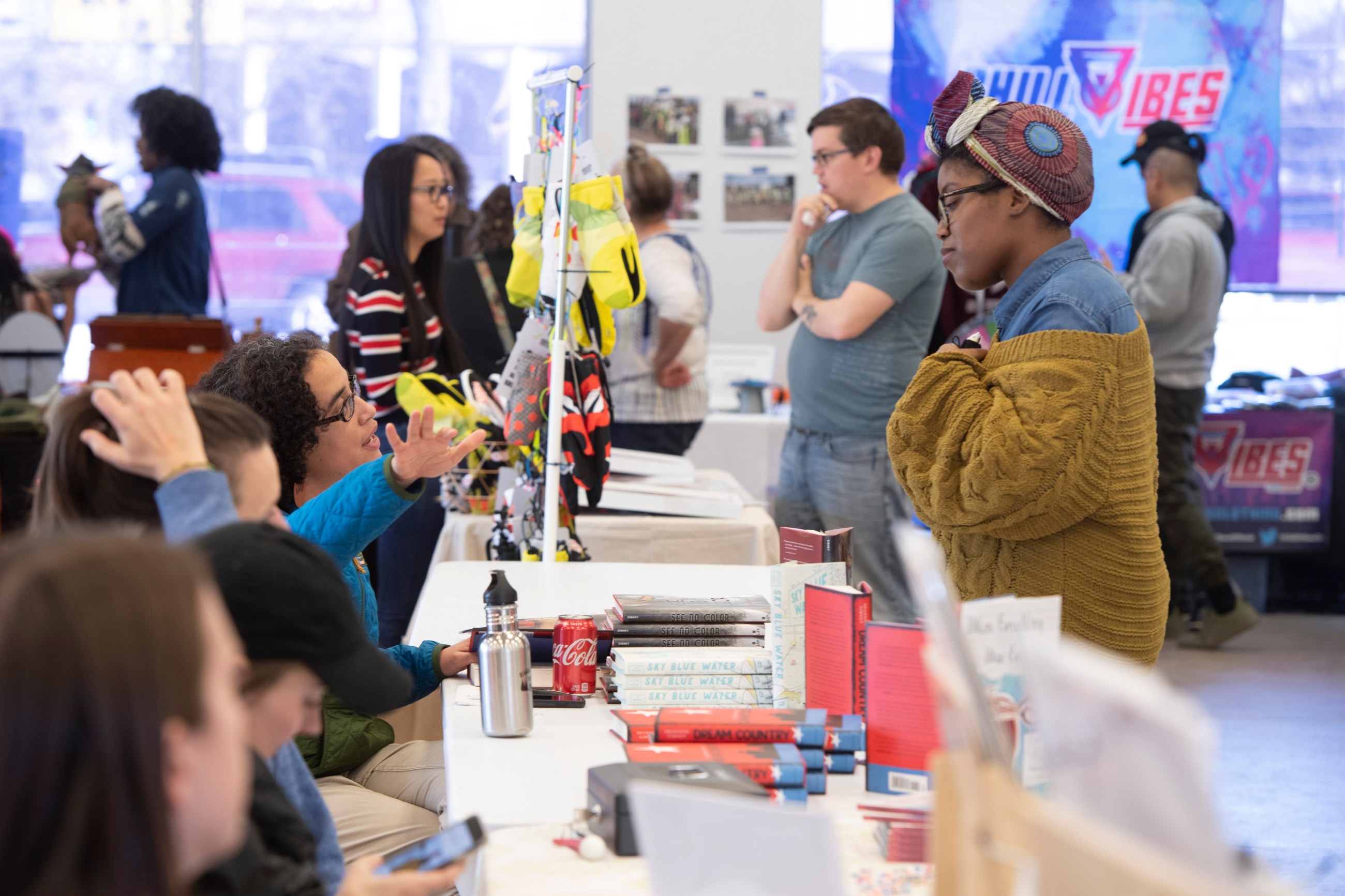 Arts
SpringBOX is a new St. Paul hub to foster creative people power
The new public square is welcoming artists and neighbors to shape its design and use
On June 11, 2019, Knight Foundation made a $1 million investment in the redevelopment of a new site for Springboard for the Arts in a new St. Paul location. See the press release for more information.
Imagine that you need space for a community meeting, a workshop, rehearsals, or an organizational retreat, and you're looking for a place that's convenient, inexpensive, and friendly to your organization's mission. In Saint Paul there's a new space for these activities and more, at the new SpringBOX, located on light rail's Green Line on University Avenue near the state capitol. Knight recently granted $1 million to the project's developer, Springboard for the Arts, toward the project's $5.5 million capital and program development goal.
SpringBOX occupies a former used car dealership that lay dormant for about a decade. The property includes a two-story 1950s showroom and an adjacent 50-car parking lot. Springboard is converting the property into a bustling campus. The showroom will serve as a multi-use convening space, offices, and Springboard's artists' resource center; the large former garage is a flexible, open space for pop-ups, artists' markets, readings, performances and similar gatherings; and the parking lot will become green space for festivals, artists' projects, and an open space for neighbors to enjoy as their new front yard (and maybe even in ice rink in winter). When renovated, the showroom building will sport a rooftop garden that overlooks the neighborhood, with the state capitol dome and area church spires punctuating the urban landscape.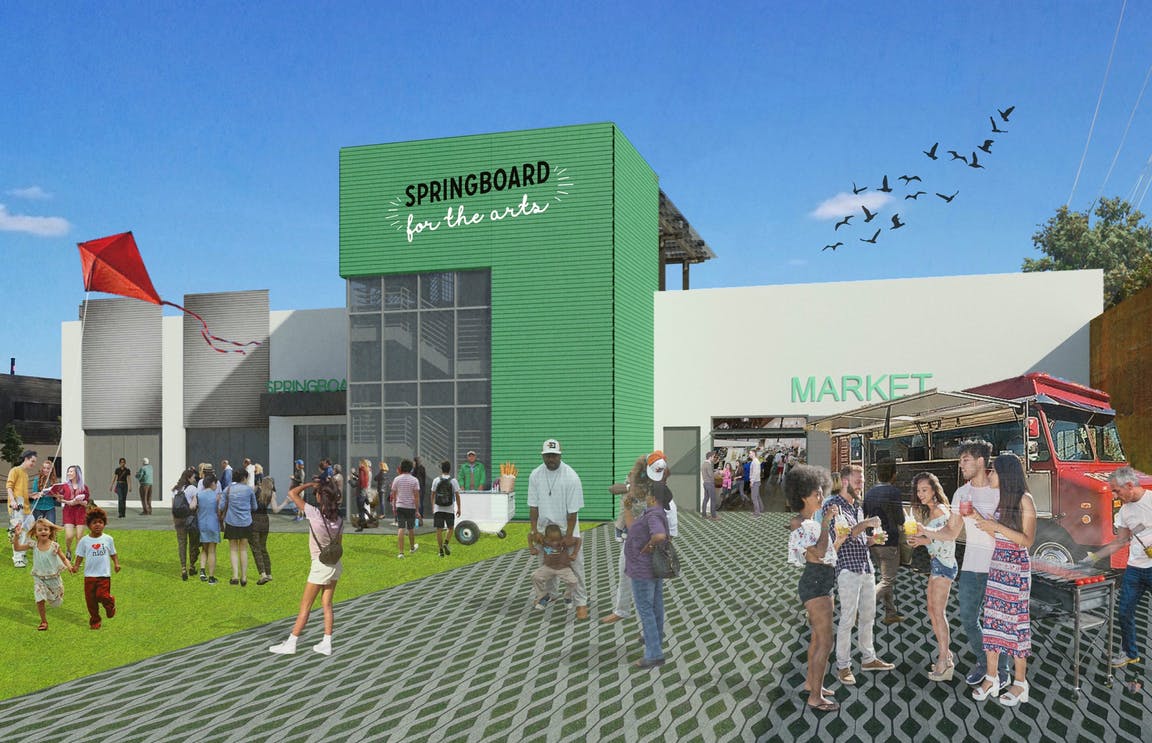 Many influences led to the creation of SpringBOX and allowed Springboard to seize this opportunity. Springboard has worked extensively in the neighborhood, St. Paul's most diverse. For example, during its Irrigate creative placemaking program in 2011-2014, Springboard provided support for some 650 local artists to create projects along the light rail corridor during the two-year construction timetable. Concerned that traffic diversions, parking restrictions, and the general chaos of such a substantial public works project in the urban core would negatively affect local businesses—many of which are immigrant owned—Springboard masterminded Irrigate to bring creativity, energy, and "small moments of joy" to the otherwise patience-trying construction period.
In 2011, Springboard also opened a store-front office in Fergus Falls, a town of 13,000 about three hours northwest of the Twin Cities. Compared to Springboard's second floor headquarters in St. Paul, the Fergus Falls' office provides a visible presence and active community-engagement platform on that town's main street, allowing easy access to local artists, residents, community organizations, and civic leadership. Lessons learned from the Fergus Falls' experience helped prompt Springboard to look for a way to expand its role and visibility in its hometown.
Springboard also has built capacity for innovation and independent action into its governance, staffing, and its financial strength. Over several years, the organization purposefully amassed risk capital, making it possible to invest in key opportunities without needing to raise seed capital to do so. In essence, Springboard created its own seed capital by prioritizing the development of unrestricted net assets and ensuring that everyone involved at Springboard understood the importance of risk capital to the organization's operating model and values. This allowed Springboard to make the down payment on SpringBOX when the property became available, and also qualified the organization for favorable loan terms during the capital campaign.
Once Springboard owned the building, staff had a work day to ready it for use. An early decision was to make the building available immediately for artists and neighborhood groups, before construction starts in August 2019 and before any Springboard staff move in. Rather than holding a series of planning meetings to gather input and then announce its decisions, Springboard took a "learn by doing" approach to a use plan. With trust in community as one of its core guiding principles, Springboard is trusting artists and organizations to "show not tell" what they want to use SpringBOX for.
And use it they have. In just ten months, more than 150 organizations and community groups have used the building—for free—with more than 4,500 people participating. Last week, the SpringBOX garage had been transformed into six-week exhibition on Hip Hop Architecture, and daily use included rehearsals for a Hmong dance team, a conference sponsored by Street Stops and Mountain Tops, theater rehearsals, a board meeting for the Midway Chamber of Commerce, a staff retreat for Prepare and Prosper, a community meeting for the Minnesota Homeless Coalition, a break dancing workshop, and a photographer using the space for head shots, among other uses. Springboard staff serve only to schedule the building; users receive a detailed PDF document that explains how to gain entry, turn on lights and heat, set up, and clean up on their own.
Springboard also uses the new space for its own local and national workshops for artists and arts leaders. More than a dozen of Springboard's "Work of Art" sessions have already brought local artists together to learn about subjects like copyright law, grant applications, career planning, and time management. SpringBOX also will be the location for Springboard's national workshop intensives, that bring leaders from across the U.S. together for a "train the trainer" approach to sharing Springboard's models with others who want to support artists in new ways.
Springboard's vision—that every community deserves access to their local creative capacity and that artists should have access to the tools they need to make a living and a life and to have an impact where they live—offers a fresh approach to artist-based community development. By openly and freely sharing what it does, how it learns, and why it matters, Springboard stimulates a national conversation about artists and the arts, and shows how creative engagement leads to the meaning making and belonging that forms the heart of joyous, equitable community prosperity.
SpringBOX is already becoming a lively and welcoming hub and home that can incubate creative activity and spur civic action. In this new model of the public square, artists can support civic leaders in their efforts to discover participatory processes and creative approaches to community change and development, resulting in a place to live, work, and play that is nourishing and exciting.
Sarah Lutman is founder of 8 Bridges Workshop and is a former consultant and current volunteer for Springboard for the Arts. Follow her on Twitter at @lutman_sarah.
---
Image (top): Springboard Pop Up Market at SpringBOX. Photo credit: Scott Streble
Recent Content