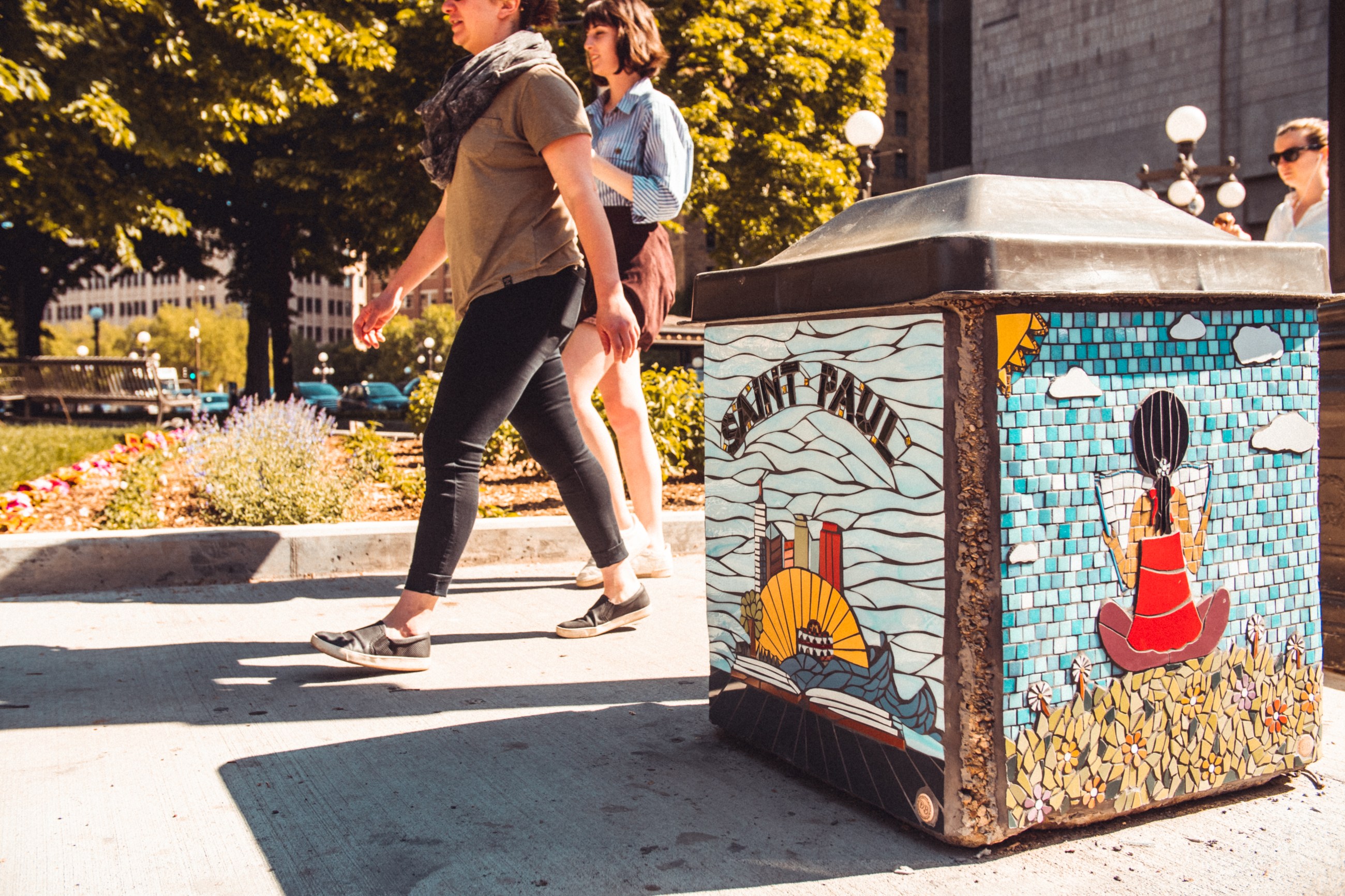 Communities
St. Paul: A city comes into the spotlight
On Sept. 8, 2019, Knight announced $2.15 million in new investments to make St. Paul's downtown and arts scene more vibrant, inviting and inclusive. Jai Winston, Knight director in St. Paul, shares more about our work in the city below.
Despite being the capital of Minnesota, Saint Paul has long been in the shadow of Minneapolis as part of a greater "Twin Cities" metropolitan region. This status belies the city's vibrant civic and cultural life and its history. St. Paul is home to the historic F. Scott Fitzgerald Theater and the Ordway Theater; headquartered in the city and suburbs are major manufacturers 3M and Ecolab; in the state of hockey, it is in downtown St. Paul that the professional hockey team, the Minnesota Wild, play.
St. Paul is also a refuge. After the Central Intelligence Agency recruited the ethnic Hmong population of Laos to fight as part of a proxy conflict in the Vietnam war, thousands resettled in the United States — primarily in St. Paul and Minneapolis. St. Paul is now home to one of the largest urban congregations of Hmong people in the world.
Now a new narrative is being written as St. Paul takes its place as a vibrant urban hub. Downtown St. Paul is at the center of that new narrative, and our work at Knight Foundation is to accelerate that change as St. Paul – and the region – surge forward.
In recent years, new commitments from St. Paul's business and civic sectors have focused on stimulating St. Paul's historic downtown, making it a more enticing place to live, work and play. A key part of this effort has included fostering an inclusive, dynamic entrepreneurial ecosystem. Recent investments in our downtown area have included programs to attract new and more diverse businesses, improvements in public transportation, and an uptick in housing stock and population density.
To help accelerate this positive change, Knight Foundation has been focusing efforts in three overarching areas:
Supporting an inclusive entrepreneurial and small business ecosystem that encourages economic growth.
Energizing the downtown corridor to attract residents and make the city even more vibrant.
Raising the profile of downtown Saint Paul as a hub for new ideas and creative activity.
We are working with several organizations to drive this change. Most recently, we invested $1.5 million to support the opening of the Minnesota Museum of American Art in a historic downtown location, bringing a critical cultural asset to the business district. Additionally, we supported the building of American Public Media's Glen Nelson Center downtown, which promotes innovation and business development. The Center houses Lunar Startups, a collaborative space that accelerates early-stage startups, with a focus on entrepreneurs from underrepresented communities.
We've also supported transformative partnerships, leveraging business and civic investments to promote the downtown corridor. The Saint Paul Downtown Alliance, dedicated to building a strong and vibrant center city, is bringing to life a shared vision for downtown St. Paul: a place where relationships and entrepreneurial ideas can be nurtured. The Central Corridor Funders Collaborative, which operated from 2007-16, helped mitigate disruption from the development of the Green Line light rail that now joins the Twin Cities and leveraged the new infrastructure to bring opportunity to new parts of the city.
Additionally, Knight continues to invest in the local arts ecosystem, helping further connect people to each other and to their city. This year, Knight's $1 million investment in Springboard for the Arts helped the organization establish a new location on the Green Line to create a local hub for artists and residents and develop new, innovative ways to engage people in the arts. (Learn more about Knight's Arts program here.)
This focus builds on the work of Knight, and many others, in St. Paul. Over the years, we've invested in projects that range from transforming vacant spaces downtown to creating hubs for entrepreneurial and civic conversations that foster change. Many of these projects focus on building a more vibrant, inclusive St. Paul, while leveraging some of the city's greatest strengths: talent, green spaces and a burgeoning entrepreneurial ecosystem in downtown.
We're excited to be a part of St. Paul's next great chapter. Time and again, St. Paul and Minnesota have shown what can happen when people come together to envision a brighter future. Knight is ready to join with others and make that future a reality.
---
Image: Mosaic tile artwork by Daniela Bianchini adorns a utilitarian concrete trash can in Rice Park in downtown Saint Paul. Credit: Visit Saint Paul.
YOU MAY ALSO BE INTERESTED IN…
Recent Content