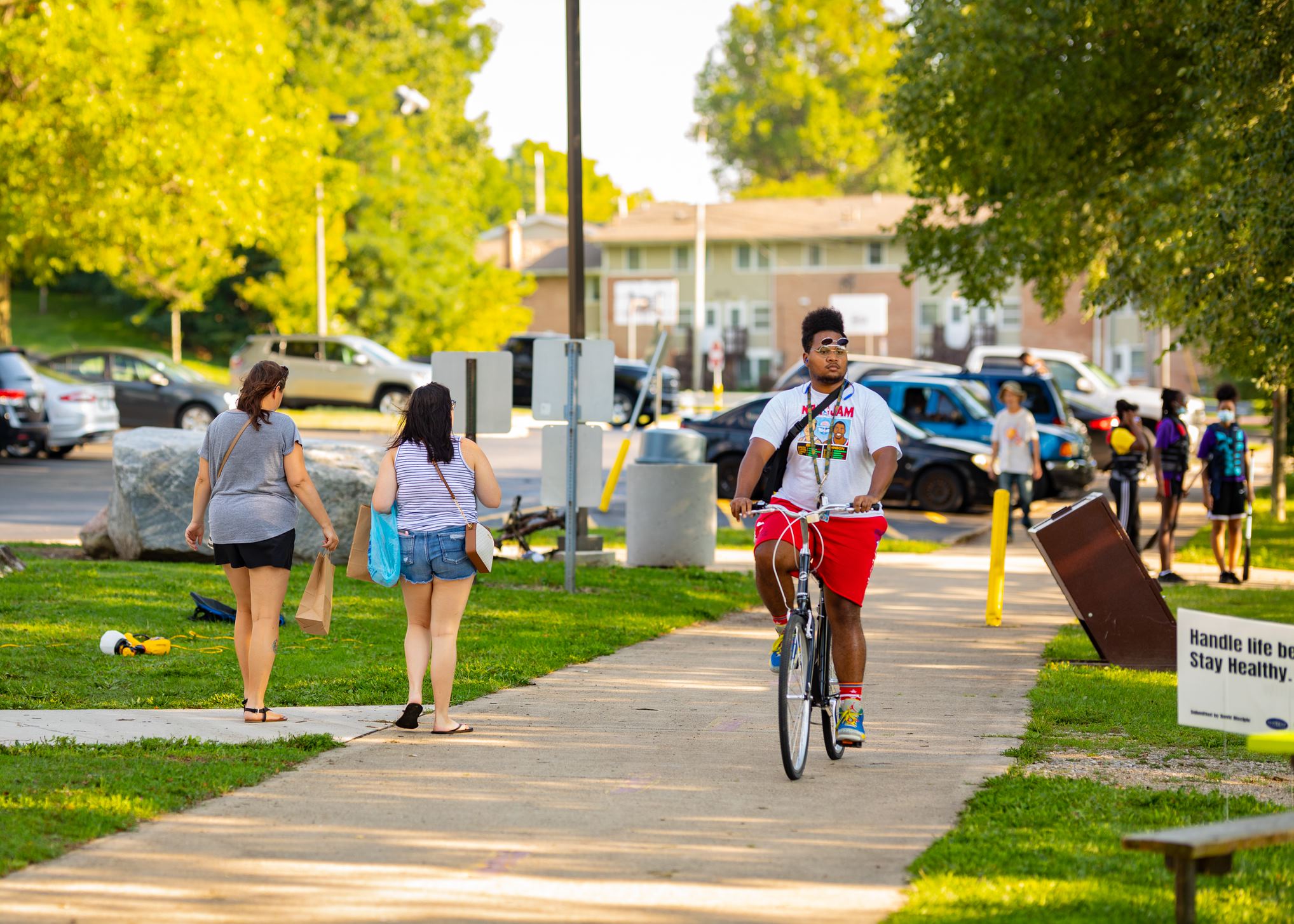 Communities
Summit Lake: creating an equitable and inclusive public space in partnership with residents
Akron's Summit Lake was once neglected, but members of the community came together to ensure the lake served Akronites as an accessible and popular public space. Summit Lake's transformation includes the construction of a destination park, and most recently, a Nature Center that will open its doors in July. Knight's Kyle Kutuchief shares more about the Summit Lake story, and how it helps boost community attachment, below.
In the heart of Akron lies Summit Lake, a beloved lake where residents and visitors come to canoe, bike, fish and enjoy nature. The lake is a local treasure, which became more evident during the pandemic. "People would come down and see grandparents with their grandchildren, and sit under the shelter and play games or cards," Summit Lake resident and Akron Civic Commons Fellow Grace Hudson said. "People are still having birthday parties and family gatherings. COVID-19 slowed things down, but people were still using the space."
But Summit Lake, which is Akron's largest body of water and sits in a racially diverse neighborhood, has been a neglected public space for decades. In fact, it used to be an environmental hazard. Pollution, both from industry and runoff from nearby highways, made the lake an unsightly hazard and discouraged residents from using the shoreline or water. Black residents, especially, felt detached from the lake because of urban renewal policies. Their neighborhood was separated from downtown Akron and residents were subjected to countless promises of renewals that were not delivered.
Making Summit Lake equitable, inclusive and accessible aligns with Knight Foundation's goal of strengthening communities by investing in spaces where residents of all backgrounds can develop a shared sense of community. That's why we joined JBP, Kresge and Rockefeller foundations in 2016 to invest $5 million in Akron's Reimagining the Civic Commons project that includes the Summit Lake neighborhood.
Akron Civic Commons has worked to co-create public space ideas with residents to improve their public spaces. Temporary prototypes such as plastic adirondack chairs and fire pits led to semi-permanent amenities such as a small beach that set the stage for bigger plans for lasting change. Knight recently committed $4 million to the $10 million plan to transform Summit Lake's historic north shore to create a destination park for area residents and Towpath Trail users, with residents leading the planning.
Last year, Knight commissioned Gehl, a leading urban design firm, to study seven public space projects across the country — including Summit Lake — and identify what made them successful and draw lessons for designing public spaces that make communities more resilient and inclusive.
Summit Lake's success centered around shifting decision-making power throughout its development lifecycle, from initial design through governance, to include residents as partners. As a result, its new improvement projects reflected residents' needs and the historical characteristics of the neighborhood.
We are also learning that:
Using a dynamic community engagement process that prioritizes resident input and demonstrates commitment helps improve trust with neighborhood residents.
Transforming Summit Lake's shoreline into a beloved community asset — through environmental, public space and programmatic improvements — is important to long-time residents.
Early and ongoing resident involvement establishes community pride, which leads to volunteer stewardship to care for the lake over time.
Establishing trust through Summit Lake investments is critical to engaging residents in larger conversations about further improvements in the neighborhood including the new $10 million park coming to the north shore.
A 2018 survey found that 97% of residents said that Summit Lake Park improved their neighborhood, up from 57% at the outset of the project. The Gehl study found such positive sentiments common across public spaces that engaged residents in the design process. "We saw the manifestation of this conversation bloom into actual fruits of the conversation," Grace Hudson said. "We saw things starting to happen."
With the availability of more federal dollars from stimulus spending to infrastructure, let's use the lessons learned from Summit Lake and put residents first to continue designing public spaces in Akron that are equitable and inclusive.
Kyle Kutuchief is Knight Foundation's program director in Akron. Follow him on Twitter @KyleKutuchief.
---
Image (top) by Tim Fitzwater
Recent Content