Taller Puertorriqueño's new facility heralds the start of a new chapter for a North Philly community
Arts / Article
While Philadelphia's real estate market has boomed in recent years, and rapid development has become a pervasive fact of life in the city, reactions have understandably been a mixed bag. In the Fairhill neighborhood–between Germantown Avenue and Front Street north of Lehigh Avenue–the pressure has been particularly acute as the changes creep steadily northward. This area has long been heavily populated by Latino residents, particularly Puerto Ricans, but also Dominicans, Cubans, Colombians and a variety of other groups. With more than 80 percent of the population identifying as Hispanic, the Fifth Street corridor has come to be called "El Centro de Oro" (the Center of Gold) due to the deep cultural roots of Puerto Rican and Latino heritage.
At the center of the community, amidst the many Puerto Rican-owned stores, restaurants and family businesses, there stands Taller Puertorriqueño, rightfully known as El Corazón Cultural del Barrio or the Cultural Heart of Latino Philadelphia. Founded in 1974, Taller has long made itself the face and voice of the local community and the Latino diaspora by harnessing the power of the arts in order to elevate and preserve Puerto Rican and Latino culture.
December 2016 marked a significant turning point in the history of Taller, when the organization consolidated from its multiple buildings and moved into the beautifully lit and spacious new El Corazón Cultural Center at Fifth and Huntingdon. Brimming with newfound energy and the potential to dramatically influence the neighborhood, the Center consists of office space, a gift shop, an art gallery, event and performance spaces and a cafe area–but that is merely the infrastructure. The real power of Taller's resurgence lies in its ambitious ideas, its plans for the future, and in the hands of the people who already work day after day to make the community thrive.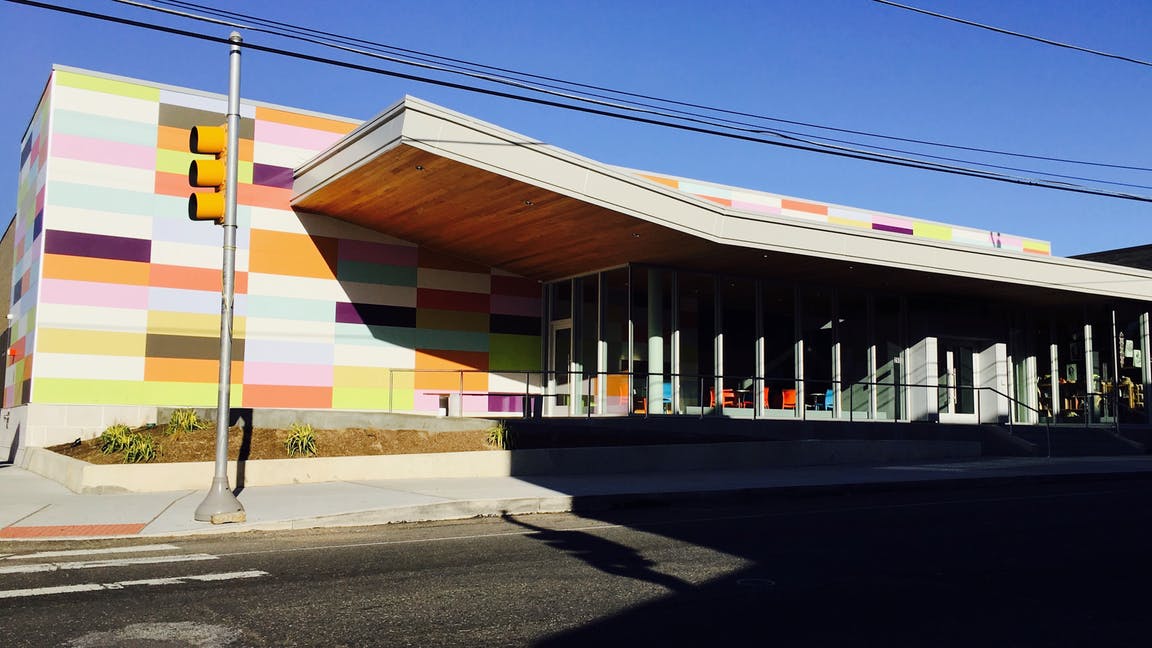 Representing a new face for Fairhill, Taller most immediately has an image problem to confront. Frequently referenced in the media as a hotbed of drugs and crime, the area's vibrant cultural story tends to be obscured by some of its more nefarious elements. To fight these negative perceptions, Taller is beginning a tactical art campaign, with support from Knight Foundation to challenge the attitudes many individuals have towards Fairhill and the surrounding blocks.
The working title for the project, "Operation Sunrise," carries the air of a fresh start and a new day. Through collaboration with American Media Output, which consists of artists Maya Escobar and Andria Morales, the goal is to address these concerns head-on by using some mixture of marketing tactics, parody and public art to effectively reimagine and rehabilitate the community's image in the public consciousness.
Some in El Centro de Oro have already taken steps in the past to beautify and enliven the stretch of North Philadelphia around the corridor. Taller's former buildings burst with colorful murals, and tall, metallic palm trees dot the streetscape as a reminder of the warmer, tropical climes from which many of the locals hail or identify with. But in the media, the focus still tends to be the inaccurate picture of poverty and crime.
"There have been some attempts to more subconsciously 'brand' Fairhill and the Fifth Street Corridor," says Rafael Damast, Taller Puertorriqueño's exhibitions program manager and curator. "But Maya and Andria plan to do so more concretely, and more tongue-in-cheek."
To find its footing, Taller's first step with American Media Output will be to hold focus groups that examine perspectives from within the community itself, as well as to assess the impressions of those from outside the area. The local population, after all, is simultaneously a product of its culture and consumers thereof. It is important to tell stories that those in the area identify with or have a hand in creating so that the community truly has an active role in shaping perceptions–both internal and external–instead of merely having ideas imposed on them.
After this incubation period of community outreach and brainstorming, American Media Output will get to work assembling a cohesive, artistic vision that may include online and physical advertisements, posters and prints, visual use of corridors and public transit systems, and more, although the specifics will only emerge as the process unfolds. While branding is an important angle to explore and even satirize, Damast is quick to point out that Taller is, first and foremost, an arts organization, and that this is not an ad campaign. At the end of the day, there is nothing to sell here; there is just a community that seeks to reassert itself in the face of a changing city.
Parallel projects that similarly help to re-envision the neighborhood are also underway as Taller's El Corazón settles into its new home. A mural that is set to occupy one of the main walls in the lobby area will double as a map to a series of nontraditional historical markers that will be placed around the area based on Taller's archives, oral histories and dinners with Fairhill's community members. Philadelphia Public History Truck operator Erin Bernard and artist José Ortiz-Pagán will team up to document and share these stories through site-specific markers and the wall map, which will serve as a centerpiece for the new building.
Taller Puertorriqueño continues to represent the Spanish-speaking population of Philadelphia in nuanced and increasingly essential ways. With a fresh facility and a multifaceted approach to changing the narrative about Fairhill and its residents, Taller is well-equipped to act as a voice for its community. By untangling the discrete cultural identities of local groups, and offering them a platform to be heard in Philly and beyond, the organization may better affect the direction in which its community is headed.
Recent Content