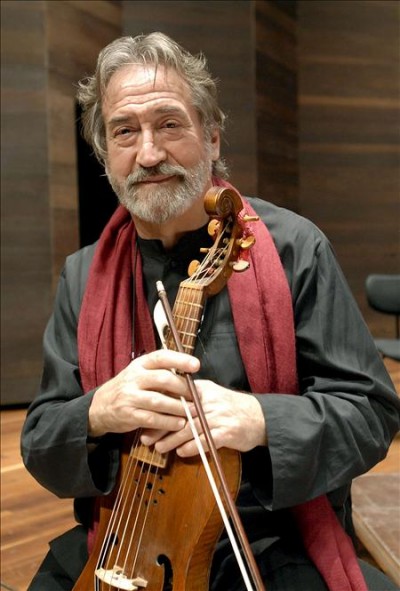 Arts
Tropical Baroque Festival marks 15 years
This week, the 15th Tropical Baroque Festival got underway at Miami Beach Community Church. It lasts through March 6 for a total of 11 concerts, one each day.
On the lineup this year are a number of leading early music performers, such as gamba specialist Jordi Savall and cornett master Bruce Dickey, and groups including Mala Punica and Fuoco e Cenere. In addition to the Miami Beach church, performances also take place at a handful of churches and other venues in Miami, including the Biltmore Hotel in Coral Gables.
In addition to this being the 15th anniversary of the first festival in 2000, the sponsoring group, the Miami Bach Society, celebrates its 30th anniversary this year.
The society's director and founder of the Tropical Baroque Festival is Kathy Gaubatz. Last week, I sent her some email questions about this year's festival, which she was gracious enough to answer.
First, it's important to know a little something about the Miami Bach Society, which got its start after Donald Oglesby came to the University of Miami as professor of choral studies, Gaubatz wrote.
"He, a great advocate of early music, started giving holiday dinners and began the society with Robert Heath, a recent graduate of the School of Music and noted harpsichord player. They, with an enthusiastic corps of volunteer choral performers from several local church choirs, decided to celebrate the tercentenary of Johann Sebastian Bach's birth," she wrote.
"But upon the performance of the first three Bach (concerts), there was such an outpouring of enthusiasm in the local community that Oglesby and Heath and their newly formed board decided to continue," Gaubatz wrote.
A few years later, Heath and Oglesby "began adding nationally known groups to the yearly seasonal roster such as the Baltimore Consort, New York's Ensemble for Early Music as well as Lionheart, the acclaimed male a cappella vocal group specializing in medieval and Renaissance music," she wrote.
Gaubatz, who had been on the board since the society's founding, became its executive director in 1995. Five years later, she started the festival.
"I founded the Tropical Baroque Music Festival in 2000 after Coral Gables became the sister-city of Aix-en-Provence, France, and I was invited by the then-mayor of Aix to come and observe their month-long cultural phenomenon, Le Festival d'Art Lyrique (opera), which brings fame (and fortune) to their community," she wrote.
"I thought that a significant cultural event, using only the best international performers from around the world, would have similar results in our community," she wrote. "And lo and behold, the French government awarded me and the Festival its highest cultural award, Le Chevalier des Arts et Lettres, in 2001. It was off to a great start."
Gaubatz wrote that funding for the festival is actually "getting easier."
"We get wonderful support from the State of Florida, Miami-Dade County (and) its Department of Cultural Affairs under the direction of Michael Spring, and even the city of Coral Gables and Miami Beach. Because we are (doing) Bach to the Beach this year, we are being urged to apply for funding next year, which we have successfully done in the past," she wrote. "The Knight Foundation continues to be generous, and the corporate community is continuing and increasing its significant giving every year."
One key difficulty, however, is ticket sales, which she attributes to the lack of pre-publicity from knowledgeable music writers.
"We spend a lot of money on mailing our beautiful brochures, using local artist Lisa Remeny's gorgeous tropical paintings, sent to over 20,000 persons, ads in the print media, radio ads and electronic notices in several outlets," she wrote, but the society's concerts don't get the coverage that other groups such as Florida Grand Opera and the New World Symphony receive.
"For the past seven years, it has received no pre-publicity by the music critics, which has hurt the Festival's local reputation excessively," Gaubatz wrote. "It is very well-known and appreciated by the national early music patrons. But the lack of attention in the local critical press has been an ongoing impediment which continues to this day."
And it takes years to organize one of the festivals.
"And we are starting earlier every year. This year the federal government has changed its visa requirements, and that has caused delays and uncertainty in the approval process," she wrote. As of last week, the society was scrambling to make sure some of the groups could make it through Department of Homeland Security red tape.
Still, there are some high points Gaubatz said she is looking forward to in this year's Festival, including another appearance by Savall, one of the most important early music specialists in the world, and one widely credit for reviving interest in the viola da gamba, not least because of his work on the 1991 art-house hit Tous Les Matins du Monde.
"I am a real Jordi Savall fan. That is why I have brought him so often. I even go to France to hear him in his Festival in Narbonne, and go to New York and Boston when he comes," Gaubatz said. This year, Savall will be accompanied by members of the Juilliard415 period-instrument ensemble, as well as actors from the Juilliard 45 program. They will all appear Wednesday night in music for the plays of Shakespeare, parts of which will be acted out.
"And with him is Manfredo Kraemer, the fabulous Argentine violinist whom I heard last summer at Jordi's summer event in Narbonne; it should be wonderful," she wrote. Kraemer is on the Wednesday night bill and then appears in his own concert at the Biltmore's Danielson Gallery on March 3. He'll be joined by Fuoco e Cenere gambist Jay Bernfeld, theorbist Eduardo Eguez and harpsichordist Federico Ciancio in music by Bach, Couperin, Telemann, Lully and others, including Elisabeth Jacquet de la Guerre, who had an important patron in King Louis XIV.
Dickey, who plays the cornett (a wooden medieval and Renaissance instrument that has a warm, oboe-like sound; it's not the trumpet cousin we call the cornet today), is joined by fellow cornettist Doron David Sherwin and organist Liuwe Tamminga for music by Frescobaldi, Palestrina and several other less well-known Italian composers such as Giuseppe Scarani, Giovanni Battista Grillo and Tarquinio Merula, on Friday night at the Miami Beach Community Church.
"I have always wanted to see and hear Bruce and his cornetto. He is a legend in his time," Gaubatz wrote.
Eguez, an Argentine musician, sticks around after his Kraemer performance to present his own group, La Chimera, in a program of madrigals and Argentine tangos, at the First United Methodist Church of South Miami on March 6. It's a highly eclectic program in which Luca Marenzio and Sigsimondo D'India rub shoulders with Carlos Gardel and Astor Piazzolla.
"That should be fabulous," she wrote. "I can't wait."
Looking ahead, the Bach Society will welcome Bergonzi Quartet first violinist Scott Flavin's new Baroque performance group, Impulso Barocco, which will give its first concert in Coconut Grove on May 9. Gaubatz also wrote that the society is bringing back some of the "American superstar groups" such as Rebel, Tempesta di Mare and Quicksilver for future concerts.
Perhaps one day, too, she'll be able to collaborate with Florida Grand Opera for a Baroque performance ("that is the only way we could afford [renowned French Baroque specialist] Bill Christie"), and she would also like to replicate Paul Sacher's famed Schola Cantorum Basiliensis, a Swiss institution that trains early music performers and scholars.
She has talked to Pedro Memelsdorff, director of Mala Punica — which appears Thursday night at the Miami Beach Community Church in a program of motets and mass settings by the 14th-century composer Johannes Ciconia — about an Art Basel tie-in that could be presented a week before the big modern art gathering in December called Early Music Basel: Old Music, New Art.
"But that is another story," Gaubatz wrote.
Recent Content