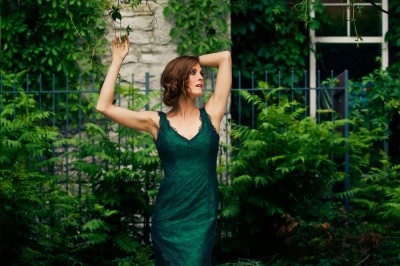 Arts
Wallis Giunta: From Weill to Lennon, in recital
Today's young singers are a different breed, as are most classical musicians generally.
It's no longer the case that people who perform art music sneer at popular forms; indeed, it's now almost a requirement that a classical performer show his or her range by making sure to branch out into popular forms.
This past week, for instance, the great Chicago violinist Rachel Barton Pine stopped in West Palm Beach for a recital, and the audience there was listening to a terrific musician who also happens to be a huge rock fan, so much so that she plays electric violin in a thrash metal band.
The recital is constructed around The Seven Deadly Sins, a song cycle by Kurt Weill, the German composer who fled Nazism after being a key voice in the Weimar Republic's cultural scene and remade himself as a Great White Way composer. The cycle, originally a "sung ballet" for several characters written with Weill's longtime collaborator Bertolt Brecht, is an ambitious, provocative work, and Giunta will do selections from it in the guise of a cabaret singer of the period (you can see her doing it here, complete with red dress and period hairstyle).
Other Weill songs are on her program, including one from his best-known work, The Threepenny Opera (which contains "Mack the Knife") and another from his music for a Leo Lania play called Konjunktur. One of Samuel Barber's Hermit Songs is also scheduled, as are songs by the Catalan composer Xavier Montsalvatge, the Turkish composer and Jewish ethnomusicologist Alberto Hemsi, and an aria from Spanish composer Ruperto Chapi's zarzuela Las Hijas del Zebedeo.
It would be a waste of time to get dressed up in 1930s style and not do Cole Porter, so Giunta has scheduled "Love for Sale," and she's also planning to do John Lennon's iconic "Imagine." Rounding out the program are arias and songs by Handel, Britten, Poulenc and even Stephen Foster ("The Old Folks at Home").
Giunta's appearance is part of a series devoted to Met Opera future stars, and she'll be singing the role of Olga in Lehar's The Merry Widow next month at the august New York house. She has had an impressive career on the stage so far with the Met, the Canadian Opera Company and other houses, and the Juilliard graduate has a busy year ahead with recitals and orchestral appearances as well.
The concert begins at 8 p.m. tomorrow; tickets are $35. Visit miamichambermusic.org for more information.
Recent Content