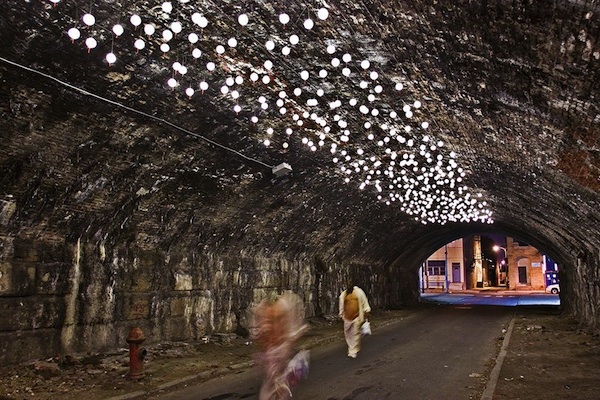 Arts
Winner Profile: Asian Arts Initiative on art-powered community development
A multifaceted arts organization in the heart of Philadelphia's up-and-coming Chinatown North, Asian Arts Initiative is more than a gallery and performing arts space — and its programming backs up that idea. To provide everyday artistic experiences in nontraditional spaces and unexpected neighborhoods, the initiative is creating site-specific works that double as community-development builders. For this innovative arts idea, the organization won $45,000 in the second year of the Knight Arts Challenge Philadelphia; their funding will support the Neighborhood Spotlight series that will launch this month with Illuminate Me, Oct. 17-Dec. 7.
How does Asian Arts Initiative hope the Neighborhood Spotlight series will tap into the power of the arts as a vehicle for community and neighborhood development? Read on to find out.
Chinatown In/flux: Future Landscapes, a 2009 installation series in Philadelphia's Chinatown, showcased Asian Arts Initiative's steps toward shaping their neighborhood. The Knight-funded Neighborhood Spotlight Series will broaden that reach to other communities. Photo courtesy of Asian Arts Initiative
Knight Arts Challenge Philadelphia: Why did you apply for a Knight Arts Challenge grant? Asian Arts Initiative: When we heard that the Knight Arts Challenge was looking for innovative ideas to enrich our city through the arts, we knew it was a perfect intersection with our programming goals of providing creative experiences and interaction in non-traditional art spaces such as public plazas, storefronts, restaurants or parking lots — enlivening our communities by engaging audiences beyond the folks who already frequent conventional art settings like museums and galleries.
KACP: What do you hope the Neighborhood Spotlight series will accomplish in the long term? AAI: We hope that our Neighborhood Spotlight series will tap into the power of arts as a vehicle for community and neighborhood development, while deepening our relationships within the Asian American community, and increasing wider cross cultural dialogue. We also hope to delight and excite community members in a way that ultimately inspires them to think of the arts as an essential means of individual and collective expression.
For example, the outdoor installation Swirl by artist Tomie Arai, part of our Chinatown In/Flux: Future Landscapes series of site-specific installations, resulted in neighborhood schoolchildren really feeling its impact: They could see themselves, their friends, their teachers and their family members on the sculpture. In other words, it represented them and all the people important to them. They loved walking through the Vine Street Plaza on the way home from school and pointing out their friends. The space became one of their favorite places. In its artistic process and product, Swirl became a tangible symbol of the individual stories that come together to define a community. We hope that the future artistic projects that we facilitate will achieve similar effects.
KACP: How are you approaching your year of raising funds to match Knight's grants? AAI: We have matched the Knight Arts Challenge grant with a combination of funds from PNC Arts Alive, the Nathan Cummings Foundation and ArtPlace.
KACP: What's your advice to those thinking about applying to year three of the Challenge? AAI: We were very inspired by our fellow grantees from last year and suggest that interested applicants should take a look at all the projects that have been funded over the last two rounds of the challenge. Philadelphia is such a dynamic city for arts today — anyone who shares in this excitement to be here and be part of our cultural landscape should have no problem thinking of ideas for the challenge if they just step outside their doors!
Recent Content