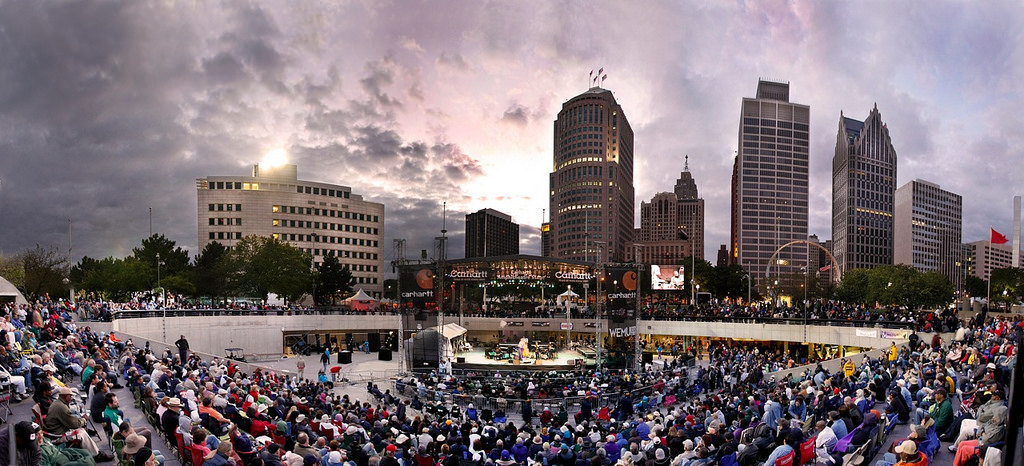 Communities
Working with the people of Detroit to tell the story of Detroit
Today, Knight Foundation is announcing $1.8 million in new investments to help better inform and engage residents of the Detroit region. This is a reinvestment in the Detroit Journalism Cooperative, a partnership of five nonprofit media organizations doing important work telling the city's story, and new support for the Detroit Journalism Engagement Fund, a collaboration with the Ford Foundation and the Community Foundation for Southeast Michigan.
Working with national and local partners, we are helping to create new models in journalism that can be shared across the industry, helping local news organizations better connect with the communities they serve and helping develop new innovations in storytelling. Knight has made many investments in this area, including the recent Knight News Match, which helped 57 nonprofit organizations across the country, including Bridge Magazine, Detroit Public Television, Michigan Radio, and WDET, raise funds while increasing their membership and donor bases. I live in Detroit, and these are the types of resources and engagement that help me better understand and participate in our community, and we want to ensure that everyone across our neighborhoods has the same opportunity.
For three years, Knight Foundation has partnered with the members of the Detroit Journalism Cooperative as they have told the stories of Detroit and Detroiters during one of the most dynamic and challenging times the city has ever faced.
With the new funding, the Detroit Journalism Cooperative partners will spend the next two years expanding their ability to report on how Detroit is doing. We want to ensure Detroiters are participating in the journalism process in meaningful ways, and to identify methods that promote deeper community engagement by journalists that can be replicated in other cities to strengthen local journalism.
Ford Foundation joined Knight Foundation in our early support for the Detroit Journalism Cooperative. Today, Ford joins Knight in launching the Detroit Journalism Engagement Fund at the Community Foundation for Southeast Michigan. The fund aims to increase the quality, outcomes and reach of journalism in the region, with an emphasis on engagement, innovation and the equitable recovery of Detroit, while reflecting the perspectives of diverse groups, including people of color, women and low-income communities. We'll develop guidelines for applying for support from the fund in the coming months and details should be available from the Community Foundation for Southeast Michigan this summer.
This is an important year for Detroit. Elections for the mayor and the city council will take place this August and November, even as we continue to rebuild the city's systems, educational infrastructure, and more. As a Detroiter and a daily consumer of the news, I constantly look for ways to be a better-informed member of our community. The partners in the Detroit Journalism Cooperative help make that happen. As Detroit changes around us every day, it's these resources and the resources of the entire Detroit journalism community that give me and my neighbors an opportunity to better understand what is happening here and to better understand how we, as individuals, can contribute and make a difference. I look forward to working with you and our journalism partners to ensure all of us can be a part of Detroit's resurgence.
r
Recent Content