EPISODE 20: ELECTION 2020: REGISTER, LEARN, MOBILIZE
Cities are grappling with engaging community members during a time of major distrust. We know our communities care deeply about local issues —such as education, safety, parks and transit — but how can we turn their interest into an actual vote? On Episode 20 of "Coast to Coast," we'll chat with Joan Godoy, executive director of Radical Partners, a social impact accelerator that launched Vote Miami. We'll hear directly from Joan on her best practices for civic engagement and learn more about Vote Miami, a virtual platform that helps community members stay informed on all things related to voting.
Episode Resources
Provided by Guests
This episode was also recorded in Haitian Creole and Spanish. See the recordings here:

Eleksyon 2020: enskri, pran ransèyman, mobilize
Elección 2020: registrarse, aprender, movilizarse
---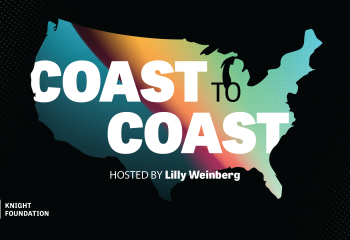 "Coast to Coast" is a weekly Knight Foundation show. Hosted Lilly Weinberg, Knight director in the Community and National Initiatives program, the program will take a weekly deep dive into cities and the important ideas and insights that move them forward.
Coast to Coast